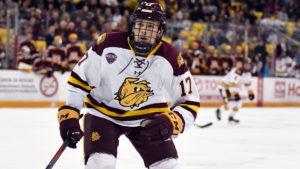 Photo Courtesy of UMD
Fantasy Summary
Pure goal-scoring forward with a lethal wrist shot; foot speed is an issue, but projects as a middle-six NHL forward.
Observations
Click to Expand

June 2020 – After winning an NCAA championship in his freshman season at Minnesota-Duluth, Cole Koepke finished off his sophomore with a large spike in production, increasing his goal output from seven to 16 and his point total from 19 to 33. Koepke tied for the team lead in points among forwards with Noah Cates and ended the season with the team lead in goals as well. Koepke'sshot remains his strongest asset and will be the attribute that could propel him into an NHL top nine someday, however, his foot speed still remains about average, which is an obstacle he will need to overcome. Brandon Holmes

June 2018 – One of the most pure sniper's to be drafted from the Sioux City Musketeers went on to have an almost Rookie of the year campaign in the KHL in his D+1 campaign was Eeli Tolvanen. Well, Koepke's 28 tally's in the USHL were only two short of Tolvanen's total a year prior to his breakout year with Jokerit Helsinki.