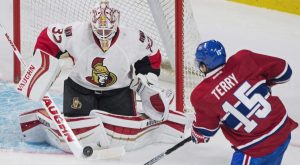 Photo courtesy of sportsnet.ca
Fantasy Summary
Depth goalie with no future in fantasy hockey leagues.
Observations
Click to Expand

February 2022- As fans of the Seattle Kraken, and fantasy hockey in general reacted to the entry draft selections the Kraken made, the one piece that was frequently said was how hard the team would be to play against, with hungry, defensively responsible forwards, hulking, defensive stalwarts on the back end, and Phillipp Grubauer, Vitek Vanacek, and Chris Driedger tending twine. The Kraken have lived up to one promise, as their scoring chances against, for, and shots against per 60 are some of the lowest rates in the league. Had we been given this information from the future when the season began, we'd be able to justify seeing models having the Kraken contending for the cup. The goaltending of Grubauer and Driedger has been abysmal, with the Kraken having some of the worst team save percentage despite the lack of shots and scoring chances against. The defense are doing what they were brought in to do, and Driedger and Grubauer aren't helping. Dreidger has been a rate stats darling across his NHL career in small samples, and in fairness, he's only played 12 games this year. With Grubauer flailing in front of him, and Vanacek playing great back in Washington, he has had the chance to steal the starter's job. You could likely buy low on him this season if you have the room to roster him, but it would be a tough proposition to start him confidently at this moment. Alex Wyatt

July 2021 – Driedger has been selected in the expansion draft and will join the Seattle Kraken organization. Dave Hall

January 2021 – Driedger will be apart of the Panthers' goalie tandem for the 2020-21 campaign. Given the condensed schedule, you can expect him to see a higher number of starts than usual, which should keep him fantasy relevant for the time being. With Sergei Bobrovsky unavailable for game one, Driedger backstopped the club's season opener, earning 23 saves for his first win of the season. Dave Hall

April 2020 – Already 26-year-old, Driedger has solidified his spot as Florida's current back-up netminder and fantasy owners should feel comfortable throwing him into their lineup when his number is called. Keith Fries

February 2019 – Driedger has signed a one-year, two-way contract with the Panthers.  Jokke Nevalainen

September 2017 – Driedger gets someone overlooked in Ottawa but he's doing his best to remedy that. His 2016-17 numbers dropped from the previous season to 12-19-1 record, 3.22 GAA and 0.900 SVS but a part of that can be attributed to playing behind a weaker squad. He saw time in his third NHL game, ending his NHL shutout streak at 60 minutes en route to giving up his first four NHL goals in forty minutes of action. Seemingly perpetually locked in a crowded crease in the AHL, Driedger will battle for starts with fellow prospect Marcus Hogberg and veteran Danny Taylor. Brad Phillips

October 2016 – With Craig Anderson taking a leave from the team to deal with some personal issues at home, Driedger was summoned to serve as Andrew Hammond's backup. But that plan was short-lived, as Hammond suffered a lower-body injury in the first period of Friday's game against Calgary. Driedger took over crease-protection duties, surrendered four goals on 15 shots and was saddled with the L. With Anderson away for an unknown length of time and the extent of Hammond's injury largely unknown at this point, the 22-year-old could be in line for a solid stretch of games. Brad Phillips

October 2016 – Driedger was one of a handful of players assigned to Binghamton in the latest round of training camp cuts. He should once again share the net with Matt O'Connor. Its been a solid pro career for the unheralded third round pick from 2012. He proven to be a capable AHL starter and will look to take the next step this season. Brad Phillips

March 2016 – Driedger has been reassigned to Binghamton without seeing a second of game action. He'll continue to share net-tending duties with Matt O'Connor. Brad Phillips

March 2016 – With Craig Anderson suffering a lower body injury in the Sens latest contest against the Blues, Chris Driedger has been recalled on an emergency basis. The Hamburgler will be called upon to carry the mail for as long as Anderson will be out so it's unlikely that Driedger sees any action. Brad Phillips

January 2016 – Driedger has been recalled by the Sens to back up Craig Anderson while Andrew Hammond is off dealing with a family emergency. Driedger is 9-8-1 with a 2.99 GAA and a 0.904 save percentage in 18 games with Bingo. Brad Phillips

April 2014 – The Ottawa Senators signed Chris Driedger to an entry level contract.  Driedger continues to have a stellar season for the Calgary Hitmen, posting a .918 save percentage and a 2.64 GAA. The Hitmen are tied atop the Central Division of the WHL with the Edmonton Oil Kings. Nathan Martin

March 2014 – In 50 games played for the Calgary Hitmen this season Driedger has continued to build on his successful 2012-2013 campaign. The Winnipeg-native is 28-14-7 with a .918% for Calgary, who sit in first place of the Central Division (third overall in the WHL).  Driedger also scored the first goal by a goalie in the WHL in almost 10 years. Nathan Martin

February 2013 – Driedger has been one of the steadiest WHL goalies through the 2012-13 season. He has a 28-13-1-2 record with a 2.46 GAA and a 0.917 SV%. After he struggled in the playoffs last year, Driedger will have to prove he can come through in clutch situations. Zenon Herasymiuk

November 2012 – Driedger is a well-rounded goaltender prospect with a ton of upside. He is calm and composed in net, rarely ever scrambling in his crease. His style is a mirror image of Vancouver Canucks goalie Cory Schneider. He has been thrust into a full-time starter's role with the Calgary Hitmen and has been solid. He has a 2.33 GAA and a 0.922 SV%. His record sits at 12-3-1-1. The Sens have a very good young goalie in Driedger, but like most goalie prospects, he has a lot of fine tuning and development ahead of him before he is considered for NHL action. He is at least 3-4 years out at this point.
Highlights