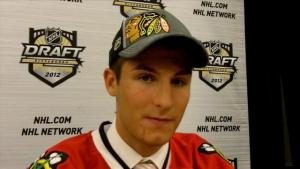 Fantasy Summary
Through two years at the NCAA level he has shown some scoring flashes but may be better suited for a bottom-six role in the NHL, and at 6'2, he certainly has the size to succeed in this role.
Observations
Click to Expand

August 2018 – Calnan had taken his game to Norway, suiting up for the Manglerud Star after a short stint in the ECHL with the Adirondack Thunder. He is currently without a team and was not invited to prospects camp. It appears the Blackhawks have moved on. Tony Carr

September 2017 – After serving as captain of the Boston College Eagles for his senior season, Calnan has to make a decision on where his career goes from here. As yet unsigned, Calnan has little offensive upside but could handle a bottom six role for an NHL team as he has the size and smarts required to fill that role. Tony Carr

January 2016 – Through 20 games of his junior year with the Boston College Eagles, Calnan has tallied just three goals and six assists. Serving as an alternate captain this year, he had hoped to take on more of the offensive responsibility this year but it just hasn't happened yet. Despite the lack of offensive output, his size certainly could serve him well in a bottom-six role in the NHL. Matt Donohue

July 2015 – When we last updated you on Calnan's sophomore campaign at Boston College in February, he had 16 points through 29 games. As a result of a 14 game pointless streak to close out the season, he finished with just those 16 points in 37 games. For the second consecutive season, Calnan appeared to hit a wall in the second half of the season, as he had just four points in his last 18 games to close out his 2013-14. While he has certainly battled inconsistency during his first two seasons at BC, he is still just 21 and has at least another year of development at the NCAA level before making a decision on going pro. Matt Donohue 

February 2015 – Currently playing in his sophomore season with Boston College, the former third rounder has 11 goals and five assists through 29 games. Despite more than doubling his goal output from a year ago, it should be noted that he is benefitting from a 19% shooting percentage, with those 11 goals coming on just 58 SOGs. While we don't necessarily see this scoring pace continuing, it is nice to see him averaging two shots per game versus less than one per game in 2013-14. Calnan will likely be returning to BC for his junior season in 2015-16 and a decision on his professional career will be made in the spring of 2016. Matt Donohue

June 2014 – Calnan did not put up big time offensive numbers in his freshman season, but should be given more of an opportunity in his sophomore year. The departures of guys like Johnny Gaudreau and Kevin Hayes will thrust Calnan into more of an offensive role in next season. As a result, poolies should get a better read on his fantasy potential this in 2014-15. He remains years away from contributing for the Blackhawks, but definitely has the size to contribute at the next level. Matt Donohue

June 2013 – We'll start to get a better read on Calnan's future as he begins his collegiate career with perennial NCAA powerhouse Boston College this fall. Calnan played this past season for the South Shore Kings of the EJHL where he had 49 points in 31 games. Rex Doty

November 2012 – Calnan already has pretty good size although would benefit with continued body development as he enters Boston College (Hockey East) next fall. He skates well and possesses good offensive instincts and could become a power forward in the pro ranks if his success continues. He currently is honing his game with the South Shore Kings (EJHL) as a top scorer in the league. He had other options of the QMJHL and USHL this season, though chose to stay close to home.
| Attributes | |
| --- | --- |
| Fantasy Upside | 3.0 |
| NHL Certainty | 1.0 |
| Country | USA |
| Position | RW |
| Roster Type | Free Agent |
| Shoot/Glove | Right |
| Date of Birth | May 5, 1994 |
| Height | 6'2" |
| Weight | 203 lbs |
| Drafted | 2012 Round 3; Overall: 79 |
| | |
Highlights