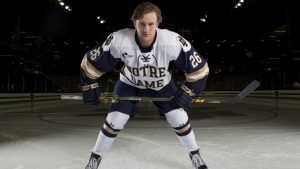 image courtesy of Notre Dame Athletics
Fantasy Summary
Power-forward size and potential but needs more offensive to be relevant
Observations
Click to Expand

August 2020 – The Chicago Blackhawks have signed Morrison to an ELC.

August 2020 – The Avalanche's window to sign Morrison to an ELC has officially closed, making him a free agent. The 2019-20 season was his best with Notre Dame in the NCAA, but not much more than what is expected of any senior in the league. He ranked second on his team in points with 27 in 37 games, and first on his team in goals with 13 which was his highest since his pre-college days. He's unlikely to receive an NHL ELC, but is certainly capable enough to earn an AHL deal as a goal scorer with good size and a history of clutch performance. An AHL deal would of course drive down the small amount of fantasy value he has left, so unless someone takes a chance on him, do no draft in any formats. Hayden Soboleski

May 2019 – Morrison has committed to UND for the 2019-20 season. A miracle training camp could always change things, but this was expected of the power-forward with lots of room for improvement still. Hayden Soboleski

March 2019 – This isn't a cut-and-paste error: Morrison scored Notre Dame's game-winner to win the Big-Ten NCAA Tournament and was named to the All-Tournament Team. He remains a clutch presence, and his point-per-game totals this season are career-highs. Despite this growth, he hasn't shown upside greater than a useful bottom-six NHLer yet, but some power forwards just need the right system to click. Hayden Soboleski

February 2019 – Now a Junior at the University of Notre Dame, Morrison is putting up his best offensive totals yet. He has already matched last season's goal total of 8 in less than half as many games played. If he maintains his nearly point-per-game pace he could earn himself an AHL audition sooner rather than later, but he remains a long way from an NHL tryout even if he turns pro, and the Avs organization hasn't exactly been a gold standard for developing power forwards. Hayden Soboleski

May 2018 – Good news first: Morrison scored the overtime game-winner to win the Big-Ten NCAA Tournament and was named to the All-Tournament Team. Bad news second: Morrison had one fewer point as a sophomore than as a rookie in the same amount of games played. His goal total dropped despite having a normal shooting percentage, and was the worst plus/minus on the team by a mile (although playing against tough competition does that sometimes). Not encouraging news from a fantasy perspective. Don't expect him to turn pro yet, and don't draft him in anticipation of it, despite his clutch performance. Hayden Soboleski

December 2017 – Morrison hasn't taken the step forward he was hoping for as a sophomore in the NCAA. His scoring pace is almost exactly the same as last season, but with more assists and fewer goals. His shooting rate is down from 2016-17 (currently below two SOG per game), and he is the lone minus-rating forward on a team that's 14-3-1. That being said, the 6-03 power forward wasn't drafted to shoot the lights out, and is by no means off-track from becoming a useful bottom-six guy when his college career ends. But is fantasy value will not be high when that time comes. Hayden Soboleski

April 2017 – Cam Morrison finished his rookie NCAA campaign with 12 goals, 12 assists, and 83 SOG in 40 games played. This isn't exceptional, but is a fairly successful first year in the tough league. Staying over two-SOG-per game mark was nice to show us he's able to create chances, but with many other players totaling well over 100, there is ceratinly room to grow. He will return to college hockey again next season and hopefully take another step forward. Hayden Soboleski November 2016 – Another Avalanche prospect making the big jump from Junior hockey to a tougher league, Morrison hasn't disappointed after scoring five points in eight games so far with Notre Dame in the NCAA. The already bulky power forward has grown in both height and weight since being drafted. The fact that 4-of-5 of these points have come on the powerplay and he has a minus-two rating at even-strength is concerning, but as a freshman learning the ropes of a much more competitive league, any production is welcome. Hayden Soboleski July 2016 – The Avalanche selected power forward Cam Morrison with their 2nd-roun-pick of the 2016 Entry Draft. This was higher than he was expected to go in most pre-draft rankings and reports, but the sizable winger and centerman has enough potential to become a dominant player that fans may not mind the gamble down the road. This season in the USHL he earned Rookie-of-the-Year honors after recording 34 goals and 32 assists in 60 games. Hayden Soboleski Morrison is a power forward by nature, naturally using his size to his advantage. His play with the puck is what got him drafted so high – he has the ability to drive the net, cause a commotion, and find the right places to be game-in and game-out. His decision-making and general hockey sense on the ice is one of his strongest assets. Given his combination of smarts, talent, and size, he possesses notable upside both in fantasy hockey and the real game. He will spend his time in the NCAA working on his overall skating and agility, and tuning his game when he doesn't have the puck.