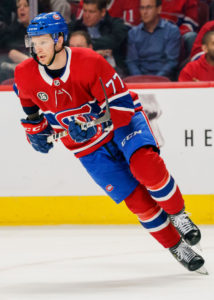 nhl.com
Fantasy Summary
Two-way puck moving defenseman with upside of second pairing.
Observations
Click to Expand

August 2020 – Kulak has been a sneakily strong defenseman for the Canadiens in his two years since arriving in Montreal. He is not the most flashy which is shown through his humble seven assists in 56 games during the regular season, and three assists in 10 playoff games. However, Kulak excelled at controlling shot attempts while on the ice at even strength with an identical 57.4% corsi in the playoffs and the regular season. He may not be scoring goals or landing a big hit, but Kulak is a smooth skater with a good first pass. You might not notice him when he is on the ice but that is because he is almost always making the right play and transitioning the puck up the ice. Pablo Ruiz

Oct 2018 – Brett has been traded to Montreal for Rinat Valiev and Matt Taormina. He has been assigned to Laval. Kulak is a quality NHL defender but had his job stolen by prospects who passed him. This will give in another opportunity to continue his NHL career. – Joel Henderson

July 2018 – Kulak received a qualifying offer from the Flames and has filed for arbitration. This was essentially his first NHL season as he suited up for 71 games over the course of the year. After Christmas, he played anywhere from eight to 15 minutes a night and rarely any special teams time. The coaching staff simply relied on him to fill the bottom pairing minutes with Stone. Kulak remains the most interesting Flames D since there is pressure on all sides. He is the only top-six player who is not under a multi-year contract and he has three prospects knocking at the jar to take his minutes. Kulak's future might simply depend on how much the new coach likes him. – Joel Henderson

Dec 2017 – Good News? It seems it good Kulak seven games to proof to coaching staff he was the better every day 6th Dman. He's played in 19 of 21 games since that point. Bad news? He's still earning trust and there isn't much upward trending. He plays anywhere from eight to sixteen minutes a night but nothing on special teams. With all the talk on how poor the PK has been, it's surprising that they haven't used Kulak much in that spot. Kulak was never really the dominant option in the AHL either, so fantasy owners are seeing what they will get from him. – Joel Henderson

July 2017 – Read below. Post was made Jun 22nd. Flames added Travis Hamonic via trade and re-signed Michael Stone. There is one every day roster spot now available. The good news is that Calgary gave the RFA a qualifying offer which means they still believe in his skill set. – Joel Henderson

Jun 2017 – If fans have learned anything from watching Treliving and the coaching staff, they aren't sly with how they feel about their players. They will let players like Kulak earn minutes, but if they don't play you when they could play you, it's not rocket science. Kulak has the ability to be a bottom pairing Dman but even with spots available, I'd expect Flames to use Kulak similar to how they used him this year. CGY will look to add another Top 4 via trade and I'd expect another FA signing or a battle come training camp. Kulak will have to win a job from Rasmus Anderson or Oliver Kylington too. I don't see it. He will continue to be a depth option. – Joel Henderson

Dec 2016 – This year's press box guy; Brett Kulak. He beat out the competition for the final NHL job to begin the year and has so far found his way into 15 games. He does not receieve many minutes and if he ends up on the PP it seems accidental. He's been sent down to Stockton most likely because he hasn't played for a while. He will grab some top minutes and be back. His transition skills are developing but he's not the classic offensive defenseman. – Joel Henderson

Oct 2016 – Kulak is one of two defensemen trying to grab a press box job. Veteren vs Rookie. By watching them play, Kulak should grab the job. By listening to coach Gulutzan speak of them, he will be sent back to the AHL. We will find out shortly. Regardless, this is the second year of impressing different coaches in camp. – Joel Henderson

Mar 2016 – Kulak was one of three emergency call ups to the NHL and entered his first NHL game since Oct 20th. He played third pairing minutes and recieved no special teams time. Kulak has been working on his defensive play in Stockton since his mobility and puck movement is a strength. He has become a solid all around pro; it's a huge plus that his game certainly translates to the NHL in the Flames organization. The call ups from Stockton on the back end this season have all looked like they could stick. – Joel Henderson

Jan 2016 – In the month of December, Kulak grabbed a goal and an assist in nine games. He created quite the buzz beginning the year with the Flames and that buzz has all but fizzled out fantasy wise. He is still generating shots from the backend (14 in 9 games), but the offensive numbers team wide don't resemble the big club. For the time being, he is playing solid minutes and in the lineup almost every night. – Joel Henderson

Oct 2015 – He skated in 6 games for the Flames before being assigned to Stockton. This was a great first showing and rarely looked out of place. It was the little passes that kept them from getting trapped in their own zone which stood out the most. Playing with Engelland can be challenging for some people but the pairing did just fine. He remains one to watch. – Joel Henderson

Sept 2015 – Work ethic and skating ability has paid off so far. He is one of nine remaining blue liners left for the Flames. With Smid and Brodie currently out with injuries, only Ryan Wilson (unsigned) could pass him for an opening night roster spot. Kulak made great strides last season in Stockton after being called up from the ECHL but this is another huge leap for the speedy Dman. However, whoever gains the playing time will be with Engelland on the third pairing and once Brodie returns playing time will be tough to come by for everyone. Passing a number of people on the depth chart is big for Kulak as he has the potential to put up fantasy offensive numbers.  – Joel Henderson 

June 2015 – Kulak managed to suit up 39 games for the Colorado Eagles, 26 games for Adirondack Flames, and one game at the end of the year after being a late call-up. He was called up to the AHL after Ryan Culkin went down with injury. His offensive abilities are noticeable as he adjusted to the speed and transition game at the AHL level and received coaching praise about his play in his own end. He remains a player with NHL potential after another couple years in the AHL. Joel Henderson

March 2014 – Kulak took a bit of a hit to his defensive numbers in his sophomore season with the Giants in 2012-13. After leading the team in +/- in his rookie season with a respectable plus-28, he saw that figure drop to a ghastly minus-34 during a rebuilding year in Vancouver. Granted, he did nearly double his offensive production from 22 points to 44 points (including 12 goals). This season, Kulak took his offensive game to a new level potting 60 points (14 goals) in 69 games and finishing the regular season ranked eighth in WHL scoring among defensemen. The puck-moving rear-guard has become somewhat of a leader on his Giants squad and sports an 'A' on his jersey to show for it. He moves well and his shot continues to improve from the point. Although the offensive production is somewhat welcomed from the 20-year-old, it's the fact his defensive game took another step forward that shines through. He turned the minus-34 into a much more palatable minus-8 this season and then chipped in with three points in four playoff games before Vancouver was bounced from the WHL post-season in a four game sweep at the hands of the Winterhawks. Kulak shows a commitment to getting stronger and improving on both sides of the puck. He'll need it, he saw four games with the AHL's Heat to close the season last year and will likely join the team once again this year. With Abbotsford headed to the playoffs it is unknown how much ice he will see but you never know, he may even get some time in pressure situations. Kulak signed a three year entry level contract earlier this month. Brad Wilson

April 2012 – Kulak had an impressive rookie season in the WHL where he came out of nowhere to become one of the Vancouver Giants most reliable defenseman. He plays a safe and quiet game that has translated to some impressive numbers. In addition to putting up 24 points, he also registered a plus-29 rating. Kulak will have to build more strength and become a more physical defender. While he is a good stick checker, he doesn't take the body nearly enough. His smarts and sound positional play make him a safe bet to get drafted.
Highlights