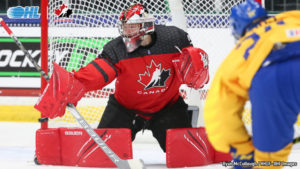 ontariohockeyleague.com
Fantasy Summary
Quick, athletic goaltender who reads the play well. His development path could be a long one but he has the potential to become a starting goaltender at the NHL level.
Observations
Click to Expand

June 2022 – Gaudreau remains one of the better goaltending prospects on the planet and took a nice development step forward after missing all of last season due to the pandemic. While he is still far away from NHL games, he has the potential to be the Sharks starting goalie of the future. Look for him to continue his strong play in the OHL and take a stab at the starting goaltender position for Canada's World Junior team in December. Donesh Mazloum

July 2021 – Gaudreau was selected in the third round, 81st overall by the San Jose Sharks in the 2021 NHL Draft. Dave Hall

July 2021 – Gaudreau missed out on a regular season as the OHL never got going, but he made up for lost time with a strong performance at the U18 World Championships. His 2.20 goals against average and .919 save percentage through five games helped lead Canada to a gold medal and earned him Top Goaltender honors for the tournament.

Gaudreau is an athletic goalie with great quickness in his movements. He is a strong skater for the position and has the ability to react in short order to make desperation saves. There is a fine line between being athletic and being overactive in the crease, however, and Gaudreau is still working to find that balance.