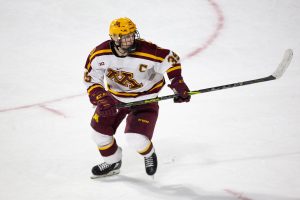 Image courtesy of HockeyWilderness
Fantasy Summary
Versatile forward with NCAA success and 3rd-line upside
Observations
Click to Expand

November 2022 – Meyers suffered a lower-body injury at the end of October and is currently out of the lineup. A timeline for his recovery is unknown. Hayden Soboleski

October 2022 – After making the Avs' fourth line out of camp, Meyers has been demoted to the AHL after lackluster play (albeit in very little ice time). He was not being trusted with faceoff duties, which combined with his lack of shooting significantly hindered the potential fantasy value of the former college standout. He will most likely be the first name called back up when injuries hit or others begin to underperform, and at that time needs to show more intensity to make the most of his limited minutes. Hayden Soboleski

October 2022 – As expected, Meyers appears to have earned a fourth-line NHL role out of Avs pre-season. This was not an obvious choice however, as prospects Kaut and Bowers hung around late into camp, and KHL signee Sedlak also ate up lots of depth ice time in exhibition play. Meyers' edge was most likely his ability to engage physically and play along the boards, not his scoring as shown in the NCAA, so if his fore-checking ability is lackluster as the season begins his roster spot is certainly not locked-in. Keep an eye on whether he is used more on the wing or at center – the latter would likely give him more fantasy value and usage, while the former would make him more easily swappable during droughts. Hayden Soboleski

April 2022 – The Avalanche have signed NCAA free agent Ben Meyers to a two-year ELC, beginning immediately and ending at the end of the 2022-23 campaign. The forward garnered lots of NHL attention after a being named Big Ten Player of the Year, playing for Team USA at the Olympics, and being a Hobey Baker finalist. Coach Bednar praised the 23-year-old's motor and said he will see some action as this season winds down, but he is not playoff-eligible so he may not be a regular down the stretch as post-season lines get tried out. He will be expected to compete for a bottom-six NHL spot out of training camp come September. Hayden Soboleski

Meyers scored 41 points in 34 games as captain of the Gophers this season and just under a point-per-game in the 2020-21 campaign. His totals and his shot volume (just under 3 SOG/game) give him fantasy relevance, and although he isn't heavily physical his pro-ready build gives him the ability to stay close to the play along the boards and in the corners where he is able to disrupt breakouts and create plays. He may require some AHL seasoning but his short-term deal makes it likely he will see NHL auditions at the very least.
Highlights