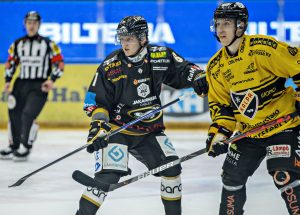 TheLeafsNation.com
Fantasy Summary
Smooth skating, offensive-minded blueliner who needs to refine his play away from the puck. Long-term project.
Observations
Click to Expand

December 2022 – Rindell's North American career appears over before it ever really got started. After just six AHL games with the Marlies and five ECHL contests with Newfoundland, the Leafs and Rindell have agreed to mutually terminate his contract. He is expected to sign with Timrå of the SHL. Nick Richard

April 2022 – With Rindell's rights set to expire in the offseason, the Leafs signed their sixth-round pick from the 2020 draft to a two-year entry level contract that will begin in the 2022-23 season. He will join the Marlies on a PTO agreement for the remainder of the 2021-22 campaign.

It was a difficult year for Rindell in Liiga. After a poor start to the season with Jukurit, he was moved to Kärpät and found some early success with his new club. As the season wore on, however, his production and role diminished. Rindell will look to turn things around in a late-season audition with the Marlies and gain some experience heading into his first full season in North America. Nick Richard

December 2021 – Rindell got off to a slow offensive start on a poor Jukurit squad but has started to pile up the points since being traded to Kärpät. After registering just five assists in 16 games with Jukurit, he has tallied a goal and eight assists through his first 11 games with Kärpät – scoring at an even higher pace than he managed last season.

Rindell is still very much a long-term project but his offensive game will be his ticket to North American success so it has been encouraging to see him turn his season around since moving to Kärpät. Nick Richard

January 2021 – Rindell has reportedly signed a contract extension in Finland that will keep him there for the 2021-22 campaign. he would have been an interesting option in the AHL to see how his skills translated, but an extra year of playing against men in Liiga will only help his development which was long-term regardless. Hayden Soboleski

January 2021 – Rindell's hot start was not a flash in the pan – through  25 games he sits 4th among Liiga defenders in scoring with 4 goals and 13 assists. The 20-year-old's production has turned him into a legitimate prospect asset despite being selected in the 6th round as a defensive "fixer-upper" (which is still true). Hayden Soboleski

December 2020 – Rindell is proving worthy of the flyer the Leafs took on him in the 6th round this year. After an impressive 22 points in 47 games as a Liiga rookie, he is following it up so far with 12 points in 19 contests in 2020-21, leading his team. One reason for his strong offensive totals is the fact that he shoots all the time (over 4 SOG/game in 2019-20 and 2020-21 so far), and its hard to blame him given his great point shot. He has also seen an uptick in aTOI since last season, jumping from 18 minutes to 20 minutes per night. His defensive play and his skating skills are still large roadblocks he will need to overcome to become a top prospect, but his natural knack for creating offense is a good quality and he will likely be worthy of a tryout on the Marlies in the next year or two. Hayden Soboleski

October 2020 – The Maple Leafs have selected Rindell with the 177th-overall pick of the 2020 Entry Draft. The over-ager isn't a completely off-the-board pick given his strong Liiga rookie season and an appearance on the WJC squad for Team Finland, but like all players in the final rounds there was a chance of him going undrafted and being available as a camp invite.
Highlights