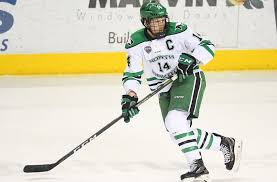 Fantasy Summary
NHL Depth Forward potential
Observations
Click to Expand

April 2018 –Having wrapped up his senior year with Notre Dame, the St. Louis Blues signed Poganski to a two year deal. Poganski played his final season as the captain putting up 20 points in 40 games. He is a power forward that is still coming into his own. Nothing about Poganski's overall game will knock you off your feet but his play is consistent. Most recently the 2014 draft picked was sent to the San Antonio Rampage for their final stretch of games and put up two points. For the 22-year old to be successful at the pro game he's going to need time to adjust. Though Poganski is already showing signs that playing against men is not an issue. Josh Epstein

September 2017 – Poganski remains unsigned by the St. Louis Blues heading back to the University of North Dakota for his senior season.  In 2016-2017 Poganski played 40 games and had 12 goals and 13 assists for 25 points.  Poganski is a power forward and it is commonplace for a power forward to develop slowly.  Even so, fourth season NCAA players are an unknown as far as signing with the original drafting team. From a fantasy draft perspective he may be intriguing but it is too soon to project Poganski's future with the St. Louis Blues. Doug Abrams

May 2016 – Poganski is a hard working north-south, power forward that plays a very reliable two-way game, and will go to all areas of ice for puck. Blue-collar type of player that loves killing penalties and uses body very well. He's earned the reputation of being a hard worker on and off the ice. His college coaches describe him as studious in the classroom, and doesn't take any shortcuts in practice. His offensive ability really took off after January 1st of last season, and was near the team lead in points for University of North Dakota during his sophomore campaign. For UND, he played on the line that was nicknamed the "heavy" line, which was noted for beating on the other team into exhaustion. Austin is also a very coachable prospect. His speed has increased in the recent years and developed a quick shot. Coaches and scouts love working with Poganski, so it's a good bet he'll continue to develop at a rapid pace. Fits the David Backes mold quite well, but will return to UND next season. Blues will give him plenty of seasoning time to allow him to develop his offensive game further. He projects as a third line forward that will rack up those defensive statistics and fine point producer.
Highlights