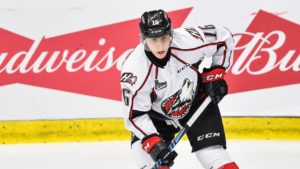 image courtesy of NHL.com
Fantasy Summary
Powerful, high-scoring winger with top-six upside
Observations
Click to Expand

September 2023 – Beaucage is attending Avs training camp but is not yet cleared for contact following season-ending surgery. With a new coach and lots of roster spots up for grabs, this is primed to be a key season of development for the shooter which will inform fantasy owners if its time to move on. Hayden Soboleski

May 2023 – Shoulder surgery ended Beaucage's season early, ending a disappointing campaign where the scoring winger didn't take the steps he hoped to. Despite his shot being capable of beating pro-level goalies clean, the sniper was used primarily in a limited role and as a result he managed just 20 points in 63 games. His shot volume took a step forward despite the limited usage, and his penchant for undisciplined penalties will make owners in multi-cat leagues happy, however lots of development is still needed in the minors before he gets any real NHL consideration. Expect at least 2 more seasons in the AHL, and watch his spot in the lineup to see when the organization starts believing he can be trusted with more responsibility. Hayden Soboleski

September 2022 – Beaucage has been reassigned from Avs training camp to the AHL, as expected at this stage in his development. His pre-season showed exactly the signs fantasy owners would hope for – the former QMJHL sniper averaged five SOG per game and netted two goals in two exhibition games. He is unlikely to see NHL action this year, but he will be expected to take a step offensively with more responsibility for the Eagles and last longer into the pre-season in 2023. There will be a big jump in fantasy-relevance when he comes into his own. Hayden Soboleski

March 2022 – Beaucage is now up to ten points in 31 AHL contests as he has rotated in and out of the Eagles' lineup. His claim to fame in Junior was his ability to score from anywhere, and that required some adjustment turning pro. His shot volume has decreased over the course of the campaign, but this may not be a bad sign as he initially tended to settle for low-danger chances. If he can get closer to the net and choose his shots more carefully he can get back to the fantasy trajectory we saw from him in the QMJHL. He is in clear need of more AHL time to round out his game however, fantasy owners should be prepared to wait at least two seasons before auditions begin. Hayden Soboleski

November 2021 – His scoring pace certainly hasn't matched his QMJHL stats, but Beaucage has shown signs of fantasy life despite the underwhelming six points in 17 AHL contests. His shot volume is over two-per-game, his points have not come in multi-point games against weak teams (meaning he has points in a higher percentage of games played), and he is doing this in a middle-six role while remaining a positive plus/minus player. He has also cut down on his minor penalties after taking several early on, which will only help his case for seeing bigger minutes. He isn't blowing the doors off as a rookie pro, but he remains a legit prospects in the cupboard for the Avs. Hayden Soboleski

October 2021 – Beaucage has been assigned to the AHL Eagles to begin his pro career. His pure scoring upside will be one of the highest on the squad so keep an eye on his usage, especially on the man-advantage. Hayden Soboleski

June 2021 – Beaucage has won another QMJHL championship, this time leading the playoffs with 25 points in 16 contests. This was a fittingly dominant end to his QMJHL career where he has nothing left to prove. Time to see if he can replicate his results in pro in 2021-22. Hayden Soboleski

May 2021 – Colorado has signed Beaucage to a 3-year ELC. This comes on the heels of another season of top-end production in the QMJHL where he put up 28 points in 22 games, including a goal-per-game pace before being traded to a contender. In his ongoing playoff run with his first new team in 4 years, he is dominating the scoresheet with 17 points in 10 games heading into the finals. Turning 20 in July, it's time to turn pro for the next chapter in his development. Hayden Soboleski

April 2020 – Beaucage finished the shortened 2019-20 campaign with 40 goals (T-3rd in the Q) and 70 points. These paces are very similar to his 2018-19 results, but he did so as the far and away team leader offensively rather than a supporting role. His responsibility to produce offense led to shooting and scoring from all over the ice, resulting in him being a threat at any given moment. As a big body, Colorado may be willing to sign him to a pro deal sooner rather than later, however he may return to Junior one more time to work on non-scoring related talents such as skating efficiency and focusing on scoring plays that will be reproducible against tougher competition. Hayden Soboleski

January 2020 – The power winger has continued to climb in the QMJHL scoring race, now up to 30 goals (2nd in the league) and 51 points (9th in the league) in 42 games played. The big 18-year-old was expected to take a step forward this season, but his ability to carry his club so heavily (the next highest goal scorer has just 18) has exceeded most expectations. Time will tell if his production can carry over into pro, where he will no longer be the go-to scorer (at first, anyways). Hayden Soboleski

November 2019 – Beaucage sits in the Top-20 of QMJHL scoring with 22 points in 18 games played so far. He leads the Huskies, and his rate of roughly 4 SOG per game make his pace reasonably sustainable. If he can keep it up, he will be a candidate to turn pro next season. He has been named to represent the QMJHL in the upcoming CHL/Russia series. Hayden Soboleski

September 2019 – As expected, Beaucage has been reassigned to the QMJHL for the 2019-20 season following a brief look in training camp. The third-year Husky will attempt to build upon his breakout 39-goal campaign last season. Hayden Soboleski

June 2019 – The Avalanche have selected Beaucage with their 3rd-round pick of the 2019 NHL Entry Draft.

Beaucage brings a package of potential that every team dreams of. He put up 39 goals and 40 assists as a 17-year-old in the QMJHL. He is a QMJHL and Memorial Cup champion. He puts up good SOG numbers, has a great shot, and he produced well on the man-advantage (but not so well that you question his abilities at even-strength). At 6'2″ and 192 lbs (again, at age 17), its safe to say he will have the body to play against men when the time comes. He is however an extremely raw prospect when it comes to skating with and without the puck. He has skill development to do still, but he has lots of time to do it (he will remain in the Q for another two years most likely).
Highlights