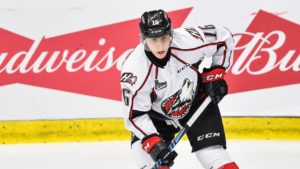 image courtesy of NHL.com
Fantasy Summary
Powerful, high-scoring power winger with top-six upside
Observations
Click to Expand

April 2020 – Beaucage finished the shortened 2019-20 campaign with 40 goals (T-3rd in the Q) and 70 points. These paces are very similar to hi 2018-19 results, but he did so as the far and away team leader offensively rather than a supporting role. His responsibility to produce offense led to shooting and scoring from all over the ice, resulting in him being a threat at any given moment. As a big body, Colorado may be willing to sign him to a pro deal sooner rather than later, however he may return to Junior one more time to work on non-scoring related talents such as skating efficiency and focusing on scoring plays that will be reproducible against tougher competition. Hayden Soboleski

January 2020 – The power winger has continued to climb in the QMJHL scoring race, now up to 30 goals (2nd in the league) and 51 points (9th in the league) in 42 games played. The big 18-year-old was expected to take a step forward this season, but his ability to carry his club so heavily (the next highest goal scorer has just 18) has exceeded most expectations. Time will tell if his production can carry over into pro, where he will no longer be the go-to scorer (at first, anyways). Hayden Soboleski

November 2019 – Beaucage sits in the Top-20 of QMJHL scoring with 22 points in 18 games played so far. He leads the Huskies, and his rate of roughly 4 SOG per game make his pace reasonably sustainable. If he can keep it up, he will be a candidate to turn pro next season. He has been named to represent the QMJHL in the upcoming CHL/Russia series. Hayden Soboleski

September 2019 – As expected, Beaucage has been reassigned to the QMJHL for the 2019-20 season following a brief look in training camp. The third-year Husky will attempt to build upon his breakout 39-goal campaign last season. Hayden Soboleski

June 2019 – The Avalanche have selected Beaucage with their 3rd-round pick of the 2019 NHL Entry Draft.

Beaucage brings a package of potential that every team dreams of. He put up 39 goals and 40 assists as a 17-year-old in the QMJHL. He is a QMJHL and Memorial Cup champion. He puts up good SOG numbers, has a great shot, and he produced well on the man-advantage (but not so well that you question his abilities at even-strength). At 6'2″ and 192 lbs (again, at age 17), its safe to say he will have the body to play against men when the time comes. He is however an extremely raw prospect when it comes to skating with and without the puck. He has skill development to do still, but he has lots of time to do it (he will remain in the Q for another two years most likely). 
Highlights