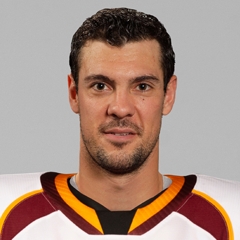 Photo courtesy of TheAHL.com
Fantasy Summary
Excellent offensively, but has to work on defensive game. Top-four PP QB upside, but he's with his sixth NHL organization in four seasons.
Observations
Click to Expand

June 2019 – Clendening has extended his contract by two years. The first season of the agreement is a two-way deal with the second year being a one-way. This news points to the blueliner being a regular call-up this season with a full-time spot on the Blue Jackets' defense the following campaign. Frank Pellegrini

May 2019 – Clendening played just four scoreless games for the Blue Jackets this past season. He posted an impressive 37 points in 45 contests for Cleveland. The 26-year-old has played in over 300 games for five different clubs at the AHL level. With little to no availability on the Columbus blueline, he should add to that total this fall. There is barely any fantasy value to be had as a result. Frank Pellegrini

January 2019 – Clendening began the season with the Blue Jackets, appearing in four straight games. His ice time was very limited, and he was held pointless. As a result, he was constantly a healthy scratch. In mid-November, he cleared waivers and headed to Cleveland of the AHL. Through 22 games with the Monsters, he has played at a point-per-game pace. Not surprising given that he is in the final year of his contract. It will be interesting to see who he signs with next season as he is capable of making a jump to full-time NHL duties. His fantasy value is reserved for those in the deepest of leagues.  Frank Pellegrini

March 2018- With an assist versus the Texas Stars, Clendening has become the all time leader in points by a defenceman with the Rockford Icehogs.