August 32-in-32: Carolina Hurricanes
Nick Bass
2023-08-09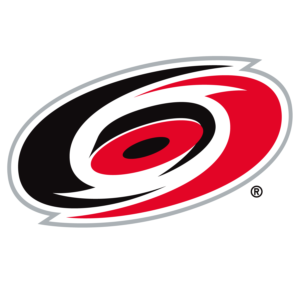 ***
Welcome to the August edition of the DobberProspects 32-in-32 Series. This month, we are diving into the depth of each organization, looking at their recent graduates, risers, fallers and top-20 prospects.
***
After a solid draft and not trading away any top prospects, the Carolina Hurricanes prospect pool is still stacked considering that they are a contending team. Some might say that not
trading away said prospects might not have helped the team now, but keeping the farm topped up is always good, especially for a team already competing. After drafting 10, seven and 13 players in the last three drafts respectfully, the Canes system is filled to the brim with prospects. The potential issue that might arise is that the system itself might lack a top offensive prospect. One thing that can be said, is that it is certainly not lacking a star on the defensive end.
Graduating Players
The Hurricanes don't really have a ton of guys graduating for the reason of not having a full time AHL affiliation, so it's kind of tough to graduate guys to a team they don't have. But,
nevertheless, they do have a few coming from Junior to College and potentially from the AHL to the NHL team.
Graduate to NHL
Vasili Ponomarev, C
Ponomarev has had a nice developmental stint with the Chicago Wolves in the AHL, seeing his 200 foot game really develop as well as seeing his point production
continue to increase. The fourth line center spot will be up for grabs during NHL Training Camp and I think Ponomarev has a real chance to grab the spot.
Graduating from Junior to College
Bradly Nadeau, F
After an incredible year for the Penticton Vees in the BCHL, Nadeau heads to Maine in the NCAA. 2023-24 looms rather large in showing his real potential as it's a
big step up in talent.
Jayden Perron, F
Another Canes prospect that found himself playing on the Chicago Steel in the USHL, Perron heads to the University of North Dakota. Coincidentally, current Canes prospect Jackson Blake plays there which is nice since it was obvious that Perron and Blake had solid chemistry with each other at the Prospect Showcase Camp.
Michael Emerson, F
Another player completing the pipeline, Emerson hopes to continue his development after a solid season for the Chicago Steel in the USHL at the University of North Dakota with current Canes prospect Jackson Blake and Jayden Perron.
Risers
Alexander Nikishin, D
When you go from 12 points to 55 points in one year, you become a very high riser. His overall development has been ridiculous to watch and should only continue his upward trajectory to the ire of many Hurricanes fans ready to watch the Russian in North Carolina.
Cruz Lucius, F
It's always an interesting step for a player to go from the USNTDP to the NCAA because it's a rather large jump but Lucius thrived moving up in competition. He went from a sub point-per-game player to a pure point-per-game player against players older and more experienced than him. His skating is still questionable but everything else about him is where it needs to be, with the potential to be better.
Jackson Blake, F
Another example of a player graduating last year that could've gone wrong but Jackson Blake somehow became even better. He became a mainstay in the University of North Dakota's top six quickly and was used in all situations. Going into next year with a full offseason and gaining a few former Chicago Steel teammates in Michael Emerson and Jayden Perron (coincidentally both Canes prospects) and Blake should only continue to thrive and improve.
Prospect Fallers
Ryan Suzuki
As soon as Suzuki gets a full, uninterrupted season under his belt, he will correct his shaken development path. But since that hasn't happened yet, he ends up as a faller. Suzuki has talent and some 200-feet level skill, but his years of injuries and global pandemic has him falling down the rankings.
Alexander Pashin
Pashin falls into the classic case of a prospect leaving Europe to get some North American ice time under their belt and having a chance to go up against men in the AHL. Sadly, Pashin struggled in his first full year in the AHL, going from 30 points in 34 MHL games to a meager 10 points in 47 AHL games. The physicality of going against men stronger than what he was used to in Russia didn't make for a good year but hopefully heading back to the MHL will get him back on track.
Organizational Depth Chart
Left Wing
– Bradly Nadeau
– Gleb Trikozov
– Ville Koivunen
– Timur Mukhanov
– Alexander Perevalov
– Michael Emerson
– Kirill Slepets
Center
– Vasili Ponomarev
– Jamieson Rees
– Justin Robidas
– Massimo Rizzo
– Lucas Mercuri
Right Wing
– Jayden Perron
– Jackson Blake
– Felix Unger Sorum
– Zion Nybeck
– Alexander Rykov
– Cruz Lucius
– Noel Gunler
– Tukka Tieksola
– Alexander Pashin
– Stanislav Yarovoi
Left Defense
– Alexander Nikishin
– Domenick Fensore
– Vladimir Grudinin
– Alexander Pelevin
– Simon Forsmark
– Ronan Seeley
– Jesper Sellgren
– Case Webber
Right Defense
– Scott Morrow
– Aleksi Heimosalmi
– Anttoni Honka
– Joel Nystrom
– Charles-Alexis Legault
– Bryce Montgomery
Goalies
– Pyotr Kochetkov
– Patrik Hamrla
– Ruslan Khazheyev
– Nikita Quapp
– Jakub Vondras
– Yaniv Perets
– Yegor Velmakin
– Yegor Naumov
– Jake Kucharski
Top 20 Fantasy Prospects
Looking ahead toward the future, this is a list of the top 20 fantasy prospects, taking into
account how close a player is to the NHL. More importantly, potential upside is heavily factored
into these rankings.
1. Alexander Nikishin, D
2. Vasili Ponomarev, C
3. Bradly Nadeau, W
4. Scott Morrow, D
5. Jamieson Rees, C/W
6. Jayden Perron, W
7. Gleb Trikozov, W
8. Jackson Blake, W
9. Domenick Fensore, D
10. Felix Unger Sorum, W
11. Aleksi Heimosalmi, D
12. Justin Robidas, C
13. Ville Koivunen, W
14. Massimo Rizzo, C
15. Anttoni Honka, D
16. Joel Nystrom, D
17. Zion Nybeck, W
18. Alexander Rykov, W
19. Cruz Lucius, W
20. Tukka Tieksola, W
Standouts from Tournaments and Camps
Not to plug anything more than I have with this series, but I'm basically going to copy what I wrote for my thoughts on Carolina Hurricanes Prospect Camp for some standout players.
Firstly, Jayden Perron's skating and hockey IQ was on full display in both the individual drills and the 3 on 3 scrimmage. Perron was probably the most fun player that I had the pleasure of watching during my 2 days there. Charles-Alexis Legault shocked me with his ability to move his feet for how big his frame is. Legault was a lot faster than originally anticipated, having that ability to stay with forwards trying to go past him and showing off the defensive ability that was on display for Quinnipiac in the NCAA. On a more fun note, Lucas Mercuri went 6/8 in shootout attempts that I saw so he might just become Jussi Jokinen. Lastly, Jakob Vondras has impressive crease movement for a 6 foot 4 goalie. His athleticism saved him a couple times but his showing during the camp made me even more interested in his stint with Sudbury this upcoming year. For the Tournament Standouts, Felix Unger Sorum has made a big statement with Team Sweden during the World Junior Showcase. Sorum was a late invite to the roster but made a big impact, snagging 3 assists in the first game and getting moved up to the first line for game 2, tacking on 2 more assists for 5 assists throughout the tournament. This showing is just a huge testament to his skillset in the final 50 feet of the game, being able to make passes and get to where he wants to go better than the other players his age.
Thank you for reading if you made it this far. Feel free to keep up with hopefully regular Canes
Prospects updates on Twitter @CanesProspects
Nick Bass
LATEST RADIO & DRAFTCASTS