Prospect Ramblings – Late Season Call Ups
Pat Quinn
2023-03-17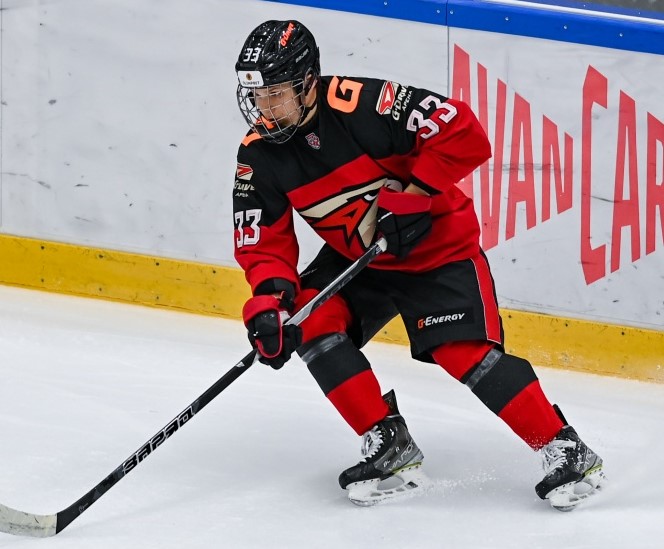 *****
Welcome to the Friday ramblings at night. As fantasy playoffs and seasons start to wind down there are always a few call ups that can put up a nice point streak to end the season. Your pool mates may not be as prospect in tune as you, so make sure to take advantage if these players are put in a prime role
*******************
BUF
Devon Levi, G
One of the top goalies outside the NHL signed a three-year ELC on March 17 after the completion of his NCAA season. It may still take a year or two but get ready for a future battle of Levi vs UPL which will drive fantasy owners nuts if they only have one. He can see a couple games this season as he will stay in Buffalo for the season:
Sabres GM Kevyn Adams confirmed Devon Levi will be on the NHL roster for the rest of the season.

They want to get Levi acclimated. Plan to take it day-by-day and get him into practices. Not ruling out that Levi will get games.

— Lance Lysowski (@LLysowski) March 17, 2023
**************
NSH
Joakim Kemell, RW
Kemell has come to North America and will report to the Milwaukee Admirals in the AHL. There is a chance he can play a couple games to end the season, and put up a nice number of points, as long as Nashville is firmly out of the playoffs
************
WSH
Connor McMichael, C/W
McMichael should still be in the NHL but thanks to two factors (current line up contracts and head coach) he has remained in the AHL. If he comes back to the NHL then hopefully Laviolette will give him top six ice time, but knowing how Lavi has coached all year that seems doubtful so if he is called up he has a chance to put up some points
*************
ARI
Josh Doan, RW
Doan has signed his three-year ELC on March 17 after two seasons in the NCAA. It is honestly quite impressive how good he was in the NCAA considering the criticism of him being picked in the second round. There were plenty of arguments for him to go later, and it was still a reach when Arizona picked him, but they look smarter now. Doan can likely get in a couple of games to finish the season, considering the Arizona roster, and may be a sneaky add in deeper leagues
**********
DET
Simon Edvinsson, D
Detroit's prized defense prospect is set to make his debut Saturday March 18 on the third pairing. The Red Wings have some injuries on the back end, so when healthy Edvinsson may wind up back in the AHL. However, do not be surprised if he stays in the NHL or gets called up later in the season for a trail end of the season run
************
PHI
Bobby Brink, RW
This one is a hopeful pic for me as I do not think the Flyers will call him up, as Torts seems happy with the roster and the Flyers may get three players back before the season ends. If Brink can get a chance, he will produce and make it exceedingly difficult for the Flyers to send him back down. With an AHL minimum of 29 games Brinks ranks seventh in points per game but that number will increase next season
Just a note: Emil Andrae has come to the AHL for the Flyers and will finish the season on an AHL tryout contract. He is one to watch in the Flyers' system
**********
SJ
Thomas Bordeleau, C
Bordeleau has been one of the Barracuda's best players this season. He is currently third in points, with 39 points in 58 games and sits second in goals with 20. The Sharks already recalled Eklund and are still losing. Adding Bordeleau will likely not help the Sharks quest to stay out of the Bedard sweepstakes but he can add some scoring, so fans have something to cheer
Shakir Mukhamadulin, D
The main player piece in the Meier deal completed his KHL season as his team was eliminated in six games and has come over to North America to play in the AHL with the Barracuda. Considering this team employs a not great defense unit, Mukhamadulin can likely get in a few games to see how fast the NHL is
*****
STL
Joel Hofer, G
Hofer will make his debut Saturday March 18 for the Blues, as fans will get a look at one of the teams top two goalie prospects. Unfortunately for Hofer, unless Binnington gets suspended for more and more games, there will be a $6M road block in his starter path until 2026-27, unless the Blues can somehow get out of this deal, but Hofer would always likely take over by the end. Hopefully, he can play well in his start, to show Blues fans what is in store in the future.
*****
Thanks for reading, follow my twitter: @FHPQuinn
Pat Quinn
LATEST RADIO & DRAFTCASTS