2023 World Junior Preview: Germany
Ben Gehrels
2022-12-21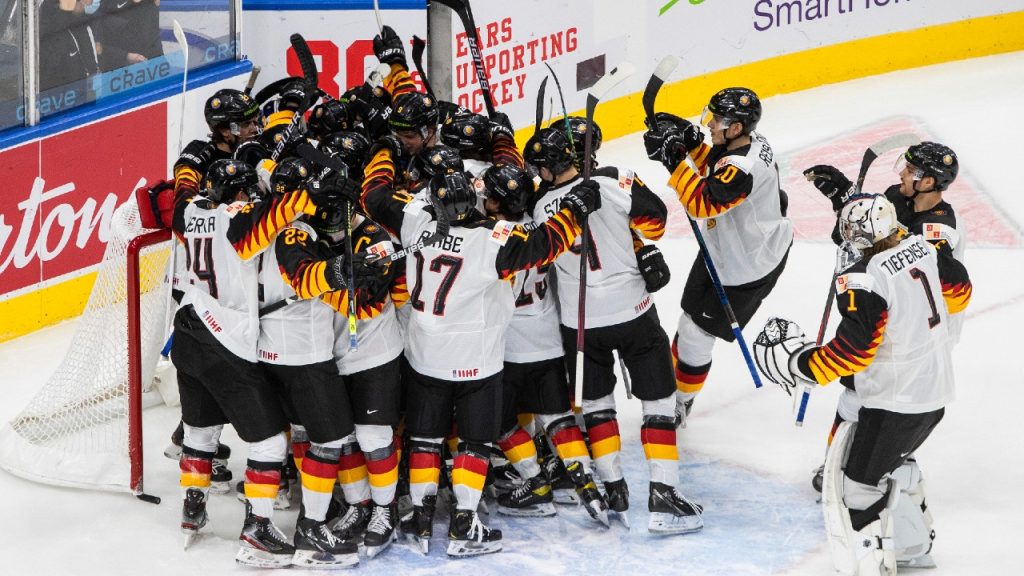 The World Juniors are the most wonderful time of year. The Holiday tradition of the best junior tournament in the word has a special kind of magic.
Each year the tournament has breakout players that use the tournament to propel their careers towards stardom. In turn, that raises the fantasy value of prospects as well. Just the prestige of making the team for Canada, USA, Russia, Finland, or Sweden can help raise a player's fantasy stock and ownership.
Indeed, the WJC is a must watch tournament for many reasons. The entertainment value is always a 10/10, the hockey is excellent, and it is an opportunity to watch, scout your fantasy hockey prospects.
With that in mind let's get ready by reviewing the players that will be in this tournament.
Team Germany
After finishing sixth at the WJC this past summer in Edmonton, Team Germany is coming into this tournament with something to prove. Given their relative lack of star power, which will again be the case in Halifax, the Germans will be in tough to both move up on the teams who finished ahead of them last time (Canada, Finland, Sweden, Czechia, USA) and even maintain their position against those who finished behind them (Slovakia, Switzerland, Austria, Latvia). Due to the IIHF's war-related suspension, there will once again be no Team Russia. Unlike at the most recent tournament, the bottom team will be relegated this time around, so that should provide the Germans with extra motivation.
Early pre-tournament results have been mixed so far: the Germans beat Slovakia 5-0 on Dec.18th but then lost to Austria 4-3 in overtime on the 20th. Wins against these teams will be key to the Germans making the quarterfinals again. The Slovaks boast five NHL prospects to Germany's three, whereas Austria only has one now that Marco Kasper (DET) will not be attending.
The Germans have eleven returning players from the 2022 WJC and have elected to go with an older group at this tournament: their squad will feature twenty 19 year olds, five 18 year olds, and no 17 year olds.
The most notable omission from that final group is 2023-eligible Kevin Bicker, who has 15 points in 14 games in his German junior league (DNL U20) but recently received a call up to the DEL, the top German men's league. Bicker is currently projected to go in the mid-to-late rounds of the 2023 draft and was one of the team's stars at the recent Ivan Hlinka Memorial tournament.
Before proceeding to some player breakdowns, here is a league legend for your reference to help contextualize the production and role/opportunity of these players:
DEL: Top German men's league
DEL2: Second-tier German men's league
Oberliga (Germany3): Third-tier German men's league
DNL U20: Top German Junior league
ICEHL: Top Austrian men's league
AlpsHL: Second-tier Austrian men's league
Here is the projected lineup for Team Germany. Many of their top players have aged out of the tournament, leaving it an open question about who will step up and lead this group. Returning players are listed in bold. Preference was generally given to prior WJC tournament production/role, NHL affiliation, current production, and then age/size:
Forwards
Rossmy – Del Monte – N. Heigl
Lutz – Hauf – Hanelt
T. Heigl – Proske – Bader
Kechter – van Calster – Oswald
(Cimmerman / Hördler / Krening)
Defence
Bidoul – van der Linde
Klein – Elten
Bettahar – Freis
(Wäser / Sinn)
Goalies
Quapp
Babulis
Wolf
One interesting wrinkle on the back end is that Germany has elected to roll with six lefties and only two righties. That means at least one defender (likely van der Linde, who has paired up with Bidoul at a previous tournament) will be playing their off side. Both reserve defenders in this projection are also lefties.
Let's take a closer look at the players on Team Germany.
Goalies
Nikita Quapp, Eisbären Berlin – Carolina Hurricanes (2021, #187)
Quapp has not played much this year with his squad in the DEL2 (only three starts) but he has done well with his limited opportunities, posting a 0.910 Save Percentage (SV%). As one of Germany's three NHL-affiliated prospects, he will have to put this team on his back for them to make a push to return to the quarterfinals. He will see a lot of rubber, as he did back in the summer against Sweden and USA, and will have to stand tall again to give his team a chance against their superior competition.
In the following sequences, Quapp shows good anticipation and lateral movement. At 6'4, 203lbs, he fills the net well and forces shooters to try one-timers or pick the corners. He could be a difference maker for Germany at this tournament.
Simon Wolf, RB Hockey Juniors
If Quapp stumbles, expect Wolf to rise to the occasion. He is also a big guy (6'3, 196lbs) and has posted solid numbers in ten games in Austria's second-tier men's league this year: 2.37 G.A.A, 0.907 SV%. Having represented his country twice before at U18s and one at the U16s, he will likely be the starter for the Germans at next year's WJC—especially if he manages to steal the reins this time around.
Rihards Babulis, EC Ban Nauheim
Babulis is a smaller netminder who has had a rough go of it in limited DEL2 action this year. He has a recent history of excelling under pressure, however: he carried his junior team well in the playoffs last year, posting a 2.29 G.A.A. over six games. He is a year older than Wolf but likely pencils in as the third option in net for the Germans.
Defence
Adrian Klein, Straubing Tigers
Klein, who was taken 45th overall in the 2021 CHL import draft by the Peterborough Petes, has bounced between the DEL and DEL2 for the last three years. He only has two points in 62 games at Germany's highest level, but that is still an impressive feat given that he is only 19. He is towering presence on the blueline (6'3, 212lbs), and his experience playing against men will be a significant asset for this team. Klein should see big minutes in German's top four alongside fellow returnee Nils Elten—a pleasant change from the four to eight minutes a night he has been seeing with Straubing.
Nils Elten, Iserlohn Roosters
Elten, one of only two right-hand shots on this team's blueline, has seen a few games in the DEL but has mostly plied his wares in the Germany3 league this year, where he has produced at a decent clip (8 points in 19). He dressed as Germany's seventh defenceman at the last tournament and will move into a much more prominent role this time around. He is another big-bodied defender (6'2, 196lbs) who will try to help set the tone physically for the Germans.
Leon van der Linde, ESV Kaufbeuren
Van der Linde also dressed as an extra defenceman at the last WJC and will play big minutes this time around. He has nine points in 11 games but is playing at the junior level in Germany unlike many of his peers on this team. Still, that production bodes well and suggests that he may be able to bring some offence from the back end.
Philipp Bidoul, ESV Kaufbeuren
Bidoul played on Germany's top pair with van der Linde at the Three Nations tournament last month and is set to round out the top four on this team's back end this time around. He has mostly played in the DEL2 this year with limited opportunity and production. However, his 21 points in 28 DNL U20 games last year shows that he has a knack for scoring against his peers. At 6'0, 161lbs, he is easily the slightest of Germany's top defenders and will have to rely on good gap control and an active stick to disrupt other team's attackers.
Markus Freis, Löwen Frankfurt
Freis is another smaller, right-shot defender (5'11, 185lbs) with a limited offensive portfolio, even at lower levels. He has seen limited DEL action but has spent most of the year in the Germany3 league where he has only one point in 21 games.
Rayan Bettahar, Eisbären Berlin
Bettahar (6'2, 211lbs) is likely to stand out for his physical play. With only one point in 14 WHL games with Swift Current and no points in 7 DEL games, Bettahar's contributions will come on the defensive end, where his propensity for big hits will keep opposing forwards honest.
Julian Wäser, Lausitzer Füchse
Wäser is just a depth option on this squad, as he does not bring much scoring or physicality to the table. He is a smaller defender (5'11, 168lbs) who has only 1 point in 26 DEL2 games for Lausitzer this year.
Phillip Sinn, RB Hockey Juniors
Sinn has produced decent offence this year (13 points in 23 games) for his club in the second-tier Austrian league. He is the only 18-year old on Germany's blue line and will likely dress as one of their extra defenceman; hopefully the experience will help prepare him to take on a larger role next year when the rest of this defence corps ages out.
Forwards
Bennet Rossmy, Eisbären Berlin
Although lacking NHL affiliation, Rossmy should be one of Germany's driving forces on offence. A power forward (6'4, 209lbs) who scored five points in five games at the last WJC along with a remarkable 29 penalty minutes, Rossmy will likely feature on Germany's top line and powerplay. His performance in the summer earned him an invite to the Los Angeles Kings rookie camp this past Fall. He went unsigned but that experience, along with his 26 games in the DEL this year (four points), should make him one of the Forward leaders for this relatively inexperienced team.
Nikolaus Heigl, RB Hockey Juniors
The first member of the German Sedin twins, Heigl has been a more prolific scorer than his brother Thomas. He produced a remarkable 26 points in only 14 games in the AlpsHL—good for first on his team in points per game—and earned a call up to Red Bull's ICEHL team in Austria's top men's division. He has gone scoreless in eight games so far, with limited minutes, but RB is last year's league champion and has a deep roster. Heigl is one of Germany's most dynamic forwards, and they will rely on him to help get them on the scoresheet.
Thomas Heigl, RB Hockey Juniors
While his brother Nikolaus received a call up to the top-tier league, Thomas has stuck with the AlpsHL and picked up his play: he has 18 points in 16 games for the year but 13 in his last 10. He too has now been called up to the ICEHL level but has not yet seen game action. It is not clear whether or not the twins have anything approaching Sedin-like chemistry, or whether the coaches will even attempt to create a dialectic by playing them together, but they can inject an exciting one-two punch on offence for Team Germany either way.
Ryan Del Monte, London Knights
Del Monte makes sense on paper as the top Center on this team given his North American experience as a pivot with the London Knights. He has ten points in 15 games this year on a deep Knights squad that has been dominant despite lacking the dynamic talent they have pumped out in years past. That team is known for their excellent systems and developmental track record, so German fans will be hoping Del Monte can hold his own against the top players from other countries.
Luca Hauf, Edmonton Oil Kings
Hauf is another member on this team who has North American experience from playing in the CHL. The team is lacking true centers, so he may be tasked with playing up the middle at this tournament. He led the German U18 squad in goals and is an exciting two-way threat on offence. He has only 15 points in 29 games for the Oil Kings but is one of the team leaders after they lost a wealth of talent to higher development levels in the offseason.
Håkon Hänelt, Gatineau Olympiques – Washington Capitals (2021, #151)
Along with goaltender Quapp, Hänelt is the only other returning member of Team Germany who is also affiliated with an NHL team. He is a unique player in that he has played wing, center, AND defence in his young career. Though he played in the DEL against men two years ago, Hänelt has represented Gatineau for the last couple years now, scoring 27 points in 44 games. While he is a lower-tier prospect in NHL terms, he will be one of the leaders on this team with his drafted status and North American experience.
Yannick Proske, Iserlohn Roosters
Proske brings a big frame (6'2, 185lbs), positional versatility, and DEL experience to this team. As with the others who have played in Germany's top men's league, his familiarity with the increased physicality of bigger opponents will likely translate well to this younger tournament. He has only points in 20 DEL games this year, but as has become a clear trend by now with these 18- and 19-year-olds playing in that league, his minutes have been heavily limited.
Julian Lutz, EHC München – Arizona Coyotes (2022, #43)
Lutz easily has the shiniest pedigree on this team as a recent second-round pick by Arizona. He is still only 18, so this U20 tournament will be a test of his relatively unproven skills. He missed the summer tournament and a good chunk of last year due to injury, so it is a bit of a mystery what he will be able to bring to this team. The Coyotes took him in the second round (which was where most prognosticators had him billed) because of his well-rounded skillset; he does not have any major weaknesses but also none of his skills have so far stood out as high-end or elite. He is in line to play an even more significant role at next year's tournament when all the previous Forwards listed here age out.
Quirin Bader, RB Hockey Juniors
Bader has 29 points in 25 games on the same AlpsHL team as the Heigl brothers. Although he is a smaller player, even in this context (5'10, 165lbs), he has clear offensive potential with 11 points in his last ten games. Germany will have to score by committee to have a chance against their talent-laden competitors, and Bader looks like he will be a competent piece of the puzzle.
Robin van Calster, Kölner Haie
One of Germany's few true Centers, van Calster should help anchor the bottom six. He has bounced around between the DEL and DEL2 this year, playing minimal minutes on both teams. He is another big player (6'1, 201lbs) who will try to leverage his pro experience into a useful depth role at this tournament.
Sebastian Cimmerman, EHC München
Like Bader, Cimmerman is a smaller player (5'10, 165lbs). He has seen limited game action in the DEL and has spent most of this campaign in Germany3 where he has a decent 0.5 points per game.
Eric Hördler, Eisbären Berlin
One of several 18 year olds at the bottom of Team Germany's line up, Hördler also provides experience against men from playing primarily in the DEL this year. As with his peers, he has seen very limited minutes and has no points to show for his efforts.
Roman Kechter, Nürnberg Ice Tigers
Kechter is also an 18 year old who is already playing against men in the DEL. He has one point in 20 games playing—you guessed it—limited minutes and should take on a bigger role for Team Germany at next year's tournament if he can continue to develop his game.
Philipp Krening, RB Hockey Juniors
Krening is another teammate of the Heigl twins in the second-tier Austrian league. He has ten points in 12 AlpsHL games and has recently been called up several times to the top-tier ICEHL where he has gone pointless. It is difficult to translate offence between leagues, but Krening seems like another dark horse on this team who has decent offensive chops but has not yet had a sustained opportunity to prove himself.
Veit Oswald, EHC München
Oswald has bounced back and forth between DEL and Germany3 this year, gaining valuable experience against older opponents while also maintaining his confidence at lower levels. He still needs to grow into his frame as he develops, but as one of the 18 year olds on this team he will still have another crack at the WJC next year,
Thanks for reading! Follow me on Twitter @beegare for more prospect content and fantasy hockey analysis.
LATEST RADIO & DRAFTCASTS