2023 World Junior Preview: USA
Peter Harling
2022-12-20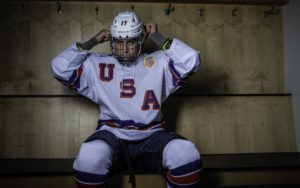 The World Junior are the most wonderful time of year. The Holiday tradition of the best junior tournament in the word has a special kind of magic.
Each year the tournament has breakout players that use the tournament to propel their careers towards stardom. In turn, that raises the fantasy value of prospects as well. Just the prestige of making the team for Canada, USA, Russia, Finland, or Sweden can help raise a player's fantasy stock and ownership.
Indeed, the WJC is a must watch tournament for many reasons. The entertainment value is always a 10/10, the hockey is excellent, and it is an opportunity to watch, scout your fantasy hockey prospects.
With that in mind lets get ready by reviewing the players that will be in this tournament.
Team USA
The Americans have named their 25-man roster that will go for Gold at the 2023 WJC. Teams can name 25 players, but only 23 players may be active or registered, meaning there will be two players in reserve. The Americans are a team built on speed and skill. While they lack some of the offensive punch and depth Canada has on paper, they remain a Gold Medal contender. Traditionally Team USA is heavily constructed from NCAA players. Some characteristics of note for Team USA are the small defense, only two defensemen are six feet or taller. There is some size at the forward ranks so look for USA to focus on speed, quick transition and aggressive forechecking.
Here is my projection for how lines could look for USA
Forwards
Cutter Gauthier – Logan Cooley – Jimmy Snuggerud
Rutger McGroarty – Chaz Lucius – Jackson Blake
Dylan Duke – Red Savage – Tyler Boucher
Kenny Connors – Charlie Stramel – Gavin Brindley
Samuel Lipkin, Noah Laba
Defense
Jack Peart – Luke Hughes
Lane Hutson – Ryan Chesley
Sean Behrens – Ryan Ufko
Luke Mittelstadt – Seamus Casey
Goal
Trey Augustine
Kaidan Mbereko
Andrew Oke
The top line for the Americans will be tasked with some heavy lifting in terms of providing offense, in particular Logan Cooley. The 2022 USNTDP will be well represented with ten players including four from the first round of the 2022 NHL Draft.
Speaking of drafts, USA will have three players that will be the focus of draft watchers. Charlie Stramel, Gavin Brindley and Trey Augustine are all expected to be early to mid-range picks at the 2023 Draft in Nashville.
The key to Team USA's success lies in star player Luke Hughes. The NCAA sophomore has the ability to take over a game, and he will need to do that for USA. Hughes was an impact for USA at the August WJC playing on one leg. Hughes is the only defender over six feet tall and will log all the ice time he can manage.
Lane Hutson will be a player to watch. The freshman with the Boston Terriers is having a banner season. While undersized he plays a dynamic offensive game and despite his size, he is still effective defensively. His Fantrax ownership is around 20% currently and that number is bound to grow after the tournament.
Let's take a closer look at the players on Team USA
Goalies
Trey Augustine, USNTDP – 2023 NHL Draft
The 17-year-old will battle it out for the starting role on USA. He has the height advantage standing at 6-1. Getting the lions share of the starts and playing well could really help boost his draft status.
Kaidan Mbereko, Colorado College (NCAA) – D+2 Free Agent
Mbereko has been passed over twice in the NHL Draft in 2021 and 2022. He has the age and experience edge over Augustine as the returning goalie from last year. The likely reason he has remained undrafted is he lacks the height the NHL covet at 5-11.
Andrew Oke, Saginaw Spirit (OHL) – D+ 1 Free Agent
Oke is on the outside looking in as the third goalie. Playing in the OHL works against him politically, he is the tallest goalie, but has the worst stats.
Defense
Sean Behrens, University of Denver (NCAA) – Colorado Avalanche
Behrens won an NCAA Championship as a freshman with the Pioneers as a key roster player. Now in his sophomore season the Avalanche can take their time given their depth. He is now the Avalanche top prospect.
Seamus Casey, University of Michigan (NCAA) – New Jersey Devils
The teammate of Luke Hughes has a chance to pair with his wolverine teammate to find some quick chemistry. If that happens it could boost his fantasy stock, which is already on the rise as he has 16 points through 20 games.
Ryan Chesley, University of Minnesota (NCAA) – Washington Capitals
Chesley had a strong draft year and saw his draft ranking rise all year. His freshman year has failed to produce offense, but he is penciled in to pair with Lane Hutson as the defensive conscience of the pair.
Luke Hughes, University of Michigan (NCAA) – New Jersey Devils
The youngest of the Hughes brothers, Luke has the potential to be the best yet! He can match his brothers in terms of skill, skating, and hockey sense, but he has a size advantage over Quinn. Hughes could easily end up being the Best Defenseman of the Tournament and carry USA to the Gold Medal game. If he is available in your dynasty league at 41% Fantrax ownership, pick him up immediately.
Lane Hutson, Boston University (NCAA) – Montreal Canadiens
In hindsight, it is safe to say Cole Caufield fell too low in the draft at 15th overall due to his size. In time, the same will be said about Hutson. He is an impactful player despite being 5-8 and 148 pounds. Kudos to the Canadiens on rolling the bones on small players.
Luke Mittelstadt, University of Minnesota (NCAA) D+2 Free Agent
The younger brother of Buffalo Sabres Casey, Luke has now gone through two NHL drafts. He is now a 19-year-old freshman and has 13 points in his first 20 games. He will try to use this tournament to finally get drafted, but his path to the NHL is more likely as a future free agent.
Jack Peart, St. Cloud State University (NCAA) – Minnesota Wild
Peart is one of nine returning players from the August tournament and is expected to play a top pairing role with Hughes on the left side.
Ryan Ufko, UMASS (NCAA) – Nashville Predators
Another undersized defenseman at 5-11 that has mobility and excels at offensive transition. Nashville has a good eye for defense, and they may have a sleeper in Ufko. Getting impactful minutes may be a challenge for him.
Forwards
Jackson Blake, University of North Dakota (NCAA) – Carolina Hurricanes
The Canes 2021 fourth round pick is a sleeper to watch here. He is only 4% Fantrax owned but is the third leading scorer on the Americans heading into the tournament with 21 points in 19 games. He is projected to be the second line right winger with Lucius and McGroarty and could certainly make some noise.
Tyler Boucher, Ottawa 67's (OHL) – Ottawa Senators
The big power forward was labeled a big reach for the Senators with the 10th overall selection. He was a bust at Boston University and has struggled with injuries since joining the OHL. This stage could be key for him to raise his fantasy stock from 15% Fantrax ownership. His value will be much higher in Bangers leagues.
Gavin Brindley, University of Michigan (NCAA) – 2023 Draft
He is not very big at 5-9 and 157 pounds, and his offensive numbers are not really eye-popping. But despite that he made this roster over higher draft ranked prospects such as Will Smith. But Brindley is a role player, and he does it very well. His role will be energy, penalty killing and defense.
Kenny Connors, UMASS (NCAA) – Los Angeles Kings
Another role player, Connors will be counted on to play a shutdown role, but given the opportunity, he can also provide some offense.
Logan Cooley, University of Minnesota (NCAA) – Arizona Coyotes
The announcement of Shane Wright to Canada sent fear through the tournament, but Cooley was actually a higher draft selection and has more offensive flare than Wright. Don't underestimate the offensive impact Cooley could have.
Dylan Duke, University of Michigan (NCAA) – Tampa Bay Lightning
Duke is a gifted goal scorer but is lurking in the shadow of some of the depth and high drafted prospects on USA. That's nothing new for the Michigan forward who very quietly has scored 10 goals and 18 points in 20 games as a sophomore. He's a sleeper.
Cutter Gauthier, Boston College (NCAA) – Philadelphia Flyers
Gauthier is a blue-chip fantasy prospect. He skates well, has size, makes creative smart passes and most of all he scores. He checks all the boxes and should be an impact player for USA.
Noah Laba, Colorado College (NCAA) – New York Rangers
A surprise to make the team, he is a physical player that will play a depth role for USA. He has some offensive upside as well. Getting playing time will be his biggest challenge.
Samuel Lipkin, Quinnipiac University (NCAA) – Arizona Coyotes
Another sleeper player that you may not have heard of unless you are a Coyotes prospect fan or go to Quinnipiac. The fact of the matter is he has 19 points in 18 games, is 6-2 and 192 pounds and can play center or the wing. A very versatile player that can play any role USA needs him to.
Chaz Lucius, Manitoba Moose (AHL) – Winnipeg Jets
Lucius will be the catalyst for offense on the second line. The only American player with pro experience he has been injured but is expected to be ready to go for the start of the tournament.
Rutger McGroarty, University of Michigan (NCAA) – Winnipeg Jets
With Gauthier and McGroarty as the two top left wingers the Americans are stacked on the left. Both lend size and skill that will be a handful for the opposition to contain.
Red Savage, Miami University (NCAA) – Detroit Red Wings
One of the returning players from the 2022 tournament, Savage had some very bright moments last August. Since then, he has been outstanding for Miami and could be a breakout player in the third line center position, bringing strong two-way play and some grit.
Jimmy Snuggerud, University of Minnesota (NCAA) – St. Louis Blues
One of the most important factors of success in small tournaments is chemistry. It can take time to build it and Snuggerud and Cooley are both coming in from Minnesota and go back even further to their USNTDP days. The pair should hit the ground running and run up the score at times. His 17% Fantrax ownership should spike after this tournament as he can also be a little greasy giving him multi-cat value.
Charlie Stramel, University of Wisconsin (NCAA) – 2023 NHL Draft
The draft eligible prospect is a returnee from the '22 squad, although he only played in one game. As a freshman at Wisconsin, he has not been an impactful offensive player with only seven points. But his size at 6-3 and 216 gives him some bite. Stramel should be a regular on the roster this time around as a draft eligible and he will have all the scouts watching to see what he can do.
LATEST RADIO & DRAFTCASTS