Prospect Ramblings: Putting Connor Bedard's Ridiculous Season Into Context
Kyle Watson
2022-04-22
Connor Bedard capped off his first full season in the WHL on Sunday by becoming the youngest player in league history to hit the 50-goal mark.
And he did it in typical Connor Bedard fashion:
The 16-year-old also picked up an empty-net goal and three helpers in a 7-4 win over Moose Jaw.
His final totals of 51 goals and 100 points in 62 games are good enough for fourth-best by a U17 player in WHL history. The three players above him all played before 1986 and were older than Bedard – who was born in July.
Bedard's numbers are impressive on their own, but they are even more incredible when you put them in context. In the 21st century, only Sidney Crosby, John Tavares and Connor McDavid had better production in their 16-year-old seasons: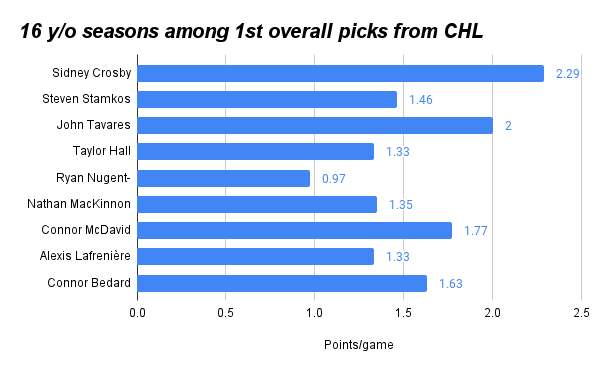 The projected 2023 first-overall-pick has already been compared to McDavid for at least a few years now and given the body of work Bedard has put together before turning 17, I don't believe it is hyperbolic to do so. What he accomplished this season in the WHL is arguably more impressive than McDavid's sophomore OHL campaign. Bedard played on a significantly worse team in a lower-scoring league and still managed to put up a better even-strength primary points-per-game rate and comparable primary points per estimated 60 minutes of ice time (data via Pick224).

As is evident by his sky-high even-strength goals-for percentage, McDavid had the luxury of playing on one of the best teams in junior hockey: he and his linemates – a 20-year-old Dane Fox and a 19-year-old Connor Brown – made up three of the four top scorers in the league. They were joined on the powerplay by future NHL stars André Burakovsky and Adam Pelech.
Bedard, on the other hand, led Regina in scoring by 31 points and had a hand in 41 percent of the Pats' goals. Just two of his teammates are NHL prospects: 2021 picks Ryker Evans and Stanislav Svozil.
I am not at all discounting how good McDavid was at the same age, or trying to say Bedard will end up being better than the best player in the world. I am merely pointing out that Bedard has been similarly incredible despite having much less help.
It is also important to note that exceptional production in junior doesn't always result in the same level of production in the NHL – just look at John Tavares. However, I do think that Bedard's numbers are so good that we can not definitively say that he won't be as good as any of the names that have been mentioned in this article. He still has a lot of junior hockey left to play.
It's unlikely to be of any consolation to the uber-competitive Bedard, but missing out on the playoffs means he is able to chase more records at the World U18 Championships, starting tomorrow.
After matching McDavid's 15-year-old numbers at last year's edition of the tournament, posting seven goals and 14 points en route to a gold medal win, Bedard will captain Team Canada this time around.
The next set of records for Bedard to chase are as follows:
Single-tournament points (Nikita Kucherov – 21 in 2011)
Single tournament goals (Cole Caufield – 14 in 2019/Alex Ovechkin in 2002)
All-time points (Jack Hughes – 32)
All-time goals (Alex Ovechkin – 23)
All-Star Team appearances (Jack Hughes, Cam York, Jack Campbell, Victor Hedman, Phil Kessel, and Alex Ovechkin – 2)
Make sure to follow me and the DobberProspects account on Twitter for coverage of the tournament!
LATEST RADIO & DRAFTCASTS