2022 NCAA Frozen Four Standouts
Peter Harling
2022-04-12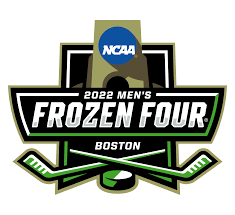 Alex Annun:
With Denver's win over Minnesota State this past weekend the Frozen Four has come to an exciting end as the Pioneers claimed their ninth NCAA National Championship, tied for the most in NCAA history with Michigan.
Minnesota State was a perfect 32-0-0 this season when leading games after two periods of play, and when they took a 1-0 lead into the final frame and only allowed eight shots on goal it seemed like they were going to see the game out. Both teams played great and defended well, but Denver was finally able to play around the Mavericks' staunch defense and create opportunities that they cashed in on. It was a tough loss for Minnesota State who were chasing their first NCAA Division 1 Title, but their incredible season certainly should not be overlooked.
Here are some of the players whose play shined the brightest during the Frozen Four Tournament.
Magnus Chrona, G – University of Denver (San Jose Sharks)
Age: 21, 6'6" 216lbs
The goaltender who backstopped his team to the National Championship certainly deserves recognition for his play throughout the four games. Magnus Chrona allowed no more than two goals in each of the Frozen Four games he played in and compiled a 0.934% SV in the process. His strong play against Michigan late in the game was enough to repel their relentless waves of attack and gave the guys in front of him a chance to go out there and win the game with some big stops and solid use of his large frame. The Championship game was no different, Chrona locked it down on his end and made huge saves through the first 40 minutes to keep it a one-goal game as his offense showed little signs of life. Chrona moved well throughout the tournament and when he was screened in front and unable to see the puck he let his size be his best asset and made himself big and prevented the puck from getting past him.
Nathan Smith, C – Minnesota State University (Arizona Coyotes)
Age: 23, 6'1" 190lbs
Nathan Smith was the leading point scorer for Minnesota State this season as he tallied 50 points in 38 games for the Mavericks while centering the team's top line. Smith was a versatile player as he also led the team in penalty minutes with 43, and that really encapsulated what he brought to the ice with him each game. He showed time and time again he had the skill to drive at and beat opponents with the puck and could make offensive chances materialize with some nifty stickhandling. The other side of the coin however, Smith's physical presence on the front lines set the tone for how his team played and he was getting in hard on the forecheck and throwing his weight around delivering some big hits on puck carriers and preventing them from getting a controlled breakout. Smith only contributed one point in the tournament but it was the lone goal against Notre Dame that saw them advance past the Regional Round and see their journey continue. Smith signed an entry-level deal with the Arizona Coyotes on Monday and will look to bring his skillfully rugged game to the NHL.
The key question surrounding new Coyote Nathan Smith was the same one that followed Jack McBain to AZ: Why didn't he want to play for the team that drafted him?
For Smith & agent Rich Evans, there was nothing nefarious afoot. It was all about opportunity:https://t.co/32MQWvWu8K

— Craig Morgan (@CraigSMorgan) April 12, 2022
Mike Benning, D – University of Denver (Florida Panthers)
Age: 20, 5'9" 176lbs
Mike Benning capped off a fantastic sophomore campaign with the Pioneers by netting the game-winning goal in the National Championship game and taking home the Frozen Four's Most Outstanding Player award. Finishing the tournament with one goal and four assists Benning was a key part of the Pioneer offense as his mobility from the blue line offered them lots of fluidity with their attacking moves. He showed off good vision in each of the games and was able to create chances as he brought the puck up through the neutral zone. He is on the smaller side as a defenseman but his work in the corners is solid as he is aggressive and uses his lower body strength to pin guys up against the boards and allow his teammates to reclaim the puck. He maintains a nice defensive position and is constantly reacting to the angle the puck is at to ensure he is in a good defensive position. Benning is tough to beat to the outside as he is capable of keeping up with the speed of puck carriers and he has the edgework to quickly cut and accelerate the other way to continue shadowing them.
Matthew Knies, LW – University of Minnesota (Toronto Maple Leafs)
Age: 19, 6'3" 205lbs
Matthew Knies was an influential player for the Golden Gophers in their run to the semi finals as he is a real swiss army knife type of player. He fits the build of the modern day power forward with a great blend of size, strength, and slick hands in tight. Knies utilizes his unique blend of skills to get into scoring position and finish off passes from the likes of his teammates. He showed some really nifty puck skills during the tournament to wriggle his way through a number of players before laying the puck off and driving hard to the net. Knies was a key part in Minnesota's comeback win against UMass in their opening game of the tournament as he scored in the first period of the contest and then set up the game tying goal late in the third period. He has a great finishing touch and makes little mistake in and around the net when putting away rebounds, and his size out front to earn himself that prime real estate makes it easier for him to be the first one to those loose pucks.
Erik Portillo, G – University of Michigan -(Buffalo Sabres)
Age:21, 6'6" 225lbs
Michigan ultimately fell to the Pioneers in the semi finals, but Erik Portillo was having himself a solid tournament before their departure. Despite only posting a 0.903% SV Portillo played very well as he faced over 30 shots in each of their three games in the Frozen Four. Michigan is a well known offensive juggernaut, but defensively they tend to give up chances as a result of their high octane play style – and that is where Erik Portillo was often called upon to step in. Portillo was responsible for making some very impressive and well-timed big stops to prevent his team from conceding a goal and he made 33 saves against Denver in a game that Michigan was a step off the pace for a large part of. Portillo's play throughout the tournament kept the games from being closer than they were and his athleticism as a 6'6" netminder was very impressive to watch. He moves across the net with ease, occasionally overplaying the shot, and is capable of making some acrobatic desperation saves. The numbers don't quite tell the full tale, Erik Portillo was one of Michiagn's best players at the Frozen Four.
Ondrej Pavel, C – Minnesota State University (Free Agent)
Age:21, 6'2" 205lbs
Another Maverick featuring on this list seems inevitable given their run, Ondrej Pavel is someone who stood out for the Minnesota State offense. Yes, their team was known for their suffocating defense and ability to limit shots on goal and scoring chances – but, all of that cannot be done without starting at the opposite end of the ice with a great forecheck. Ondre Pavel is a great disruptor of play behind the opposing net and does well to get in there with pace and prevent the breakouts from going smoothly by throwing his body around and getting his stick on the puck. His game is centered around his high work ethic and he is capable of getting scoring chances as a result of his constant movement and willingness to get to open areas and look for the puck. He has a good net front presence and showed off some great hand-eye coordination with his deflection goal against Minnesota. He does a nice job of putting himself in good areas to support his teammates when they have the puck and he provides a passing opportunity for them and he can quickly receive the puck and fire off a shot.
Nolan Moyle, RW – University of Michigan (Free Agent)
Age: 22, 6'2" 185lbs
It's easy to get overlooked as a forward on a team as deep and gifted as Michigan, and Senior Nolan Moyle probably knows that better than anyone. Moyle's contributions during the Frozen Four however, are not something to be overlooked. Playing on the fourth line for Michigan, Moyle saw his ice time increase with each game and culminated in 16:03 of ice time against Denver in the semifinals. He plays hard defensive minutes and actively pressured the puck to force quick plays and prevent teams from getting set up and picking out dangerous passes. Moyle's responsibility on defense saw him be a fixture on the Wolverines' penalty kill which went seven for eight in the tournament. Moyle wasn't just able to help out on the defensive side of the puck, offensively he contributed two goals and an assist over the three games and he was instrumental in tying the game up at one a piece with Denver early in the second as he drove to the net to create a chance and then looped around the net to regain the puck and feed it out front to Jimmy Lambert to finish off. His motor was constantly running at a high level and he made intelligent decisions on and off the puck, excelling in the neutral zone by cutting out passes and stopping the offense in its tracks. Like the rest of his team, Nolan Moyle will be disappointed they didn't come away from this as National Champions but he did his best to make it happen.
Follow Alex Annun on Twitter: @Annun_Scouting
For more NCAA content read our 2022 NCAA Free Agency Fantasy Rankings
LATEST RADIO & DRAFTCASTS