KHL Update: Checking In On Goaltenders Kochetkov, Fedotov, and Askarov
Ben Gehrels
2021-12-13
So, you want to keep tabs on your favourite Russian prospects but don't speak Russian or enjoy watching hockey at six in the morning? You're in the right place! Welcome to my monthly series where I break down the recent performance and track the development of top prospects playing in the Kontinental Hockey League (KHL), Russia's top men's league. New updates will be posted on the third Wednesday of each month. Hit me up on Twitter at @beegare if you have a burning question or particular player you want me to focus on. I'd love to hear from you! 
This month, we're looking at three of the KHL's top goaltending prospects: Pyotr Kochetkov, Ivan Fedotov, and Yaroslav Askarov. 
Pyotr Kochetkov – Torpedo Nizhny Novgorod (Carolina Hurricanes, 22 yrs)
Kochetkov, ranked 17th on DobberProspects' Top 50 Prospect Goalies list, first showed up on the fantasy radar starring for Team Russia at the 2019 World Juniors where he went toe-to-toe with other top goaltending prospects registering five wins, a 1.45 G.A.A., and a 0.953 SV%—an outstanding performance. Carolina was impressed enough to grab the 6-foot-3 netminder in the second round that year, with the pick they got from trading Jeff Skinner, and he immediately became their top goaltending prospect.
He currently has 16 wins and sparkling percentages with Torpedo in his first taste of sustained KHL action. Torpedo is a lower-mid pack team this year with only eight more goals for than against, so the fact that Kochetkov has a 2.12 G.A.A. and 0.929 SV% as their starter speaks to his ability to keep them competitive. As the chart below from Hockey Prospecting shows, his career progression so far looks a lot like a later-blooming Ilya Sorokin, who's now starring for the Islanders.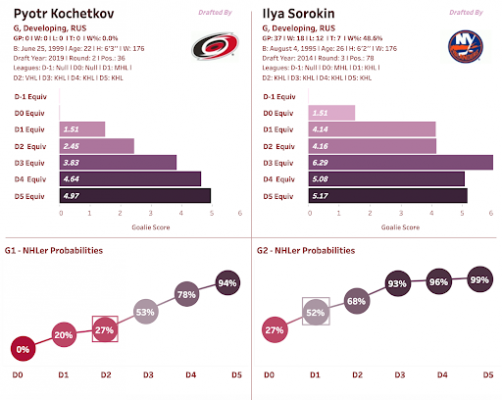 What do those equivalency bars at the top signify? Here's Hockey Prospecting's explanation: "Save percentage standardized by average save percentage by era multiplied by the league translation. Used as a gauge of how significant the goalie's current season is towards making the NHL." 
So for Kochetkov, the model would era-adjust his 0.929 SV%—the percentage of shots he saves—then multiply the result by a number representing the competitive gap between the KHL and the NHL. In his case, that equation spits out an equivalency score of 4.97 that allows comparisons between Kochetkov and goalies playing in the SHL and AHL, for instance. For reference, Sorokin's D3 Equiv of 6.29 seems to be just about the highest achievable score possible; that year, he posted 40 KHL wins (in a 60-game season) with 1.16 G.A.A. and 0.940 SV%.
All that to say that Kochetkov is progressing extremely well. It's tricky showing representative video of a goaltender's play because highlights tend to be Hasek-like diving plays and whatnot instead of the sound fundamentals that signal NHL potential. That said, here are a few clips to give you a snapshot of Kochetkov's confident play between the pipes.