Prospect Rambling: Predicting the next Troy Terry
Michael Kosciesza
2021-11-17
Fantasy hockey GMs are constantly practicing revisionist history. Ask anyone in your league I will bet they will tell you they always knew Jason Robertson was going to be elite, they were just late on the claim that saw the Calder finalist win people leagues and in some cases a keeper. Is there anything sweeter than being the one in your league to be able to say you saw it first and reap the benefits of nabbing a player right before their breakout? In fantasy sports, that's what it's all about.
Although it is still sweet, there's less intuition in drafting the Owen Powers and the Trevor Zegras' of the world. It doesn't take a hockey savant to recognize all world prospects could become all world NHL stars but to look at the waiver wire, the trade block, the final rounds of the draft or at the end of your bench and make the right call on a 22, 23 or 24-year-old player on the precipice of the wrong end of the middle six or even worse, busting entirely.
Troy Terry, Robert Thomas and last year Jason Robertson were these types of players. Player's we should have seen coming, but they were available, un rostered and largely not all that close to a starting roster anywhere. I'm going to try and target players that could fit this mould so we can all feel that sweet payoff of riding an investment from the ground up all the way to the moon #stonks
The player who is up next: Oliver Wahlstrom
Oliver Wahlstrom is a guy I dropped after taking him a little too early after his draft year. I mean, he looked really good coming off an elite performance at the 2018 World Juniors where he score nine points in seven games to add to the 94 points in 62 games for the Unites States National U18 team the year prior. He then slowed the roll on the hype train a bit when he only scored 19 points in 36 games in a year he had Hobey Baker expectations at Boston College. He then had a good rookie season in the AHL with Bridgeport where he found the scoresheet 22 times in 46 games. After a brief loan in AIK he found himself a solid streaming option when he got hot for the Islanders last season with 21 points in 44 games, 12 of them goals and 4 of them on the powerplay. This year he has five goals in 11 games. Wahlstrom is available in 88% of leagues right now and if he gets hot soon I'd expect that to change, I'd also expect him to get put on notice once he nears the 20 goal mark, when that happens this season will be interesting to see but 20 goals for a 6'2 205 pound 21-year-old former 11th overall pick is enough to raise my eyebrow
The player to keep an eye on: Rasmus Kupari
Kupari is a guy I was keeping an eye on in the final rounds of my draft this year. I drafted him in 2018, sold him to compete, the guy I sold him to dropped him and I decided to opt for Dylan Holloway instead in the final round of my draft this year. Like Kupari Holloway suffered an injury during an opportune time to make an impression and one that will stunt the rise in his value. Kupari suffered a knee injury in the opening game of the 2019 World Juniors which ruled him out of a tournament he was expected to captain Finland on a run in. Finland was plucky as always but their best forward went down and their Gold dreams ultimately did with him. Kupari has 31 points in 59 AHL games before he could buy a beer in the States which earned him a shot at the rebuilding Kings this year where he has made the team and has six points in 14 games. Kupari is a skilled forward with good speed, hands and vision that allows him to fit nicely into a potent top six. There is plenty of competition there in the near future with Los Angeles' prospect pool but he's getting a nice head start.
The player to target in deeper leagues: Morgan Frost
I'll start by saying I just traded for Morgan Frost in my own 12 team dynasty league which accommodates 30 roster spots. I get grief from my buddies for often including my own players in my articles and honestly, I don't get why. If I'm giving out advice and making arguments I would trust someone a lot more if I knew they were putting their own ideas into practice. Morgan Frost likely isn't going to be a hot waiver claim in the near future, so if you're in an eight-player keeper or a season-long league I'd keep old Frosty as more of a mental note than an actionable next step type of player. Otherwise, Frost has all the upside in the world and there's a decent chance the owner of him in your league might just be getting impatient with the 22-year-old who hasn't seemed to get a fair shake yet. If someone drafted Frost after his draft year in 2017 in a rookie draft they would have been pleased to have seen him follow up his 112 point draft year with a 109 point D+1 season in the OHL. He then went to the AHL and scored 29 points in 41 games as a rookie for Lehigh Valley. Then, he put up seven points in 20 games in the COVID shortened year and then shoulder surgery, which ended after two games the following season. Now? He sits with a tidy 11 points in 13 games and is playing well at executing at both ends of the ice. He hasn't gotten a fair shake yet as Philadelphia is super deep at the forward department but he will get his shot and when he does I have a strong feeling he will find a way to be an impact player.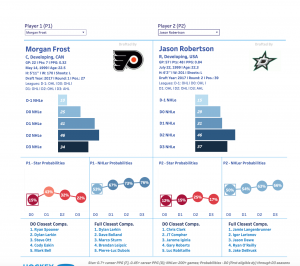 Troy Terry and Robert Thomas began the season owned in far less than 10% of leagues. The players I mentioned above are around there or less than 1% if we're talking Yahoo. Troy Terry now has 20 points and is owned in 80% of leagues and Robert Thomas isn't far behind at 15 points yet still only owned in 21% of leagues. Get him while you can and if not, I'd suggest Oliver Wahlstrom.
@mikekosciesza
LATEST RADIO & DRAFTCASTS