KHL Update: KHL Players to Highlight
Ben Gehrels
2021-11-17
So, you want to keep tabs on your favourite Russian prospects but don't speak Russian or enjoy watching hockey at six in the morning? You're in the right place! Welcome to my monthly series where I break down the recent performance and track the development of top prospects playing in the Kontinental Hockey League (KHL), Russia's top men's league. New updates will be posted on the third Wednesday of each month. Hit me up on Twitter at @beegare if you have a burning question or particular player you want me to focus on. I'd love to hear from you!
This month, I've selected seven promising young players to highlight from around the league—six of whom have been drafted already while the seventh has become a household name as a 16 year old.
Dmitri Rashevsky, RW — Winnipeg Jets
Any KHL prospect article right now needs to begin with Rashevsky. Sure, he was an over-aged 5th round pick by the Jets in last year's NHL draft who was passed over in two previous drafts, but get him on your radar and keep him there. His excellence is becoming less and less of a secret. If hasn't been snapped up yet in your league, he will be soon.
He's already been named the KHL's "Best Rookie" for both September and October, and at the time of writing is 15th in league scoring (4th in goals) as a 21-year old with 24 points in 26 games played (0.92 points per game). To put that in context, if he can keep up this scoring pace for the rest of the season, he'll have turned in the best season by a player his age or younger in KHL history, narrowly beating out a 21-year old Kirill Kaprizov who scored 51 points in 57 games played. The only other comparables at this point are Kaprizov at 22 years old and Artemi Panarin at 23—both of whom finished above a point per game.
Even if he fades somewhat down the stretch, Rashevsky is clearly a burgeoning force who could add speed and dynamism to Winnipeg's already lethal forward corps in 2-3 years. He signed an extension with Dynamo Moscow that will keep him overseas until the end of the 2022-23 season. After that, the hope is that he will cross over to play with the Manitoba Moose of the AHL—a path that Rashevsky has already expressed willingness to follow.
Check out his speed here, which he uses to create separation from the defender before firing a hard wrister top shelf:
Goal scoring may be Rashevsky's forte, but he also possesses strong spatial awareness and playmaking skills that allow him to make deceptive cross-seam passes against the grain like this one:
The obvious red flags here are that he was so heavily overlooked by NHL teams and that he is enjoying his time in the KHL—and therefore may elect to remain there longer term. Although he did express willingness to join the Moose at some point, he didn't hesitate to sign his contract extension with Moscow, stating through a translator that he felt it was "too early for [him] to go to [the NHL]" yet. Further, Rashevsky is fighting the odds to become a star in the NHL, somewhat like Artemi Panarin, who was never drafted by an NHL team but then exploded in his 5th KHL season as a 23-year old. According to the Hockey Prospecting model, Rashevsky has 0% of becoming a star (0.7 points per game career average in the NHL) and 36% chance of becoming an NHLer. Get him before those probabilities spike.
Marat Khusnutdinov, C — Minnesota Wild
While we're talking about star potential, Khusnutdinov has that in spades. In terms of historical precedents, the slight-framed (5-9, 165lbs) Russian winger is performing similarly to how players like Jonathan Toews, Dylan Larkin, and Jordan Staal were at this point in their junior careers. He currently has a 43% chance of scoring 0.7+ points per game in his NHL career. After putting up just below a point per game in the MHL in his draft year, Khusnutdinov bounced around between the MHL, VHL, and KHL last year. This year, he's playing full-time against men in the KHL as a 19 year old and has scored 11 points in 26 games so far with limited ice time.
Khusnutdinov has become a key piece of the Wild's dangerous prospect pipeline: picture him 2-3 years from now in Minnesota's top 6 playing alongside present and future stars like Kaprizov, Kevin Fiala, Marco Rossi, Matt Boldy, Calen Addison, Adam Beckman, and more, with all that firepower backstopped by 2021 pick Jesper Wallstedt. This is going to be a powerful young team, and Khusnutdinov's timeline seems to be lining up perfectly with the Wild's impending ascension up the league's standings. He's signed in the KHL for this year only; after that, the hope will be to see him in the AHL for the 2022-23 season. Expect him to be competing for an NHL job the year after that ('23-24)—a long wait, but he should be worth it.
Khusnutdinov's main assets are his speed and high compete level. The Athletic's Cory Pronman rates both of these features "above average" for Khusnutdinov, meaning he projects to be faster, more agile, and more hard-working than most NHL players. Combined with his strong hockey sense and two-way abilities, there are a lot of skills here that suggest his game will translate well to the highest level—somewhat reminiscent of Matty Beniers, the 2nd overall pick from the 2021 draft. Like Beniers, his offensive ceiling may not be as high as some of his peers, but Khusnutdinov should be able to carve out a middle-six role with powerplay time on a strong NHL team.
These clips highlight his quick, deceptive skating and ability to read and anticipate the play:
Kirill Marchenko, RW — Columbus Blue Jackets
Marchenko roared out of the gate this season scoring 5 goals in his first 9 games. Since then, his ice time has fallen almost 5 minutes per game and his scoring has slowed to the point that he's now on a slightly lower point-per-game pace than last year. Nevertheless, the Columbus prospect is still performing well in the KHL (71st overall in scoring) and is clearly close to NHL-ready. He's signed in the KHL until the end of this year and all signs point to him crossing the pond to start off next year in the AHL — barring a blow-the-coaches'-socks-off performance in training camp.
He's a big-bodied (6-foot-3, 187 pounds), two-way forward with strong puck skills, a good motor, and a nose for the net. In this compilation clip from last season, you can see his commitment to backchecking and playing defence, skating end to end and putting the work in to get and maintain possession:
That sort of defensive awareness and work ethic suggest that Marchenko may find a role with the Blue Jackets sooner than many expect, even if it's not in the top 6 right away. DobberProspects writer Kevin Wong noted last season that Marchenko "lacks certain line-driving qualities that one might want from a top offensive talent." Footage from this season suggests that deficiency is still the case for the Russian winger: he plays with a lot of speed, has a powerful shot, and sees the ice well, but his touches still don't have the dynamism that some prospects display. That said, he has shown the ability this year to play up and down the lineup with SKA Saint Petersburg, alongside the team's top stars like Nikita Gusev (who is back to lighting up the KHL, by the way) and Andrei Kuzmenko but also in a more defensive, grinding capacity. 
The Blue Jackets are a young team with no shortage of play-driving stars (Bjorkstrand, Laine, Werenski), so Marchenko should be able to carve out a role with them before long. With a star potential of 26%, he is an intriguing prospect to stash if you have room ahead of his North American debut next season.
Arseni Gritsyuk, LW — New Jersey Devils
Gritsyuk's long-term upside is beginning to reveal itself this year with his 0.63 points per game pace for Avangard Omsk. Whereas Marchenko is slowing down as the season wears on, Gritsyuk has been heating up: after scoring only 2 points in his first 7 games played, he put up 10 points in his next 12. If he can keep up this pace, he'll begin to close the gap on Rashevsky for one of the better seasons from a 20-year old in KHL history. Gritsyuk is showing creativity and precision with his shooting, which is exemplified below:
He is demonstrating solid straight-ahead speed and good strength on his skates. Here he starts a step behind the defender but catches up, maintains body position, then dekes out the goalie and puts the puck top shelf:
As a bit of a long-shot prospect that New Jersey took in the 5th round back in 2019, Gritsyuk is progressing very well. Though he has a lower star potential and NHL equivalency than the other players profiled here, Gritsyuk is trending to make the NHL and play a secondary scoring role similar to Mathieu Perreault and Lars Eller. He's signed with Avangard until the end of the 2022-23 season, so it'll be at least 2-3 years before Devils fans can expect to see him get a call up to the big club.
Shakir Mukhamadullin, LD — New Jersey Devils
Many felt the Devils reached on Mukhamadullin in 2020 when they took him 20th overall despite many prognosticators projecting him for the second or third round. With 7 points in 27 GP with Salavat Yulaev Ufa so far this year, it's becoming apparent that Mukhamadullin may not be a premier offensive D-man at the next level. That said, he is still only 19 years old and already playing against men in the KHL for the second year. Although he may have untapped offensive upside, he is currently rounding into form as a smooth-skating, minute-munching type in the mold of Andrew Ference, John Moore, and Luca Sbisa: 20 minutes per night, 20+ points a season, and the ability to complement a more offensively inclined partner like, say, Ty Smith.
Somewhat like rookie sensation Mo Seider, the main things that stick out about Mukhamadullin are his size (6-4), smooth skating, and composure with the puck. He typically makes good decisions under pressure, calmly skating or passing the puck out of high-danger areas. Watch #85 in white in this recent game against Traktor Chelyabinsk: 
His big frame gives him a long reach, he has an active stick that he uses to disrupt attacking forwards, and he is a confident skater who skates with his head up looking to exploit seams with precise passes or rushing the puck up himself. 
Ivan Morozov, C — Vegas Golden Knights
Now 21 years old, Morozov is already playing in his 4th KHL season with SKA Saint Petersburg. Whereas Marchenko has been seeing less than 10 minutes of ice time per game recently with SKA, Morozov is hovering around 20 minutes—a sign that the coaches trust him with greater responsibilities than his peers.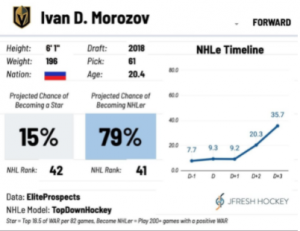 His offensive ceiling at the next level remains an open question: after scoring 31 points in 55 games last year (0.56 points per game), he's currently down to 5 points in 13 games (0.38). Statistical models still project him as having an outside chance at becoming a star in the NHL (15%) and he is increasingly looking like a lock to become an NHLer (79%).
It remains unclear when Golden Knights fans can hope to see Morozov in a Vegas uniform, but with his KHL rights expiring after this season, there's a good chance he comes over at the end of this year and possibly even sees a call up before the playoffs as a 3rd or 4th-line center.
Matvei Michkov (2023-Eligible)
Not much needs to be said about Michkov at this point; this is just your regular reminder that he is a generational talent who will go toe-to-toe with Conor Bedard for 1st overall in the 2023 draft. In case you somehow missed it, he made waves recently for scoring yet another Michigan-style lacrosse goal.
Also, he just broke Alex Ovechkin's record as the youngest player to represent Russia in international play. No biggie. 
But after scoring 3 points in 10 KHL games in the month of September playing around 7 minutes a night on the loaded SKA roster, Michkov was sent back down to dominate his peers in the MHL where he currently has 13 points in 6 games (!). If that KHL production seems surprisingly low, keep in mind this kid was 16 years old playing against men in the second-best league in the world. Scoring at all with that ice-time under those circumstances is incredible.
The highest authorities in Russian hockey have a close eye on Michkov and are determined not to rush him into anything. Roman Roternberg, the Russian Hockey Federation First Vice-President recently released this statement on the importance of properly supporting Michkov's development:
Rotenberg on Michkov's development

We need to be calmly (with Michkov's development), not forcing events. We give
him maximum opportunities to play in the KHL. At the same time we understand
that we can not give him 20 minutes (on KHL level). He needs to develop, play
as much as possible and he needs to be a leader of his team. We are in contact
with Matvei & his parents because he is still a kid. Like everyone-else, he attends
the school.

Together we are looking for solutions to support his constant development as a
player. He is a unique hockey player. But at the same time we can not force his
development — we need to prepare him smoothly for the Russian U20 Team
(WJC) and Russian U18 Team. We do not want to overload Matvei, he needs to
be constantly in one system. He played so good at the Karjala Tournament because
he was training & preparing correctly, reaching his peak form at the tournament.

Roman Rotenberg
Russian Hockey Federation First Vice-President

SKA St.Petersburg General Director & SKA BoD Deputy Chairman

Source: sport-express.ru on Nov 14, 2021
(Twi