September 32-in-32: Arizona Coyotes
Keith Duggan
2021-09-02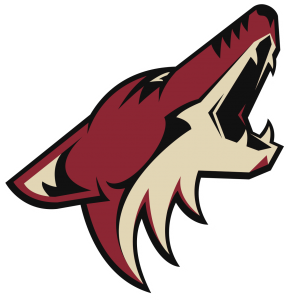 Welcome to the September 2022 edition of the DobberProspects 32-in-32 Series. This month, we are diving into the depth of each organization, looking at their recent graduates, risers, fallers, and top-20 prospects.
*************
As discussed in last month's 32 in 32 series, the Coyotes are in a full rebuild. Most of their best players from last season have been dealt for unwanted veterans on expiring contracts and draft picks. Outside of Jakob Chychrun, it seems like everyone else could be had. Arizona is going to be bad, like really, really bad this year. Maybe new coach Andre Tourigny can push the right buttons and get this island of misfit toys pushing for a playoff spot, but that seems unlikely. Arizona will most likely be competing with Buffalo to win the 2022 Draft Lottery, or as some are calling it, the Shane Wright sweepstakes.
The Coyotes had a decent prospect system, but that got much deeper after nine picks in the 2021 Draft and a few interesting players coming in via trades. This will only get deeper with lots more draft picks coming, including Arizona holding seven selections in the first two rounds of a stacked 2022 Draft; two in the first round, and five more in the second. Expect to see a lot of youngsters make their mark on this squad the next few years.
Unfortunately, where that squad plays after 2021-22 is in question, with what seems like a continued black cloud hovering above the troubled franchise, as they found out their home since 2003 in Glendale is giving them the boot after this year.
Graduating players
GM Bill Armstrong is big on development, probably from his time as an Amateur Scout and Director of Amateur Scouting with St. Louis, so he's not rushing prospects. Actually, he's a believer in the Detroit Red Wings mantra of overripening players before bringing them into the NHL. With that in mind, I do not think we really see any prospects make the team full-time this coming season. Some will see time with the big club but spend most of the campaign in Tucson. Barrett Hayton started the year in the NHL last year but when it was apparent that he wasn't ready yet, Armstrong and the team made the right decision and sent him to the minors. So, I still classify him as a prospect.
Graduate to NHL.
Even though Timmins spent most of last year in the NHL, only seeing a few games with Colorado's AHL affiliate, he played in a limited role. That will change with Arizona, as Timmons will most definitely play a top-four role with his new team. With excellent hockey sense, he vastly improves Arizona's blueline.
He has nothing left to prove in the AHL. On a one-way contract, combined with a new coaching staff, Capobianco has a clean slate. This might be his last shot, at least with the Coyotes, to make a mark. Play in his own zone is spotty at times but he's a smooth skater who confidently moves the puck.
Vladislav Provolnev, D
He's not a long-term prospect of the Coyotes as they signed him at the end of last year. Provolnev put up some good numbers in the KHL during 2020-21 and Arizona believes he's ready for NHL duty.
On the Cusp
He certainly looked ready at the end of last year.
Like I said above, though, Armstrong is all about development and not rushing prospects. Soderstrom struggled for the first half of 2020-21, so another year in Tucson, playing top minutes and in all situations would be beneficial to him. He'll see a few call-ups to Arizona but won't be full-time yet.
Graduating from Junior/Liiga/College to Pro
Matias Maccelli, LW
After two productive years in the Liiga, Maccelli will head to North America. He played two years in the USHL prior, so it's not like this will be a huge adjustment for him. I still expect Maccelli to play in the AHL this year, though. He finished second in scoring among under-21 players in the Liiga last year.
Liam Kirk, LW
The Coyotes seemed to have no interest in signing Kirk to an ELC, but after a monster World Championship, that attitude changed. He tied for the tournament lead in goals, playing for a much less talented squad in Britain. Kirk needs to add some muscle but the biggest British sensation since The Beatles (made up, not true) has undeniable skill. I am looking forward to watching him play for Tucson this year.
Ben McCartney, LW
Speaking of the Beatles, Ben, who is no relation to Paul (well I don't think so at least), will play for Tucson this year. He's not the greatest skater but is an effective net-front presence who put up some solid point totals in the WHL the last two years. Think Andrew Shaw and you have McCartney in a nutshell. He put up five points in four games with Tucson to finish the 2020-21 campaign.
Ty Emberson, D
While the first three are exciting players to watch, Emberson is a more basic defenseman who doesn't stand out. He did not have big point totals in his three years at Wisconsin and had one point in five games with Tucson when Emberson came out of college last year. He plays a simple, physical game and is good on the penalty kill.
Risers
Liam Kirk, LW
Back in 2018 when Kirk was drafted, he was considered a longshot project. Since then, he's had two quietly solid OHL seasons and of course that big World Championship with underdog Britain. I think it's time to take Kirk seriously as a prospect, he's legit.
Michael Carcone, LW/RW
Carcone was not even a Coyote prospect last year, as he was on loan to Tucson with Nashville's AHL affiliate in Milwaukee, not playing. He earned a two-year, two-way contract with Arizona after 2020-21 though. Carcone had 15 goals and 25 points in 35 games for a terrible Tucson team, which was good for second on the club in points. I do not think he'll lead the team in points, but Carcone could earn a call-up and catch fire much like Michael Bunting did last year.
Valentin Nussbaumer, C/LW
After years of not showing much, Nussbaumer came alive last season, after a trade to HC Davos in the Swiss League. He put up 18 points in 23 games, almost triple the production Nussbaumer put up in the year and a half before that trade. His skating needs work, but his skill and vision are excellent.
Fallers
Barrett Hayton, C/LW
There is no way to sugarcoat this, but Hayton had a bad season last year. Between Finland, Arizona, and the AHL, he did not perform as expected for his talent level. Hayton showed flashes and I would think he is ready to break out, but then he would struggle again. For a player who's expected to be a future No. 1 center for Arizona, he brought back bad memories of Dylan Strome and other high draft picks of the Coyotes who never panned out.
This may be a hot take, but personally, I feel Arizona has not let Hayton properly develop. As a 19-year-old he should have been consistently playing not sitting in a press box or barely getting any game time in the NHL. Last year, when it became clear he wasn't ready for the NHL yet, Hayton should have been sent to the AHL. He should not have spent half the year with Arizona, once again barely playing.
I still believe in him and think he carves out a solid NHL career but probably not as a top-scoring No. 1 center. Unless he has an unbelievable camp with Arizona, he most likely begins this campaign in Tucson again, but Hayton needs to rebound. Here is a great story fellow Dobber writer Josh Simpson wrote on Hayton last March.
Tyler Steenbergen, LW
A big scorer in junior, Steenbergen joined the pro ranks with hopes he could carry that offense over. With a 0.39 ppg in three years of AHL action, he never really caught on. Traded to Los Angeles this offseason, the Kings left him unqualified, and he's signed with TPS in Finland.
Filip Westerlund, D
The former second-round pick from 2017 never signed an ELC and is now a free agent. I know in the past, former GM John Chayka tried hard to sign him, but Westerlund showed no interest in coming to North America. If you're still hanging on to him in a dynasty league it's probably time to drop.
Organizational Depth Chart
(Combination of NHL readiness and upside).
| | | |
| --- | --- | --- |
| Left Wing | Center | Right Wing |
| Dylan Guenther | Barrett Hayton | Jan Jenik |
| Matias Maccelli | Blake Speers | Hudson Fasching |
| Michael Carcone | Ryan McGregor | Aku Raty |
| Alexander Daryin | John Farinacci | Elliot Ekefjard |
| Liam Kirk | Anthony Romano | Josh Doan |
| Ben McCartney | Valentin Nussbaumer | |
| Bokondji Imama | Manix Landry | |
| Carson Bantle | Filip Barklund | |
| Danil Savunov | | |
| Ilya Fedotov | | |
| Sam Lipkin | | |
| | | |
| --- | --- | --- |
| Left Defense | | Right Defense |
| Kyle Capobianco | | Victor Soderstrom |
| Vladislav Provolnev | | Dysin Mayo |
| Vladislav Kolyachonok | | Cameron Crotty |
| Janis Jerome Moser | | Ty Emberson |
| Cole Hults | | Vili Saarijarvi |
| Cam Dineen | | |
| Michael Callahan | | |
| Axel Bergkvist | | |
| | | |
| --- | --- | --- |
| Patrick Kulda | | |
| Micheal Karow | | |
| Cal Thomas | | |
| | | |
| --- | --- | --- |
| | Goalie | |
| | Josef Korenar | |
| | Ivan Prosvetov | |
| | David Tendeck | |
| | Karel Vejmelka | |
| | Rasmus Korhonen | |
Top 20 Fantasy Prospects
This section is intended to paint a picture of the Arizona Coyote prospects whose current trajectory projects them making the most positive fantasy impact at the time that they reach the NHL. Arrival date and NHL certainty have been taken into consideration; however, the potential upside is the most important factor in determining this list.
1. Dylan Guenther
2. Victor Soderstrom
3. Barrett Hayton
4. Conor Timmins
5. Jan Jenik
6. Matias Maccelli
7. John Farinacci
8. Ivan Prosvetov
9. Liam Kirk
10. Vladislav Kolyachonok
11. Ben McCartney
12. Michael Callahan
13. Jan Jerome Moser
14. Josh Doan
15. Alexander Daryin
16. Ilya Fedotov
17. Valentin Nussbaumer
18. Manix Landry
19. Aku Raty
20. Carson Bantle
Rookie Faceoff Tournament
The Coyotes announced details for the 2021 Rookie Faceoff, to be held from September 17-20 at Arizona's home and practice rinks. This is the third year in which the tournament will feature the same six teams: Anaheim, Arizona, Colorado, Los Angeles, San Jose, and Las Vegas.
Arizona still has yet to release their roster for the tournament yet, even though we're just a few weeks away here. However, recent first-round pick Dylan Guenther, Liam Kirk, Ty Emberson, and Janis Moser will be there.
**************
Thanks for reading and stay safe out there.
Keith Duggan
@KDuggan92
LATEST RADIO & DRAFTCASTS