August 32-in-32 Series – Dallas Stars
Michael Kosciesza
2021-08-08
The (now) 32-in-32 Offseason Series is an annual event here at DobberProspects! Every day in August we will be bringing you a complete breakdown of a team's draft and insights into their off-season movements thus far. Following this up, the September 32-in-32 Series will dive into every team's prospect depth charts with fantasy insights and implications for the upcoming seasons. Check back often, because we plan on filling your hockey withdrawal needs until the season begins!
**
The Dallas Stars finished 17th overall in 2019-20 and fifth in the Central. It was an underwhelming season in which the Stars were done early, without a sniff of playoff contention after making the cup final. However, a lot of positives came from a season that saw the Stars spend most of their season without both Tyler Seguin and Ben Bishop. The positives were headlined by the Calder finalist season had by 22-year-old rookie Jason Robertson, who finished second in Stars scoring to Joe Pavelski with 45 points in 51 games.
Other positives saw Jake Oettinger step in and perform well with 11 wins, a 2.36 GAA, and .913 Sv% in 1605 minutes in the Star's crease, which is almost an even split to Khudobin's 1795 minutes. John Klingberg had a bounce-back season to remind everyone that he is still a premier offensive defenceman in the league. We saw perpetually "day-to-day" Roope Hintz score 43 points in 41 games, which is a positive, as he's not taking a step back but we are all just waiting for that season where he goes off without an injury.
They lost Jamie Oleksiak to expansion, but that's a welcome loss after inking Ryan Suter to a 4-year $14,600,000 contract to follow up the extension of Miro Heiskanen to an 8-year, $67.6 million contract extension. Heiskanen and Suter now headline a blueline that already features Klingberg, Esa Lindell, and has Thomas Harley on the way.
We all know what we get from Tyler Seguin, Jamie Benn, Alex Radulov if they can stay healthy. The Stars are deep in potential fantasy forward assets coming as well between Jordan Kawaguchi, Riley Damiani, Maverick Bourque and Ty Dellandrea. 
The Draft
The Stars traded the 15th overall pick to Detroit for the 23rd, 48th, and 138th overall picks. Which, ultimately in a draft like this where it was not particularly deep, especially outside the top 10, I like the motive of throwing more at the wall to see what sticks. They made a point to target large mobile defencemen and players out of the OHL who had lost a season in hopes (I assume) to catch some value on players that otherwise would have been ranked much higher.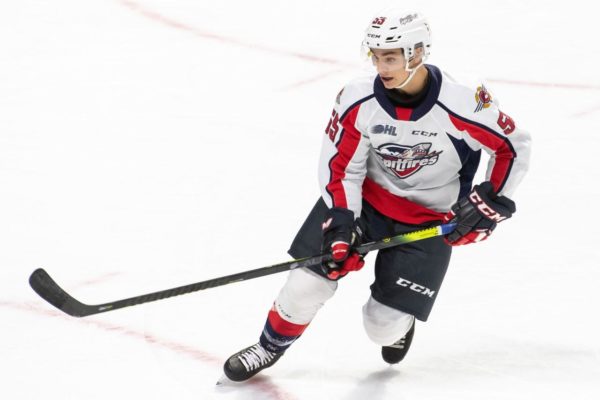 Round One, 23rd Overall – Wyatt Johnston, C
Johnston comes from the Windsor Spitfires in the OHL. He comes in at 6-1, 178-pounds from Toronto, Ontario, Canada. In his rookie season with the Spitfires, he scored 12 goals, 18 assists, and 30 points. Since then, he and Team Canada won the gold medal at the 2021 IIHF Under-18 World Championship where produced at a point-per-game pace five in five games.
He reads the ice well and has good hockey IQ on both sides of the puck, but doesn't have the raw dynamic tools to be a coveted fantasy prospect just yet. A player who can play up and down the lineup sounds exactly what the Stars will need down the road. However, at 23rd overall you would have liked to see someone who profiles a little better in terms of star potential than Johnston. Then again, the Stars should have fantasy owners trust, the answer to that is one that Scott Wheeler dives into here:
Round Two, 47th Overall – Logan Stankoven, C
Stankoven comes from the Kamloops Blazers in the WHL. He stands 5-8, 17- pounds and hails from Kamloops, British Columbia, Canada. In his rookie season in 2019-20, he scored 29 goals, 19 assists for 49 points in 59 games. He improved his output over just six games in 2020-21, with seven goals and three assists for 10 points.
It is encouraging to see his scoring touch and the fact he was a near 30 goal scorer, in less than a full season, as a rookie and was above a goal-per-game pace in his draft year through six games. At the 2021 IIHF Under-18 World Championship, he had four goals, four assists for eight points, including the game-winning goal in the gold medal game.
He has the makings of a good fantasy asset with a high release shot, good motor, and great offensive instincts producing quality chances on many of his shifts. We've come to understand these types of players under 5'9 still find a way at the NHL level especially when their compete level is so high. 
Round Two, 48th Overall – Artem Grushnikov, D
Grushnikov, from Voskresensk, Russia, has spent his time in the CSKA 2 of the Russia-Jr. League. He comes in at 6-2 178-points and will spend his 2021-22 season with the Hamilton Bulldogs of the OHL. Grushnikov is a chance suppressor in the defensive zone, taking away options from opposing attackers on zone entries.
I doubt he is a player that will ever be drafted in fantasy leagues, considering his point totals are just not there. However, he won U17 WHC Gold and Hlinka Gretzky Gold, so he's shown his defensive impact by disrupting other team's attacks, and transitioning the other way is a valuable asset, even if it's not in fantasy.
When you consider Miro Heiskanen logging the majority of the minutes down the road, along with Ryan Suter, John Klingberg and Thomas Harley driving offence, Grushnikov will be a welcome steady presence when his time comes. 
Round Three, 73rd Overall – Ayrton Martino, LW
Martino is a Toronto native who was drafted out of Omaha of the United States Hockey League (USHL). He is a 5-11, 160-pound winger. Martino is an offensive-minded winger who led all USHL rookies in scoring with 18 goals and 36 assists for 56 points. Those totals were good enough to make him an All-Rookie and a Second Team All-Star.
Prior to last season, he posted 79 points in 48 games in the OJHL for the St Michael Blazers. He's a skilled player in transition with excellent playmaking and finishing ability. It will be interesting to see if he can continue to produce at a high level with Clarkson in the NCAA this upcoming season. If he can, he is going to look like a steal of a pick at 73rd overall.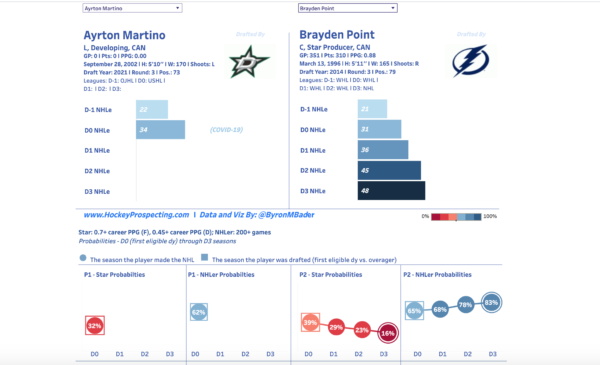 Round Three, 79th Overall – Justin Ertel, LW
Ertel is from Kitchener, Ontario, Canada, and was drafted from Summerside of the Maritime Junior Hockey League (MJAHL). Ertel is 6-2 187-pounds and used that large frame to lead the Western Capitals with nine goals and 19 points for 28 points in 18 games. He then produced three goals and six assists for nine points in five playoff games. Ertell is committed to Cornell University so he will be joining fellow third-round pick, Martino, in the NCAA next season. 
Round Four, 111th Overall – Conner Roulette, LW
Roulette is from Winnipeg, Manitoba, Canada, and was drafted out of Seattle of the Western Hockey League (WHL). Roulette comes in at 5-11, 180-pounds and produced six goals and six assists for 12 points in a shortened season with the Thunderbirds. Dallas' scouts must have loved what they saw at the 2021 Under-18 World Championship because he too was a part of that Gold Medal winning team where he scored two goals and three assists for five points in seven games played. 
Round Five, 138th Overall – Jack Bar, D
Bar is a Newmarket, Ontario, Canada native selected out of Chicago of the United States Hockey League (USHL). The 6-2, 193-pound defenseman tallied five goals and 10 assists for 15 points on his way to a Clark Cup Championship, on a loaded Chicago team.
Before his time in the USHL, Bar put up some major points, setting a St Andrews College record in points with 52 in 49 games. This was more than former SAC alumnus Michael Del Zotto, who went on to score at a .93 point per game pace in the OHL. Bar is going to attend Harvard in the fall to continue his development in the NCAA.
I don't see any issues with his pace pushing, playmaking game translating there as he plays with an edge and is a physical ranging defenceman who already fits the bite and physical tools necessary. 
Round Five, 143rd Overall – Jacob Holmes, D
Holmes is an Alliston, Ontario, Canada native selected out of Sault Ste. Marie of the Ontario Hockey League (OHL). He comes in at 6-1, 205-pounds and uses all of that frame to conjure a heavy shot. His point totals don't exactly jump off the page with three goals and six points in 57 games, as a rookie in the OHL. However, missing last season, I expect there to be value with this pick as he continues to develop. He should have a larger role and get better as the season progresses this year.
It might not feel like a homerun pick late, but I think there is incredible value in taking the high-profiled players who had fallen due to missing their season in the OHL. Sure, they are a year behind in development from a games played perspective, but the raw talent, frame and athletic ability are still there. 
Round Six, 175th Overall – Francesco Arcuri, C
Arcuri is a Woodbridge, Ontario, Canada native selected out of Kingston of the Ontario Hockey League (OHL). Acuri is 6-2, 200-pounds and led the Steel Wings Linz of the Alps Hockey League in scoring with 15 points in 18 games, while overseas due to the cancellation of the OHL season. Prior to their time in Kingston, Acuri was a teammate of Shane Wright's with Don Mills. He scored 34 goals and 64 assists with Don Mills on their way to a dominant OHL Cup championship with teammates Brandt Clarke, Brennan Othmann, where they beat Justin Ertel's Toronto Red Wings in OT.
He is a big body and a talent who is more than capable of putting up big point totals. Dallas has seen a gamble on this type of development pattern pay off recently, so I like this pick.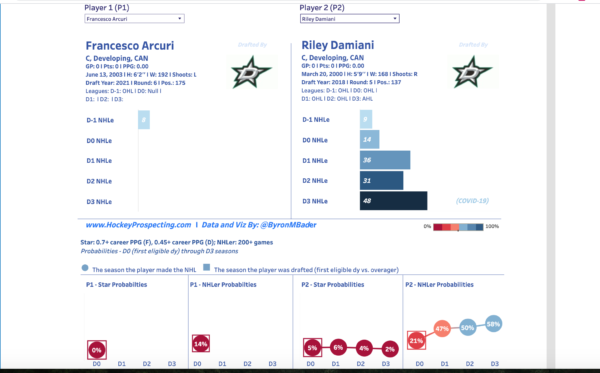 Round Seven, 207th Overall – Albert Sjoberg, RW
Sjoberg is a native of Stockholm, Sweden, and was drafted out of Sodertalje Jr. of the Swedish Junior League. The 6-0, 183-pound winger tallied 10 goals and three assists over 18 games this past season. He will spend next season with Sodertalje SK in the HockeyAllsvenskan league. He works hard at both ends of the ice and likes to use his speed to generate offense. For a seventh-round pick, I've definitely seen worse comparables.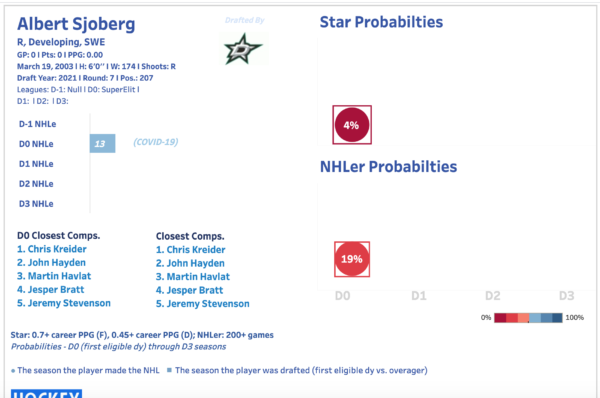 OFFSEASON MOVES
Incoming: Ryan Suter, Braden Holtby, Jani Hakanpaa, Alex Petrovic, Andreas Borgman
Outgoing:  Jason Dickinson (trade), Adam Mascherin, Jamie Oleksiak (expansion), Luke Glendening, Andrew Cogliano, Mark Pysyk, Taylor Fedon
Extended: Joel Kivranta, Ben Gleason, Nick Caamano, Colton Point
Retired: Stephen Johns
I really like the way Dallas drafts and develops their players. They had a pretty exciting AHL season in Texas with breakout