Prospect Ramblings: Chinakhov wins, Dahlen, Lundkvist, Reichel all sign, and Caufield
Pat Quinn
2021-06-10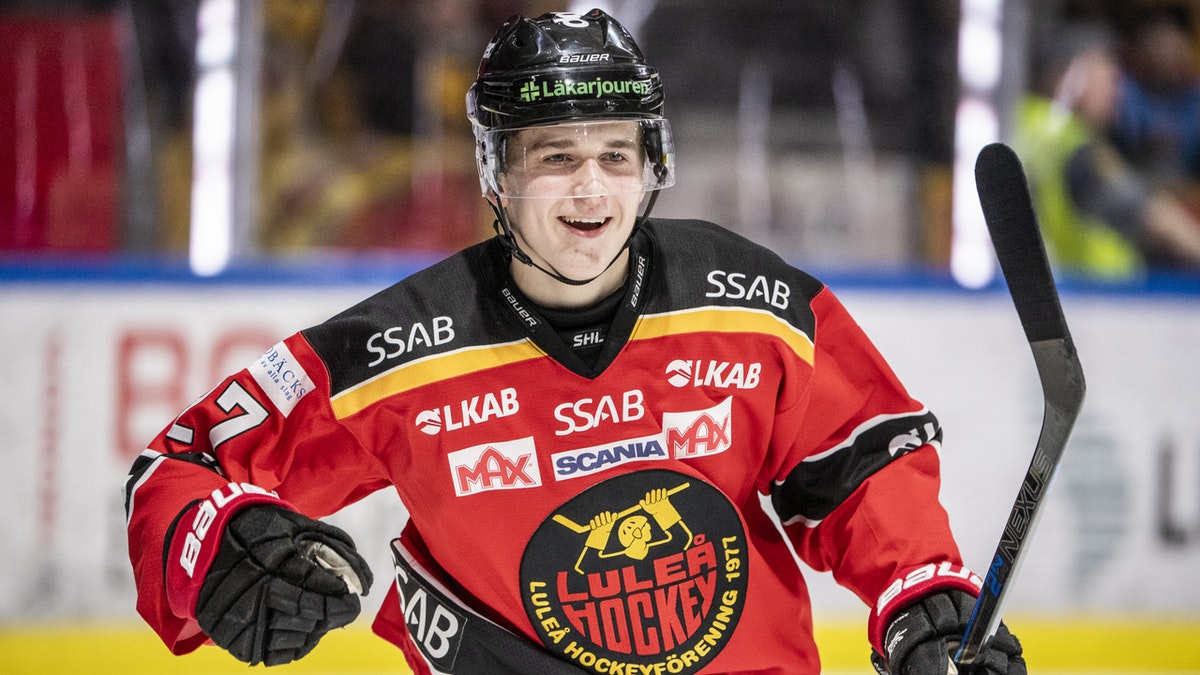 Welcome to the Thursday prospect ramblings where I have some news and notes to go over.
Is this a good note to start on?
I soon hope the act of sports reporters asking the coach of the player in trouble what he thinks dies out as it is always the same defense answer.
********************
Let us get the first bit of news out of the way:
Known for having Sportsnet's analysts confused, the 2020 pick commonly referred to as "who?" signed his three-year ELC with Columbus on May 2nd and on June 8th won the KHL Rookie of the Year award
I guess this Yegor Сhinakhov kid may be ok. I am just going to quote NHL.com here:
"Chinakhov, 20, made his Kontinental Hockey League debut this season and posted 10 goals and seven assists for 17 points with six penalty minutes, six power play goals and 60 shots on goal, while averaging 14:00 of ice time in 32 regular season games with Avangard Omsk. He led all KHL players 20 years or younger in points-per-game (0.53) and goals (tied) and ranked second in assists (tied) and points. He added 5-2-7 and 24 penalty minutes in 21 playoff games to help the club win the Gagarin Cup."
I do not think Chinakhov will make the Blue Jackets roster on opening night but I think they will call him up occasionally. He should be ready to play in the NHL in 2022-2023 and produce fantasy worthy results two to three years after that. Do not quote me on any of this, it is just my hunch as sometimes players get the NHL game immediately and some can take a lot longer than others.
*************
Next up we have news regarding Jonathan Dahlen
This is probably the most boom/bust note for fantasy owners. The Sharks have a lot of the same type of skilled winger prospects either knocking on the door or in the AHL, so Dahlen will have a lot of competition. What can help him is San Jose trading some of his competition and his one-way contract, though that will not stop the team from putting him in the AHL if need be. Hopefully he accepts AHL time but the one-year deal has me hesitant that he will stick around if he plays a majority of the season in the AHL. I would expect around 0.35-0.5 points per game from him if he does make the roster in a scoring role.
***************
So good luck everyone in the Metro division:
A defense that can replace Brendan Smith, Jack Johnson, and Anthony Bitetto with Zachary Jones and Nils Lundkvist is insane. I am fine with Libor Hajek as a bottom pairing guy too, but the addition of these two, kind of makes the contract given out to Jacob Trouba look like an albatross now. Look at this:
Adam Fox – Ryan Lindgren
Jacob Trouba – K'Andre Miller
Zachary Jones – Nils Lundkvist
Libor Hajek
For me I would swap out Trouba (trade for sure) and stick Lundkvist with Miller and put Jones and Hajek together, then load up on forwards. What a defense core that could be:
Adam Fox – Ryan Lindgren
Nils Lundkvist – K'Andre Miller
Zachary Jones – Libor Hajek
What can we expect from Lundkvist this season though? PP1 is Fox and that will not change any time soon, so will PP2 have Jones, Miller and Lundkvist patrolling around in an umbrella? I would love to see that. I would set expectation in the 25 to 30 range and anything above is gravy.
***********
The Blackhawks are adding ANOTHER young forward in Lukas Reichel:
Will all four lines for the Blackhawks be scoring lines? They added Borgstrom and already have Toews (if he returns), Suter (played well in his first year), Dach, Gaudette, and Strome (I guess) who can all play centre. It is unlikely Reichel will get lots of Kane time, but he may see a few games which is usually auto 0.5 ppg for a player. Reichel will have to battle the likes of Kubalik, Connolly, Carpenter, Hinostroza (if resigned), Kurashev, Hagel, Entwistle, A. Nylander, and Altybarmakyan for second to fourth line winger roles. Apart from Kane and DeBrincat points are really going to be spread out on this team.
**************
I just wanted to state that Cole Caufield should have more than the 15:43 time on ice he is averaging through the playoffs. In his last three games he has 13 shots, but it was also against a Jets defense that has more holes that a cheese grater after target practice. In 19 total games he has 52 shots, good for 2.74 per game, which is good as he was really held in check by Toronto. Caufield will be a 3+ shot per game player in the NHL, mark it. He is also starting 76.3% of his starts in the offense zone as Ducharme clearly does not trust him to play much defense.
Enjoy this run Habs fans because I am not liking the outlook for your team standings wise next season!
****************
Thanks for reading. Follow my twitter: @FHPQuinn and direct all comments there!
LATEST RADIO & DRAFTCASTS