Prospect Ramblings: Draft Lotto Results, Lundell and Lindberg
Pat Quinn
2021-06-03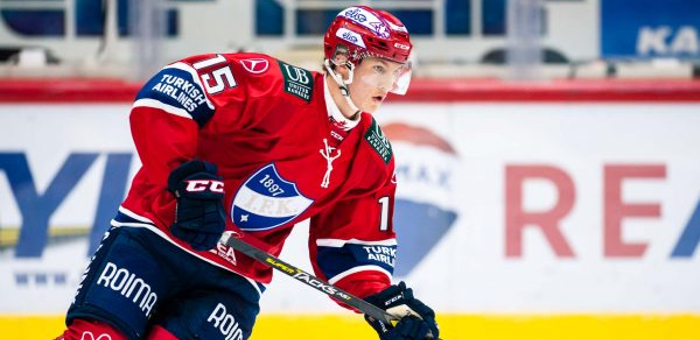 Welcome to the Thursday Prospect Ramblings. Guess what happened last night? If you tuned in at 5pm mountain time and waited 20 minutes you were able to watch the lottery unfold. Unfortunately, it was not as excited as everyone hoped for with no movements from picks 4-16, and no we did not get one to five redraws like I had originally hoped (you would think once would be crazy but peak NHL randomness would have Arizona's pick win at least three times!). There was movement within the top three though.
I have not worked a ton on my ranking this year because of life being far too busy and I have not been able to watch many players as much as I would like, as a results the rankings would be not as great as I would want them. My take though is that #1 overall this year is not as exciting as the previous years as there is no real clear cut (or franchise changing) player(s). There are a few really good prospects (1-8), it dips to being good prospects (9-20) then about above-average to average prospects from around picks 21 to 70, but because of NHL GMs a few really good players (aka overseas players) may slip because of limited viewings. The top players to watch for the draft are (in no particular order):
Matthew Beniers (C)
William Eklund (C/LW)
Fabian Lysell (RW)
Mason McTavish (C)
Jesper Wallstedt (G) – I never advocate for taking a goalie above 20 but a draft like this should have JW in the top 15
Luke Hughes (D)
Brandt Clarke (D)
Owen Power (D)
Simon Edvinsson (D)
My personal preference would probably be William Eklund and if I had #1 I would probably choose him in a keeper draft.
I am interested to see where Aatu Raty winds up in the draft. Was the consensus #1 a few years ago and now is a middling pick. I think there is a good top six forward there still but I may be living in nostalgia.
Also, it will be fun to see how far Logan Stankoven falls and then makes said GMs that skipped him after picks 10-12 look silly.
With no Arizona pick the draft became:
15. New York Rangers – No jumping up THIS year, finally
14. Dallas
13. Philadelphia
12. Calgary
11. Chicago
10. Ottawa
9. Vancouver – The "never getting first overall" streak continues
8. Los Angeles – Good, signed all other NHL teams
7. San Jose – This is too bad as the Sharks could really use a young player to get people excited, but they should also still be able to snag one at #7. If I was them I may go Wallstedt to get a rock in net, but this team also needs help on D and some more young Forwards
6. Detroit – Well last time Detroit picked six they took Moritz Seider……
5. Columbus Blue Jackets – I kind of wish they got first overall with all of these players always wanting to leave
4. New Jersey
Then for the top three where there was some movement!
3. Anaheim – Dropped from #2 but they will draft a guaranteed NHL player as they always do
2. Seattle – I just hope all of those Kraken fans who have been with the team for 20 years are excited, I myself have been a fan since 1999
1. Buffalo – This screams Owen Power to me. It is not like Power is bad but there are more players with a higher ceiling than him, but he could become a solid #2 (at very best) to #4 defenseman
**********************
Now for some news and notes, starting in Florida:
Zito said Anton Lundell will be at training camp.

"There's a plan. I'm going to go get him myself."

— Jameson Olive (@JamesonCoop) June 2, 2021
Well now, look who is coming over to join Florida next season. The Panthers already seem poised to have Heponiemi and Denisenko join the squad, could the addition of Lundell create an amazing rookie third line?
Verhaeghe-Barkov-Marchment
Hunberdeau-Bennett-Tippett
Denisenko-Lundell-Heponiemi
Lomberg-Acciari-Hornqvist
I doubt it happens but wow would that line be exciting.
Really interesting news out of Minnesota yesterday:
#mnwild have been unable to come to a contract agreement with goalie prospect Filip Lindberg.

The NCAA champ was drafted as a 20-year-old, so his agent has submitted a 30-day letter so his Wild rights expire at the end of June. He's free to sign w/another NHL club July 28.

— Michael Russo (@RussoHockey) June 2, 2021
Lindberg was drafted in round 7 at #197 in 2019 as an overager goalie. The 22-year-old Lindberg has been Dominating the NCAA since 2018 with save percentages year to year of 0.934, 0.927 and 0.949. He will be free to sign with any NHL squad after July 28. Keep in mind he has never played over 20 games in any NCAA season, so he will need a couple AHL/ECHL seasons to get used to the greater workload. There could be a legit NHL starter here though.
******************
Thanks for reading. Follow my twitter for great updates: @FHPQuinn
LATEST RADIO & DRAFTCASTS