Prospect Ramblings: Potential Prospects That Could Be on the Move Ahead of the Trade Deadline (Part 2)
Julian Mongillo
2021-04-10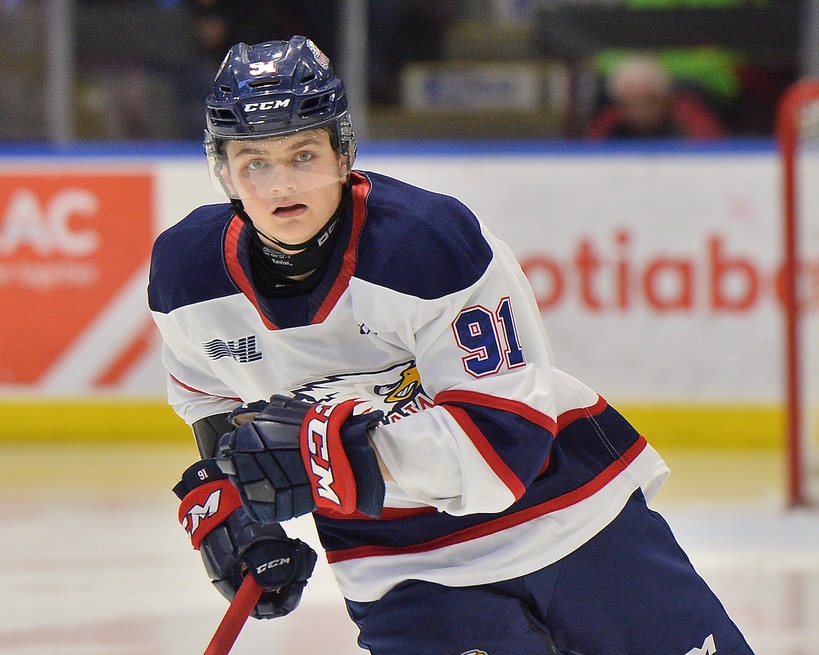 With the deadline just days away dominoes will soon begin to fall and more and more trades should begin to filter through. In Part 1 of "Potential Prospects That Could Be on the Move as the Trade Deadline Approaches" we touched on some of the top teams in the league and the potential prospects, they have at their disposal to use as trade bait to bolster their lineup for a deep run at the Stanley Cup.
Having already covered teams like the Tampa Bay Lightning, Toronto Maple Leafs, New York Islanders, and Colorado Avalanche in Part 1, we will continue to feature some potential prospects who could be traded from contending teams who should be buyers at the deadline.
Vegas Golden Knights
The Golden Knights have made significant moves over the last few seasons to shape their team into a true Cup contender. Since they came into the league they have been able to pile up top prospects while being able to ice highly competitive teams in their short history.
Having made the playoffs in their first three seasons in the league, there is no doubt that Vegas will be pushing all their chips into the middle of the table and going "all in" this season. They have a deep prospect pool highlighted by WHL standout Peyton Krebs. The Knight's 17th overall selection back in 2019 has done everything he can to prove he is ready to be an impact player at the NHL level. He began this season in the AHL with the Henderson Silver Knights scoring five points in as many games before having to return to junior for the start of the WHL season.
With Cody Glass already showing the potential to be a future center in the team's top-six, Krebs is an asset that can be moved if the team can bring in a legitimate top center to play alongside Mark Stone and Max Pacioretty, and bump chandler Stephenson into a more suitable third-line role.
The team also has a plethora of young blueliners with not much room to get them into their lineup right now. Former second-round pick Nicolas Hague has been a pleasant surprise for the team this season and continues to improve. He has played in 33 games so far this season with 14 points in that span. He is 6-6 and still only 22-years-old and can be an all-situations defenseman with top-pair upside. While moving Hague is significant and would require a big asset in return, it stings a little less with Lukas Cormier in the pipeline if he is not used as trade bait himself. Vegas has a knack for making deadline blockbusters and bold moves so no one should be surprised if they have another ace up their sleeve this year.
Florida Panthers
They are one of the most surprising teams in the entire league this season and with a very high likelihood of making the playoffs, should be looking to add at the deadline. With the season-ending injury to their star blueliner Aaron Ekblad the Panthers will need to shore up their blueline heading into the postseason. The team does have all of its picks over the next three years including an extra seventh-rounder in 2021 but could opt to add some prospects into the mix if it means landing a significant piece.
The Panthers have some young Finns who could be on team's radars in Eetu Luostarinen and Aleksi Heponiemi. Luostarinen was one of the prospects the Panthers received in the Vincent Trocheck deal at the 2019 trade deadline. He is good at both ends of the ice and has appeared in almost all of the team's games this season after coming over from the Liiga but has primarily been in a bottom-six role. He could be a good prospect to package with picks to land a player that would help the Panthers win now.
The 22-year-old Heponiemi is in his second year as a pro and has appeared in just six games this season split evenly between the Panthers and the Syracuse Crunch of the AHL. The former second-round pick is a point producer and excellent playmaker who has yet to get his chance to establish himself at the NHL level. With Florida having brought several players in over the summer to solidify their top-six the team is much deeper at the forward position leaving a limited opportunity for Heponiemi to be an effective offensive producer.
Carolina Hurricanes
The Hurricanes are continuing to establish themselves as strong playoff contenders and while they don't have too many glaring needs, will need to bolster their lineup. The Central Division is arguably the most challenging division and the Hurricanes are in the middle of a dogfight to claim the number one seed over the Tampa Bay Lightning and aforementioned Florida Panthers.
The strength of Carolina's prospect pool lies in its forward group and could easily part with some considering how young their NHL roster is overall. A player like Morgan Geekie is one who opposing teams may want to target if they are looking for a prospect who is NHL ready. He has played three years at the pro level but has been limited to only 20 games with the Hurricanes. With such great center depth down the middle of the ice, it will be tough for Geekie to get more than a fourth-line role on this current roster.
While the team has potential stars in Ryan Suzuki and Seth Jarvis in their system as well, they may be reluctant to give these high-level prospects up considering they do not have any glaring need to fill come the deadline. Jarvis impressed early on in the AHL this season before returning to the WHL for their season while Suzuki is up to ten points through 17 games in the AHL.
A player like Dominik Bokk could also be one that is used in a deal. The German forward was acquired by the Canes in the Justin Faulk trade during the 2019 trade deadline. He was great for Germany in the 2020 World Junior Championship and has entered his first-year pro after coming over from Rogle BK in the SHL. He has offensive upside and at 21-years-old should be close to being ready for NHL action and because he's not on the level of Jarvis or Suzuki could make him a prime piece in a deal for a depth rental player to add to the Hurricanes lineup.
Winnipeg Jets
The Jets, similar to the Panthers and Hurricanes, find themselves in the thick of a battle to claim the top spot in the North Division. The team itself has a strong top-six forward group and forward depth with an elite goaltender in the crease but uncertainty on their backend. The team's need for a steady defenseman is evident after the team moved on from Trouba and while they do have Josh Morrissey and Neal Pionk the depth beyond that is questionable.
The team has been heavily linked as a potential suitor for Nashville Predators blueliner Mattias Ekholm, which would be a significant upgrade to their current blueline situation. Unfortunately, the price for a solid two-way defenseman on a team-friendly deal with another year remaining on his deal is not cheap. It will likely take a top prospect to pry a player like Ekholm away from the Preds considering they have found themselves battling for the fourth seed in the Central Division.
With the team loaded at the forward position, Cole Perfetti could be expendable if it means the team can land a top pairing defenseman. Although it may not be ideal to move a prospect with the potential of Perfetti it would address a major need for the Jets team. Perfetti has been able to play solely in the AHL this season due to the OHL season still being delayed and has accumulated 10 points through 20 games thus far.
If the Jets consider Perfetti an untouchable in a potential trade, former 18th overall selection in 2016, Logan Stanley could be one the team would look to move if it meant bringing in a blueline upgrade. Stanley has gotten his first taste of NHL action this season after two previous years in the AHL, and while there are still improvements to be made to his game has shown he is capable to be leaned on in defensive situations. Having Dylan Samberg and Ville Heinola in the pipeline could make it easier to part ways with Stanley or could be used in a deal themselves to land an asset on deadline day.
************
We have already seen the New York Islanders give up two prospects and a first and fourth-round pick to the New Jersey Devils in exchange for Kyle Palmieri and Travis Zajac who are both on expiring contracts come seasons end. Considering there are bigger names on the market higher-level prospects will need to be in play to acquire any of the top tier rentals or some of the available assets with term remaining. The price will only increase as fewer players become available heading into deadline day and we could see much more top-end talent on the move very soon.
Follow me on Twitter: @JulianMongillo 
LATEST RADIO & DRAFTCASTS