Breaking Down Matvei Michkov: Russia's Exceptional Talent
Dylan Griffing
2021-03-29
Matvei Michkov had a season full of broken records, highlight-reel plays, and player comparisons to some of the best NHL forwards we've ever seen. While I hate comparing Player A to Player B, it isn't outrageous to start thinking that Michkov is deserving of that 'franchise' tag. In 2019-20, in the Russian U16 ranks, he racked up 109 points in 26 games. 70 of those points were goals. To say Michkov was already special before the 2020-21 season started would be an understatement.
Goal Scoring Machine
The first record Matvei Michkov broke came in his first-ever MHL game for the simple reason that U16 players do not play in the MHL… ever. So when he potted his first goal against MHK Dynamo St. Petersburg, he etched his name into the history books for being the first U16 player to score a goal and, subsequently, pick up a point in the MHL.
Clearly, things were off to a hot start for the, then, fifteen-year-old. He played eight games for SKA-1946 before a COVID spike hit the team and eventually resulted in just about all of his teammates getting called up to the KHL. Being only 15, Michkov was too young to go with them, so he played six games for SKA-Varyagi, which is the secondary MHL team for SKA St. Petersburg. Yes, they have two teams in the same league, and yes, Varyagi is much, much worse than 1946.
He had already accumulated seven goals in those first eight games for SKA-1946, so making the step down was never going to challenge him much. However, since he was on a worse team now, he was taking on a way bigger role. In his first eight games, he had only played over sixteen minutes in a game once. In his next six he averaged just over twenty-two minutes a game. He finished with three goals, but there were clearly some negative effects coming with playing so much compared to what he was getting used to.
With everyone COVID-19 free, Michkov returned to SKA-1946 and completely beat up Amurskie Tigry, picking up four goals in their two meetings. He then went on a six-game streak without scoring, but not for a lack of effort, averaging 4.83 shots on goal per game in the six-match span. He found his scoring touch, once again, against MHK Dynamo St. Petersburg, and it's all history from there. He finished the 2020-21 MHL season with a league-leading, 38 goals in 56 games. To put that total into perspective, only five players cracked 30 goals this year and he was the only U18 player to have over 25 goals. As for goals at even strength, Michkov finished first with 26, with only three other players racking up 20 or more. He was tied for second in the league in powerplay goals with 11, only behind Nikita Buruyanov's 13.
Who are the Goals Coming Against?
As someone who covers the MHL, I'll be the first to tell you that the league has its issues. A major problem is the lack of parity between the top and bottom teams in each conference. Teams like SKA-1946 will simply blow through the likes of Amurskie Tigry, AKM Novomoskovsk, and Sakhalinskie Akuly, who are in the Western Conference and play here: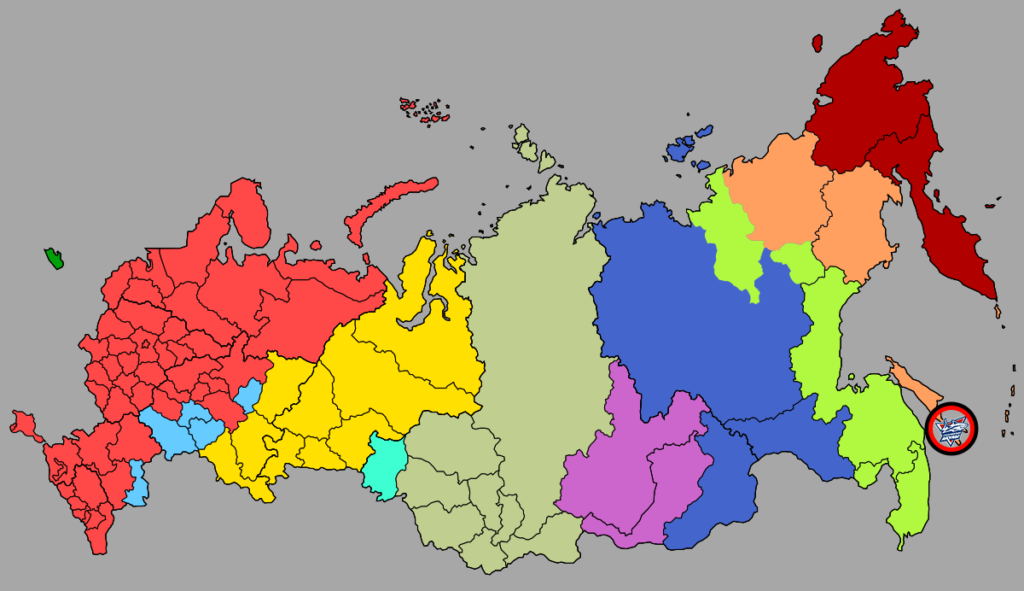 But that's a topic for another day.
What this all boils down to, is there's a lot of games where Michkov's team will easily beat up teams who are allowing 200+ goals in their 64 game seasons. To combat this, I broke down all 38 of his goals to see who they were coming against, and the results are very reassuring: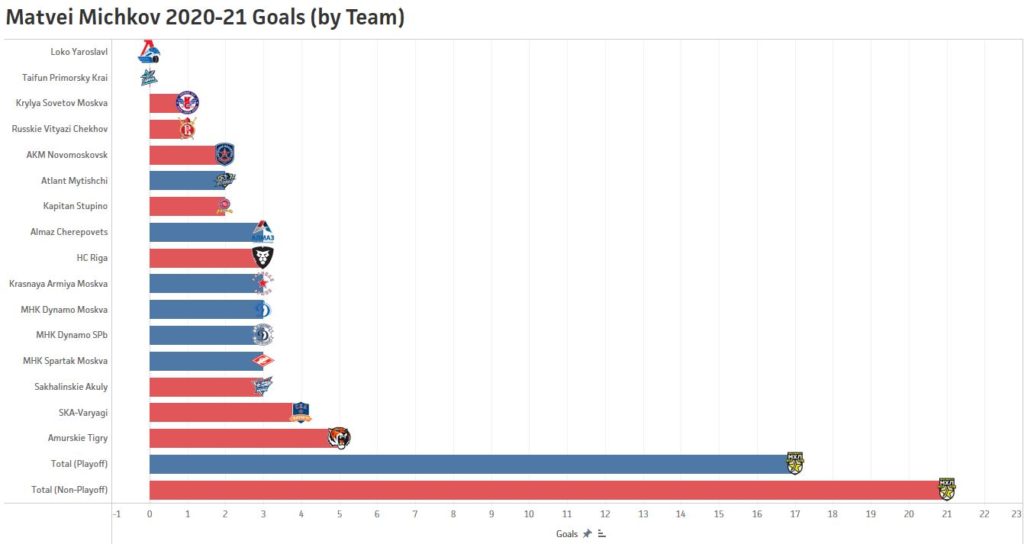 44% of his goals came against playoff teams and he only failed to register a goal against two teams: Loko Yaroslavl and Taifun. Loko being the best defensive team in the conference, allowing only 1.6 goals per game, and Taifun being the fifth worst defensive team, letting in 3.32 goals per game. Michkov averaged 0.65 goals per game vs. playoff teams and 0.72 goals per game against non-playoff teams. Safe to say he wasn't just taking advantage of the weaker teams in the conference.
Into the History Books
Apart from the U16 MHL records that he set, Michkov etched his name in MHL history by breaking the records for most points and most goals by a U17 player in the MHL. He beat Nikita Kucherov's point record by just two points. The goal record, however, was absolutely crushed, with the previous total set at 29 goals. Michkov scored his 30th in just 43 games played. To top it all off, Kucherov was six and a half months older than Michkov when he had set the previous records.
Digging Deeper
To get a better idea of how dominant Matvei Michkov was this season, I tracked seven of his games. Like the rest of my data tracking, which can be found here, I chose games almost exclusively where SKA were playing a playoff-caliber team. Here's what I found:
The Areas of Improvement
I'm going to preface this section by saying that this is a sixteen-year-old player and these points should be used as a benchmark rather than true "negative" aspects of his game. First and foremost, Michkov's off-the-puck play is his weakest area. He's always the first player to leave the defensive zone and generally hangs out in the neutral zone rather than joining the rest of his team on defense. He showed signs of good neutral zone positioning to try to cut off plays, but his lack of foot movement results in him getting burned and giving up room. Though it can be a frustrating thing to see, he's in the MHL, which is not known for any kind of defense. However, just making small tweaks to make him just slightly more active off the puck will see a jump in his off-puck play. He will be old enough to play in the KHL next season and, if he gets the chance to play, his defense will be challenged and he will improve with time. The other main issue is his off-puck movement when his team is in control of the puck. He tends to wait at a standstill in the corner or behind the net while his team is working the puck around the offensive zone. As cool as it will be when he inevitably scores a lacrosse goal, standing behind the net when he could be elsewhere is not the ideal play.
The Results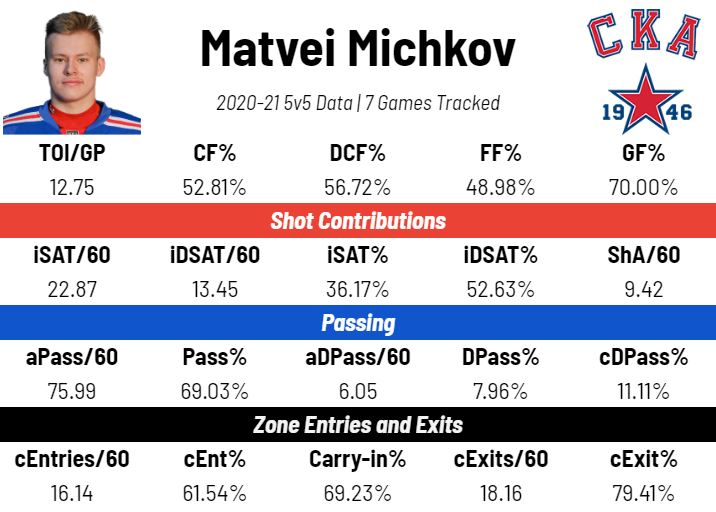 By far, the most noticeable thing about Michkov's data is the sheer amount of shots he takes. This shows on his season total stats, as he ended up leading the entire MHL in shots on goal. In the seven games, he made up for 52.63% of his team's shot attempts while he was on the ice. Out of all shot attempts, he was directly responsible for 38.17%, which jumps up to 51.06% when his primary shot assists are added. What this all means is that Michkov is doing a great job of getting the puck to the net. His shot is very deceptive and he can quickly fire it off. He generates a good enough amount of power to make it dangerous, though it can definitely be improved upon. The accuracy is pinpoint, though, as he very rarely misses the net entirely and can pick corners effectively. There are certainly times where he's just shooting for the sake of shooting and probably has better options, but with the scoring totals he has, it's forgivable until it becomes a real issue. His shots were coming from basically anywhere, as long as he could see a semblance of a chance of it getting on goal. On the powerplay, he resorts to using the same move of cutting in from the right flank like clockwork, and to his credit, no defender ever seems to see it coming and it's resulted in a lot of pucks getting to the net and eleven goals.
Michkov is a very smart player and finds great passing options, however, executing the passes is a different story. While a 69% pass completion percentage is not bad, there were a handful of plays where he softly floated a pass and made it easily intercepted. As I've recently learned in Swedish, a good chunk of his passes fall under the term "det var ingen kompispass", or "that wasn't a friendship pass" (thanks to Mikael Holm for that one). Basically, just reckless passes that are tough to control for his targets. To counteract this, he has gotten a lot of time with Ilya Ivantsov, who is one of the best pure playmakers in the MHL, so Michkov can really focus on his strengths, shooting, and stickhandling.
With the puck on his stick, he has a fantastic ability to make highlight-reel dekes happen and create space for himself to work. At times, he has the puck on a string and just weaves in and out of traffic to get in deep offensively and work from there. Negatively, the common issue with players like Michkov who have high-level skill is just trying to do too much. Skating into traps along the boards was the main concern I found with him in the seven-game sample because a player of his size is never going to be able to get out of a situation like that. In transition, he's a real mixed bag. He only completed 61.54% of his offensive zone entries which is primarily due to lacking control when skating at full speed through the neutral zone and into the offensive zone. When he slows himself down and takes the time to read the ice, he was noticeably more successful at controlling the puck and setting up offense. His effectiveness is also really improved when he keeps the puck closer to his body, but he instinctively moves it further away from himself to set up for some advanced stickhandling that is typically not needed.
Are there negatives to his play with possession? Sure. He's sixteen, he wants to do cool things, nobody is getting mad at him for trying. Why? Because he can do things like this:
He's such an elusive player that he can legitimately destroy defenses on his own. His footwork is great, his hands are fantastic, and he can finish it off at the end of it all. For a player of his size, being able to escape pressure is so important. He tends to make it look easy by being able to control the puck out wide, forehand or backhand, to generate open space, then pull it in close to make the final move.
On the defensive side of things, Michkov tends to be a passenger. He's obviously an offensive-oriented player, so his defense does suffer because of it. However, he does react to plays well and shows flashes of good body/stick positioning to block lanes. He also thinks quickly when he spots a chance to attack an unprotected puck, which leads to plays like this:
Of course, he is a very fun player, he loves the lacrosse move but was just unable to execute it this season. Teams started to defend him closer when he was back in Gretzky's Office, putting a defenseman on either post to ensure it wasn't going to happen. Here's him doing two in one game in the U16s to make up for it:
What This All Means
Matvei Michkov was playing in his D-2 in a U20 league. He started the year as a fifteen-year-old player, yet he managed to completely set the MHL on fire. He broke the records that Nikita Kucherov set in his D-2 season while being six and a half months younger. This is a ridiculously high-level prospect who is able to drive offense better than just about any other forward in the league. His game developed very well through the 2020-21 season as he gained confidence and he showed no signs of slowing down. As I said previously, he is able to play in the KHL next season, and don't be surprised if he gets chances with SKA St. Petersburg (they did sign him through the 2025-26 season, after all). He'll be playing for the Russian U18 team at the 2021 IIHF World U18 Championship starting on April 26th, and he'll also be pushing for the Russian team at the 2022 World Juniors. He's going to improve a lot playing against tougher competition and really challenge for that #1 spot in the 2023 Draft in his battle against Connor Bedard.
***
For all of your Russian hockey and MHL coverage on prospects, follow Dylan Griffing (@GriffingDylan) on Twitter!
Video from InStat
LATEST RADIO & DRAFTCASTS