What Happened to the Aatu Räty of 2018-19?
Josh Glazer
2021-03-26
Not too long ago, Aatu Räty was perceived as the top player in the 2021 NHL Draft. While he was never looked at as a McDavid or Matthews caliber player, he was nevertheless considered the best player in his age group. When the 2020-21 season rolled around, however, he quickly became a fringe Top-10 player on most rankings, in part because of names like Matty Beniers and William Eklund performing so well, but also because his play has matched that of a player bouncing between the Liiga and the U20 league in Finland, struggling to produce at the professional level.
This sudden drop in draft stock made me examine his play over a three-year period, and after a few viewings, the question became: What happened to 2018-19 Aatu Räty?
What The Numbers Show
If we look at his statistical output over this 3 season period, we notice that Räty's point production hasn't just stagnated, it's decreased season-to-season, which is already a bad sign for a player going through some of his most crucial developmental seasons. Two seasons ago, his U20 production was hanging with names like Laine, Rantanen, and Barkov, but he hasn't been able to match their pace since then at the next level.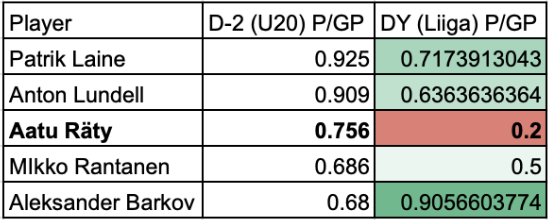 Statistical analysis is nowhere near the most effective way to evaluate any player, let alone prospects in their teens, but this monumental difference between Räty and the most prominent Finnish players and prospects that produced around his level in their D-2 is hard to ignore.
Räty's On-Ice Evolution
Building a timeline dating back to 2018-19, we start to notice a few reasons Räty hasn't maintained 'first overall' status. Back in the 18-19 season, there's a lot to like. The player we're watching is one that is obviously very skilled, and he knows it too. Räty is dominating play in the offensive zone, he loves having the puck on his stick and he's doing well to bring the puck to scoring areas. The aspect of his offensive game that was most likely to translate well when he moved to the next level was his great shot, which he could pinpoint and that came off his stick quickly. He was also a force on the power-play, running the unit from both half-walls throughout the season, finding ways to inch towards dangerous areas to fire off a wrister. Another aspect of his game that stood out was how well he manipulated the opposition in transition. He seemed unbothered by nearby defenders and let his quick hands and shot do the work for him, as we see here: