Prospect Ramblings: The Prospect Stonks
Pat Quinn
2021-02-17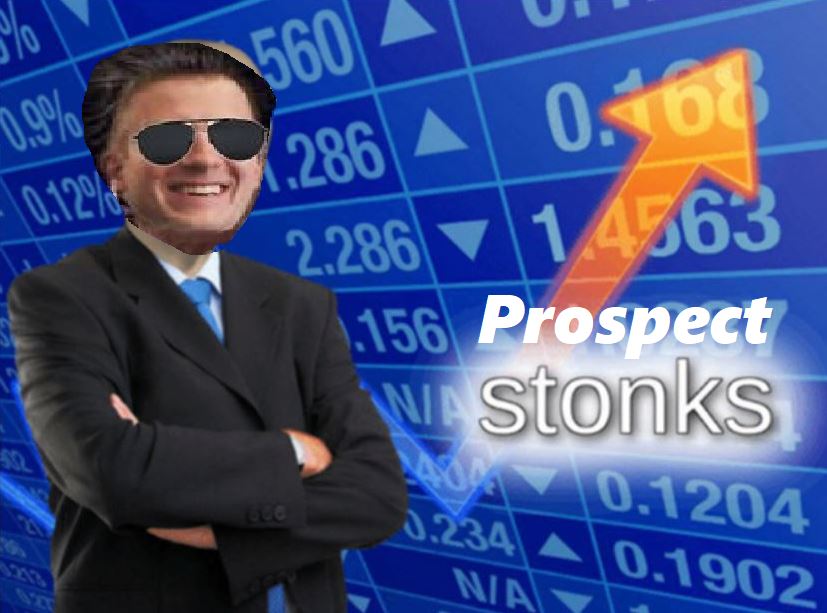 Well guess who is back, and bringing back the Thursday Prospect ramblings: Me. I am glad others have been able to fill in ramblings consistently while I have been away.
For this week I want to see if what I did for the World Juniors are good enough to continue over the season(s). That is: Prospect Stonks! Who is a buy, who is a sell, and who is a hold in keeper leagues.
I may not have had many ramblings over the past month and a bit, but I did have some #GoodTakes on Twitter:
***********************
Now for the Stonks. As always you should sell high and buy low:
Sell
Seth Jarvis – CAR
Yes I start off with an immediate controversial pick here. I am only saying sell high as he is tied for first in AHL scoring and could fetch a fantasy team contending a nice piece for the immediate future. With how full Carolina is on the wings I feel as though Jarvis' ascension will be Necas-like, so it is better to move with high value than wait for him to immediately produce in 100+ games.
Philip Tomasino – NSH
Similar to Jarvis but also in Nashville, where apparently all offense just dies (especially with Hynes in charge). If Hynes is still there and Poile is still in charge, will he get a fair shake or will he go down the Tolvanen route of "no, not really." If you can move him for an upgrade do it, if you want to sit and wait for Nashville to get everything together again (aka you are rebuilding), then go ahead.
Peyton Krebs – VGK
Great prospect on a loaded top nine team (when Roy is there), where would Krebs even fit? Unless Vegas is moving one of Marchessault or Smith any time soon, Krebs will be a much better trade chip than fantasy asset in the short term.
Jaret Anderson-Dolan – LA
Five points in his first five games, he is a big time sell. He is a much better middle/bottom six winger than point-a-game player so do not be enamored, especially with the players LA has on the way that will surely shove him out of the top six.
Janne Kuokkanen – NJ
Six points in 10 games with not great ice time. Kuokkanen is a great bottom six winger, you may be able to do a small upgrade to help with your league push.
K'Andre Miller – NYR
Miller has played great to start but he is not taking the powerplay away from Fox, and has Lundkvist on the way. This does not mention how he is great at defending, a surefire way to get a prospect a ton of EV and SH time for the rest of their career. He should be moved for a league winning push, but he of course has great value in deep leagues and cap leagues.
Buy
Alexie Lafreniere – NYR
One goal in 14 games. ONE. Someone needed the WJC play to prep him for the season. Sure, there is a risk he could have been hurt, but Cozens played in the WJC and has three points in nine games. It may not be much more, but it sure is more. IF you can get him from a panicking GM do it.
Eeli Tolvanen – NSH
One point in six games and mostly a healthy scratch/taxi squad member. Get him while you can to stash him and wait. His low playing time and scoring, I believe is a product of Hynes more than anything. There may be the Nashville death to offense factor, but he cannot possibly be that bad. His production will climb slowly though.
Jan Jenik – ARI
After the 2019-2020 injury any fantasy GMs may have forgotten about him, (heck he may be on waivers) so if he is not on waivers do you due diligence and try to get him as a throw in to a trade. Five points in four games for Arizona/Tucson, after eight points in seven Liiga games, and an Arizona team that will want cheap talent. Buy!
Jake Bean – CAR
If you can get Bean and hold him do it. The Carolina blueline is stacked, but he is a great player who will either force his way on or be moved.
Aleksi Heponiemi – FLA
He looked great in his first Florida game, then after two low ice time games was sent to the AHL. He currently has four points in two games. He will soon be too good for the AHL, so buying ASAP is a requirement.
Quinton Byfield – LA
"Three points in five AHL games after a weak WJC…" is how you need to start off all offers in your keeper league for him. The production will not come immediately, but he will eventually be the 1C for LA. It just may take ~200 games.
Jonatan Berggren – DET
Back from injury with 38 points in 39 SHL games. Those 39 SHL games are his highest games played since the 2018-2019 season. Expect Detroit to bring him over as soon as they can. Blashill may not know how to use his line up but a middle six spot would be good for Berggren.
Juuso Valimaki – CGY
Ice time is creeping up and he also has four points in his last eight games. The knee injury rust is leaving and he will work his way to becoming the Flames' top pairing defenseman sooner than later. Can he snag the 1PP as well, if so and you can get him cheaply now, do it.
Hold
Ilya Mikheyev – TOR
Four points in 16 games and just has not looked the same as he did a season ago (pre-injury). It is too early to drop with how deep the Leafs are, as he is likely only owned in deep leagues, but hopefully the production and confidence can return. He just needs a bounce.
Nolan Foote – NJ
Four points in three games for Binghamton in the AHL is great. Foote's skating improving so much is great as well. However, with how many forwards the Devils have in the NHL they have the time to let Foote work on his AHL game. Fantasy owners do have longer to watch him and wait to see what to do as well.
Oskari Laaksonen – BUF
Laaksonen has four assists in three AHL games coming to North America. He may not be ready yet, even with these points, so it is best to wait. Plus, there is no chance for him to move Dahlin from the 1PP.
Henrik Borgstrom – FLA (soft buy)
Borgstrom and the Panthers have mended the broken relationship, and both sides agreed that he should stay in the Liiga for the year. He will be a good player, but he is seeming more and more to be a middle-six at best player. The 12 points in 20 games do not really jump out at anyone, so if you want to take the chance as a GM do it.
Pierre-Olivier Joseph – PIT
Sometimes he looks great and sometimes he does not. A typical rookie defenseman. POJ has five points in 10 games, but one of those games was a three-assist game. You likely missed your time to sell high, he could be bought low but it is doubtful a GM will give him up as of now. Monitor him.
*********************
Thanks for reading. If this is a good series let me know in the comments (I'll try to check), or through my twitter: @FHPQuinn
LATEST RADIO & DRAFTCASTS