Draft Diaries: Logan Stankoven (October 2020)
Jeff Rea
2020-10-30
Draft Diaries: Logan Stankoven is going to be an ongoing monthly series in which writer Jeff Rea and Kamloops Blazers forward Logan Stankoven will be collaborating to document Logan's season. Logan will be providing commentary and quotes, telling the story from his perspective while Jeff helps weave the story together and provide the context. We kicked the series off last month with a look back at the year that was for Logan in the WHL with the Blazers. Find out all that and more in the first edition of Draft Diaries with Logan Stankoven. This month Jeff and Logan talk about his off-season training in one of the weirdest years any of us have experienced due to the COVID-19 pandemic. How did the Blazers forward take care of business during his extended summer? Find out in this month's Draft Diary. 
Taking Care of Business
This past summer was definitely a lot different than any other summer. I'm sure other athletes felt the same way. In terms of keeping active there was no problem whatsoever, but being able to play games or attend camps and tournaments were not possible. It all got canceled.
The one positive thing I took out of camps and tournaments being canceled was the opportunity to train more and work on specific things that I thought I could improve on. I always focus on being a complete, well-rounded player, but this summer I really keyed in on my foot speed and my first few steps which was definitely a part of my game that needed work. I felt that last season my speed wasn't good enough and that I had to get stronger. Especially because I'm a smaller guy. So this summer, I fully took advantage of the time that I had. 
Over the past three summers, I've been training with Kevin Brechin who works at Sage Sport Institute. Kevin is a physiotherapist and trainer. Being able to train with him one-on-one is something I don't take for granted. He's an awesome guy with a great personality and he's well educated in everything we do in the gym. Before each summer we create a plan. We make it work for his schedule and mine. 
My days consisted of 7:00 am sprints, then a workout right after at 8:30, followed by a skate later in the day. My sprints were always focused on foot speed and conditioning, which I definitely believe improved my quickness and my first few steps on the ice. My workouts were always planned out in a way that benefitted me to get stronger, but at the same time gave me enough rest and recovery time. This summer was focused on leg workouts, while still having upper body workouts as well. Every workout finished with core exercises which is very important for a hockey player. My on-ice practices were different throughout the summer. Earlier in the summer, we had lots of power skating and skills, but as we got more towards the end of summer it was more high tempo practices with competition and games, as well.
Kevin is a massive part of where I am in my career and I'm very fortunate to train with him. Hopefully, someday I can repay him for all he's done for me and my game. 
The Blazers' strength and conditioning coach Greg "Koz" Kozoris does workouts, too. He's a top-notch guy who expects nothing but our 100 percent effort. Every single day. Every single time we show up. Coming into training camp he expects us to already be in great shape and well-conditioned. During the summer most of our team has trainers that they work with, but if not Koz sends us a summer program and expectations for workouts just in case. He wants us to use training camp as a time to get back into game-like situations and to interact with all the guys again. Koz is always looking for ways to improve each player's game. He is willing to sit down and have a one-on-one conversation about anything in life.
Fortunately, the Power Edge Pro camp in Kelowna was run again this summer (video above from last summer's training). I attended under PEP instructor Scott Smith, from Edmonton. This summer was my third time attending the camp. What makes me come back each year is the way it's run at such a high level of intensity. Working with PEP gives me the opportunity to work on a number of skills that can translate into game situations. Being able to travel at such high speeds but also use your edges and keep control of the puck all at the same time is challenging. They have these apparatuses. They challenge your brain to think fast and to keep a consistently high speed, all at once. I really enjoy working with PEP, and I hope to continue working with them in the future.   
From the Kamloops Blazers of the WHL
On Tuesday, October 6, the 2020 NHL Entry Draft finally took place. Originally planned for late June in Montreal, no less, the draft was bumped back to Saturday, October 10, and then inconveniently moved forward to the prior Tuesday evening instead. After months of social distancing, ambiguity, and hardship, a virtual draft was highly anticipated and oddly normalized.
Watching the NHL draft and seeing our teammates get drafted was an exciting moment for our whole team, as a group. 
It was special seeing these guys go in the Draft because I had the privilege of playing with them and watching them develop into the players they are now. Being able to see what it takes to be drafted sets a fire in me. It gives me the motivation to work as hard as possible to be drafted this year. Having these guys to learn from and talk to is very helpful. It better prepares me for what I could have the opportunity at. 
The guy I most relate to is Connor Zary. He always expects a lot out of himself and puts the work in every day. Every time he comes to the rink. He inspires guys on our team, especially myself, to become better players and teammates. His passion for the game is visible every time he steps on the ice. Not only is he a great player, but he's also an even better guy and someone I look up to in life.  
Connor (scoring a hard-working net-front goal above) was super pumped being drafted in the first round. What made it even more special for him and his family was being able to play so close to home. Calgary is only a six-hour drive, as compared to being drafted to a team that is on the other side of a whole different country. We as teammates were really proud and happy for him because we know just how hard he works both on and off the ice. To see him rewarded like that was pretty amazing. 
Oh, no Canada.
The Hlinka-Gretzky holds a special space in the hockey world. Although most professional franchises and hockey scouts begin tracking prospects earlier, the August tournament is unique and culturally distinctive. It's the first best-on-best international tournament. It signals the start of the hockey season. It officially releases the Draft class on their journey.  Unlike the World Juniors, World Under 18, or even the World Championships, it happens in isolation. A baptism of sorts, to the hockey faithful the Hlinka-Gretzky is unmissable.
Having the Hlinka-Gretzky tournament canceled was definitely the most disappointing thing this summer. Time flies and having the opportunity to wear the Maple Leaf and represent your country is something I take pride in. Not being able to have a shot at that and hearing that the tournament was canceled was heartbreaking. It's something that none of us players will ever have a chance to play in again. 
Even though the Hlinka-Gretzky tournament was canceled, Hockey Canada still organized a virtual camp for the U18 camp invitees. It was held over the course of two days over the Zoom platform. It consisted of interactive activities and we had guest speakers such as Tyler Steenbergen (scoring in the video above to win the gold medal), Michael Dipietro, and (former Blazer coach and Memorial Cup winner) Tom Renney. It was pretty special to hear their stories and how their careers panned out in totally different ways. Having some insight into what it was like for them to go through the Hockey Canada pipeline was very interesting and definitely cool.
The next chance at playing for my country will be at the World Junior level. I'll do everything in my power to hopefully make that roster, one-day.  
The Season Ahead
I thought this summer was productive. I worked really hard in terms of developing my skills and getting better as a player. I hope to showcase these improved skills right off the bat once the season starts up. I want to become a more relied upon player this season.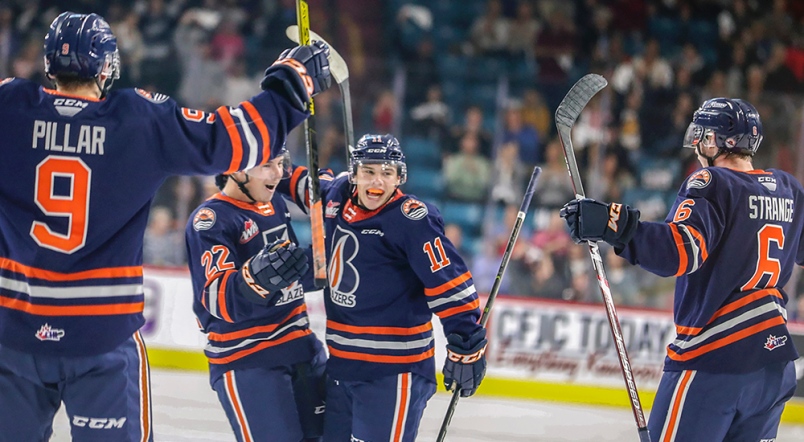 I truly believe with the squad we have the sky's the limit and I think we can go deep in the playoffs if everyone buys into our system. It was disappointing having the season canceled on us, but I know our team is hungry to pick up where we left off and to have even more success than we did this past season.
I saw the CHL power rankings. I don't put much thought into them, to be honest. I saw that mistake happen last season, where we were ranked top five going into the season but ended up losing our first three games. It's definitely a feather in our cap being at number six, and something to be proud of, but you can't let those rankings get to your head because the other teams are always working to get ahead of you.
In terms of individual success, I want to take one game at a time and do the little things right. Last season we had a deep team with a good core of veterans that were relied upon. I wasn't one of the go-to guys on the team. Coming back for my second (full) year, I want to prove that I can be relied upon in all situations. I want the coach to have trust in me at all times.
Every kid's dream is to someday play in the NHL, so having the opportunity of being drafted this upcoming year is very important to me. Being a great player is part of it, but being an even better person is something that is crucial as well.
*******
Please join us for the November edition of Logan Stankoven's Draft Diaries. We'll hear from Logan's family and get his take on what it means to balance life in the WHL with NHL aspirations, education, and the social life of a teenager. We'll also continue to track the prolonged WHL offseason and discuss what it may mean in Canada's bid to repeat as World Junior Hockey Champions.
Please follow Jeff Rea @JeffReaScouting