Prospect Ramblings: 2020 Draft Ranking and Best Landing Spots
Pat Quinn
2020-09-30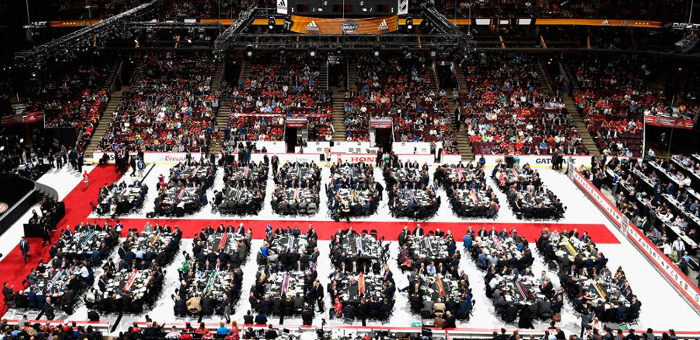 Welcome to the Thursday Prospect Ramblings. I am going to post my top 50 prospects for the NHL Entry draft. It is pretty similar to my last rankings out in March/April because I try not to give in to recency bias, which I will also highlight. I am also going to discuss which top 2020 draftee I think would be optimal for the team taking them in order.
First, here is my #GoodTweet for the week
*********************
My Top 2020 NHL prospects:
Tier 1
Alexis Lafreniere, LW
Tier 2
Quinton Byfield, C (No movement)
Tier 3
Lucas Raymond, RW/LW
Marco Rossi, C (Raymond and Rossi flipped again)
Tim Stutzle, C/W
Cole Perfetti, C/LW
Alexander Holtz, RW/LW
Tier 4
Anton Lundell, C/LW
Jamie Drysdale, D
Jan Mysak, LW
Rodion Amirov, LW
Tier 5
Noel Gunler, RW/LW
Connor Zary, C
Seth Jarvis, RW (big jump up for me)
Tier 6
Dawson Mercer, RW
Mavrik Bourque, C
Kaiden Guhle, D
Jake Sanderson, D
Jacob Perreault, C
Yaroslav Askarov, G (I still cannot bring myself to put a goalie too high, so 20 is really high for me)
Hendrix Lapierre, C
Braden Schneider, D
Jack Quinn, RW
Tier 7
Dylan Holloway, C
Jeremie Poirier, D
William Wallinder, D
John-Jason Peterka, RW
Justin Barron, D
Lukas Reichel, LW
Ty Smilanic, C/W
Jake Neighbours, LW
Tier 8 – Also known as 32-50 of my draft ranking
Daniil Gushchin, RW
Ozzy Wiesblatt, RW
Justin Sourdif, RW
Jaromir Pytlik, C
Marat Khusnutdinov, C
Ryan O'Rourke, D
Jean-Luc Foudy, C
Brendan Brisson, C
Roni Hirvonen, C
Thomas Bordeleau, C
Vasili Ponomaryov, C
Zion Nybeck, RW
Emil Andrae, D
Luke Tuch, LW
Ridley Greig, C
Helge Grans, D
Topi Niemela, D
Antonio Stranges, C/LW
Eemil Viro, D
****************
Ever since the European and KHL leagues have started I have noticed a growing recency bias trend. It is like all the scouts that just watch North America are now watching overseas and changing the rankings.
Notable recency bias around the 2020 draft so far:
After being a high pick to start the 2019-2020 season, Askarov fell after he had a not great World Junior Championship (which as we all know is the only way to evaluate prospects) as was around the 15-25 range, falling out of the first round on some draft boards. Well since the KHL season has started, and he has played well, he is now in the "could be picked anywhere from #4 to #8" range. It is amazing, did people not watch him in Russia before and all it took was no CHL/AHL to get people to notice he is really good? Anyway, never pick a goalie too high as you can get equal value in a goalie in the later rounds, but ultra-skilled forwards are extremely difficult to come by (I am talking to you New Jersey Devils)
Jack Quinn has seemingly dropped out of the top 10 now
Lucas Raymond, sadly as a Devils fan, has risen on a lot of draft boards. Earlier in 2020 he was in the #5-#12 range and now he is back (rightfully) to the #3-#5 range
The Marco Rossi social media chatter has died a bit and I am seeing him slide on draft boards, as if people cannot watch him play and they can only see his size
Dawson Mercer has pretty much fallen since people have forgotten about the WJC
Seth Jarvis has risen up most draft boards (including mine)
Jan Mysak has pretty much vanished from talks and I feel he may slide to round two (which is great for fantasy owners)
*******************
Which team would a 2020 pick be the most optimal for fantasy (top 20):
#1 – New York Rangers: Quinton Byfield
Alexis Lafreniere is the better player but what the Rangers need is a centre not more wingers. Yes, I do know they can just trade an awesome winger for a centre but living in a world where I am saying they cannot, they could have a 1-2 punch of Zibanejad and Byfield for upwards of seven years. Would that not be incredible
#2 – LA Kings: Alexis Lafreniere
Since there is word the Kings could pass on Byfield to draft Stutzle, as the team's centre depth is amazing, they would easily take the best winger/player in the draft
#3 – Ottawa Senators: Lucas Raymond
I like Stutzle but I prefer Raymond, so I think he would be the optimal choice for Ottawa
#4 – Detroit Red Wings: Tim Stutzle
I may think he is being overrated but I could easily be wrong, so because of that I will put him here for Detroit. Also, he would get to play with fellow German Moritz Seider
#5 – Ottawa Senators: Alexander Holtz
Ottawa walking away with the two Swedes would possibly be the best outcome for them. Obviously Byfield or Lafreniere dropping to #3 plus another forward would be better, but the two Swedes are the next best option. It is definitely a better option than taking Sanderson at #5 and potentially Askarov at #3 (as I randomly saw on twitter)
#6 – Anaheim Ducks: Jamie Drysdale
Going from one of the most envious defensive depth in the NHL to one of the worst is pretty amazing. Drysdale would immediately become the teams #1 defense prospect
#7 – New Jersey Devils: Marco Rossi
Skill is what the Devils need and perhaps I am hoping one of the most skilled players in the draft biasedly falls to my team. They just better not take Sanderson or Askarov here
#8 – Buffalo Sabres: Cole Perfetti
Oh no Buffalo only winds up with one of the top forwards prospects in the draft at #8.
#9 – Minnesota Wild: Anton Lundell
Wild really really need centre depth and the underrated Lundell would be a perfect fit
#10 – Winnipeg Jets: Connor Zary
The Jets also need centre depth so Zary fits the team need the most
#11 – Nashville Predators: Jan Mysak
The Preds need scoring up from and Mysak in very good and yet so underrated
#12 – Florida Panthers: Rodion Amirov
The Panthers do not need a future goalie so they should take the most skilled winger left
#13 – Carolina Hurricanes: Yaroslav Askarov
I know I said you should not draft goalies too high, but Askarov just makes too much sense for the Hurricanes. Especially with the team's history of never having goaltending
#14 – Edmonton Oilers: Noel Gunler
I have Gunler and Jarvis very close to one another, and with the Oilers needing more depth at forward I think it makes most sense to take the winger that has played both wings more often than Jarvis
#15 – Toronto Maple Leafs: Jake Sanderson
Leafs definitely do not need more wingers, and although they could use centre depth both Sanderson and Guhle would make sense for them. On the potential Sanderson ends up better I chose him
#16 – Montreal Canadiens: Seth Jarvis
Montreal needs some sort of game breaker up front, and even though Jarvis is not quite at that level he will still become a top six winger
#17 – Chicago Blackhawks: Kaiden Guhle
This is mostly due to the fact that Chicago seems to bring over a top six forward from Europe every off season, so might as well load up on defense depth
#18 – New Jersey Devils: Jack Quinn
Devils drafted Rossi so they might as well take his 67's teammate Quinn as the chemistry could carry over to the NHL. Side note: it is pretty hilarious that New Jersey appears to draft mostly from the Ottawa 67's and I came across them drafting both forwards
#19 – Calgary Flames: Dawson Mercer
Mercer just seems like the best fit for Calgary here
#20 – New Jersey Devils: Mavrik Bourque
There are so many great forwards left for the Devils to pick, but I chose Bourque as he was next on my board
**************************
Thanks for reading! Enjoy the draft October 6th and 7th as I know I will!
Follow my twitter: @FHPQuinn
LATEST RADIO & DRAFTCASTS