Interview: 2020 NHL Draft Prospect Anton Lundell
Jokke Nevalainen
2019-11-01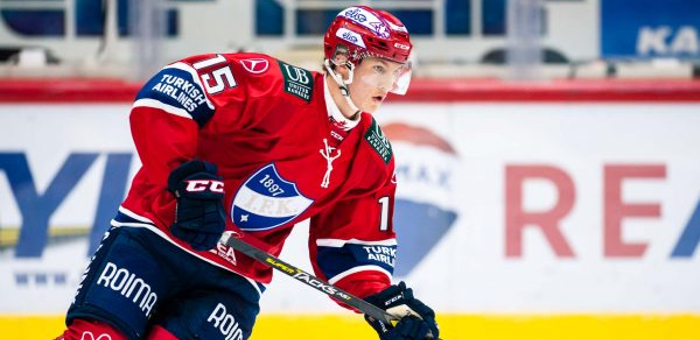 Projected top ten pick Anton Lundell had a bit of a slow start to his second Liiga season but he has been heating up lately, scoring six points in his last five games. Today, he scored a power play goal and added a primary assist to the overtime winner, so I decided to interview him after the game to get his thoughts on those two plays – and also about the upcoming U20 Four Nations tournament.
First of all, here's the power play goal. It was the first goal of the game, scored at 5:25 into the game.
Anton Lundell 👀#Liiga #HIFK pic.twitter.com/NhZW3Um5OD

— Telia loves Liiga (@TelialovesLiiga) November 1, 2019
https://platform.twitter.com/widgets.js
"I got a good start to the game," Lundell said. "I got an opportunity to shoot there and managed to get a good shot off. I tried to shoot from the defenseman's legs and over the goalie's shoulder, and it happened to work out pretty well today."
Lundell is better known as a playmaker but he has been flashing his wrist shot more often lately. "I've always had a good wrist shot", Lundell said. "I need to use it more often. Perhaps I have more confidence now and I've developed in my all-around game, so I'm getting to better shooting positions now. Of course when shots go in, you need to continue doing what you're doing."
"I've put all my focus on the game now – you can't overthink or look too far ahead. I'm trying to play as well as I can to help the team, and then whatever success comes is a result of that."
And if that goal wasn't enough, Lundell also set up the game winning goal in overtime after some excellent passing between him and the defenseman who joined the rush.
Anton Lundell and his primary assist to game winning goal. 1+1 today. #2020NHLDraft pic.twitter.com/r34DqrBiUW

— Juha Rapanen (@jrabane) November 1, 2019
https://platform.twitter.com/widgets.js
"We got to a loose puck and a good two-on-one opportunity came from it", Lundell said. He had a good scoring opportunity himself but decided to give a last-second pass to his teammate. "I waited to see what the defenseman is going to do, and when he started coming towards me, I knew I had to make that one final pass", he explained. "It always feels great to win a game. It wasn't the best game from us – penalties made it difficult for us – but it's a good sign when we are able to win a game like this."
Next week, Lundell will play at the U20 Four Nations tournament which is going to be played in Helsinki. Five of the six games that weekend will be played in HIFK's home arena. "It's nice because it's in my home town, so I don't need to travel, and we also get to play in my home rink, so I'm feeling really good about it", Lundell said. "I haven't had tim