Prospect Deep Dive: Ville Heinola
Jokke Nevalainen
2019-03-18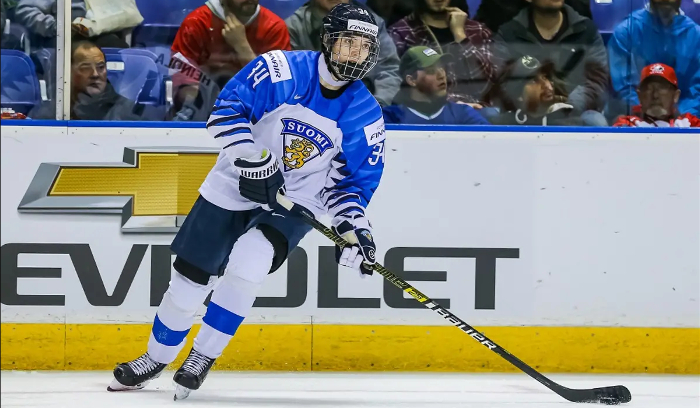 Finnish defenseman Ville Heinola is one of the top defenders available for the 2019 NHL Entry Draft. He may not wow you with speed, a big slap shot or big hits. But his all-around package is very intriguing for the modern NHL. In all likelihood, Bowen Byram will be the first blueliner taken in the draft but Heinola is one of four or five names that can realistically go second.
Season review
Heinola started his season with Finland's U18 team at the Hlinka-Gretzky Cup where he had two assists in four games. Decent start to a season but probably didn't raise many eyebrows at the time. After that, he played nine games in Jr. A SM-liiga, the top junior level in Finland, and had nine points in those games. That's when people really started to notice him.
Heinola was quickly promoted to the top level after showing dominance at the junior level. In September and October, Heinola had just one point in 12 Liiga games. But the team clearly saw something special in him because he averaged over 16 minutes per game.
Then came November and December, and this is when Heinola truly started to shine. He had five points in 11 games, and his average ice time was close to 20 minutes per game. During that time, Heinola also played at under-20 tournament with Team Finland. Even though he didn't have any points in the three games there, it became obvious he had earned a lot of rope because he played on their top pair and top power play over some of the more established options.
At the end of December, Heinola was selected to represent Finland at the World Juniors. While there, he played on the top pair once again which is remarkable for a 17-year-old. Heinola was arguably Finland's best player in the game against Slovakia where he scored a goal and added an assist. He was held pointless in the other games he played but earned a lot of praise.
Ville Heinola's primary assist from earlier today. #NHLDraft pic.twitter.com/XB1tM8h2a6

— also sean dhooghe (@DraftLook) December 30, 2018
https://platform.twitter.com/widgets.js
Heinola was truly introduced to North American fans in this tournament, although his performance there wasn't as impressive as his play in the Finnish Liiga during that time. Perhaps he was nervous or needed to adjust to the smaller rink size but some of the games were subpar by Heinola's standards. But I guess that just shows how high the standards are with him.
Unfortunately Heinola's tournament was cut short after a dirty hit from Canada's captain Maxime Comtois at the quarter-finals. The knee injury ended up keeping Heinola sidelined for six weeks.
After a lengthy absence, it is normal for players to be a bit slow to get going again. But that definitely wasn't the case with Heinola. After he returned to Lukko's lineup in mid-February, Heinola put up eight points in 11 games to finish the regular season. He also averaged almost 21 minutes of ice time per game during that time.
I think the best way to show Heinola's progress is this graph where his Liiga season is split into two-month periods, and it shows his points-per-game average during those periods. Two-month periods work perfectly in this case because he played 12, 11 and 11 games during them.
All in all, Heinola finished the regular season with two goals and 14 points in 34 games. Eight of those points came on the power play. He also had a plus-seven rating and positive Corsi ratings. His average ice time for the season was 18:54 per game with 3:05 of that coming on the power play and 1:19 on the penalty kill.
14 points puts Heinola fourth on the all-time list among under-18 defensemen in the Liiga – ahead of Miro Heiskanen for example. I'm not saying Heinola will be as good as Heiskanen but they also had a very similar under-17 season in Jr. A SM-liiga, so Heinola is following a similar trajectory in that sense. But Heiskanen has taken unbelievably huge steps in the two years after he was drafted, so it's impossible to expect anyone to follow with something similar.
(Screenshot taken from EliteProspects.com as always.)
Another 2019 draftee Mikko Kokkonen is ahead of Heinola on that list but Kokkonen played 22 games more than Heinola, so Heinola's points-per-game average is better. Heinola's points-per-game average could be even better if he didn't miss those six weeks to injury.
After the final game of the regular season, I had a chance to interview Heinola. I asked him what is the reason behind his strong performance late in the season after the injury.
– We've been playing well as a team, and I've also had success personally, and that leads to more success, so that's probably it.
I asked if he could have imagined last summer that he's now playing 20 minutes per game at the Liiga level on a playoff team.
– No, I couldn't have even imagined that. Of course early in the season, when you get to play, you want to play a bigger role, and then you just have to play well enough to earn that role.
I also asked Heinola about the upcoming U18 Worlds, the NHL Draft, and the eventual jump to North America. But it seemed he didn't want to get ahead of himself and just wanted to keep all focus on the task at hand which was the Liiga playoffs. And I can't blame him – there's plenty of time to think about those things after the playoffs.
Speaking of the playoffs, his Lukko team has now played two games in the wild card round, and Heinola has recorded a power play assist in each game. The wild card round is a best-of-three series, and the deciding game is played on Tuesday.
Scouting report
So who exactly is Ville Heinola? He's an average-sized (5-11, 176) puck-moving defenseman with a left-handed shot. He turned 18 a couple of weeks ago which means he's right in the middle of his draft class age-wise.
Heinola doesn't have blazing top speed but he's a smooth skater. He's excellent at using his edges which is very important for a modern defenseman. His agility and acceleration are excellent. His skating seems effortless which allows him to play big minutes. He's a very talented skater, and top speed is likely something he can improve over the next few years.
Can someone explain to me how it's possible for Ville Heinola (#14) to skate like that? I mean, that looks crazy to me the way he's moving. #Liiga #2019NHLDraft pic.twitter.com/PS5YEBBULw

— Jokke Nevalainen (@JokkeNevalainen) December 1, 2018
https://platform.twitter.com/widgets.js
Heinola has a really good wrist shot. If he can sneak in close enough, he's definitely capable of scoring with it. He could probably add more power to it but at least it seems to be pretty accurate. And he doesn't require a lot of time with his release.
Ville Heinola's first career goal in the #Liiga comes on a 5-on-3 power play. 17-year-old defenseman impressing at the pro level this season. #2019NHLDraft pic.twitter.com/NjAn6M08oI

— Jokke Nevalainen (@JokkeNevalainen) November 23, 2018
https://platform.twitter.com/widgets.js
(That's also a great celly.)
Heinola doesn't have a huge bomb from the blue line but he's good at firing one-timers. After he adds some power to his shot, he can better utilize that slap shot as well – although slap shots aren't as important as they used to be.
2nd assist of the season for #2019NHLDraft eligible defenseman Ville Heinola in today's #Liiga game. Great shot from the blue line. pic.twitter.com/muoJdMmhn0

— Jokke Nevalainen (@JokkeNevalainen) November 2, 2018
https://platform.twitter.com/widgets.js
Heinola is a very good playmaker capable of making great passes. It doesn't matter if it's a short pass or a long pass, it usually hits his target. He's also capable of making excellent no-look passes because of his great awareness.
Great no-look pass from Ville Heinola gives him the primary assist on this power play goal. #Liiga #2019NHLDraft pic.twitter.com/fHvndGqdMa

— Jokke Nevalainen (@JokkeNevalainen) December 1, 2018
https://platform.twitter.com/widgets.js
Ville Heinola with the primary assist on the power play here. He has 3 points in 2 games since he returned from the injury he suffered at the World Juniors. #Liiga #Lukko #2019NHLDraft pic.twitter.com/YGwu5zEgvc

— Jokke Nevalainen (@JokkeNevalainen) February 14, 2019
https://platform.twitter.com/widgets.js
But the biggest thing Heinola has going for him is his hockey smarts. He makes great decisions with and without the puck. He understands when to pinch in and when to hold back. He understands when he can try a risky long pass and when he shouldn't do that. He thinks the game at a high level and seems to be one step ahead of the opposition. And he can recognize opportunities better than most players.
#2019NHLDraft eligible defenseman Ville Heinola shows his hockey smarts and scores a goal. #Liiga #Lukko pic.twitter.com/a8Ib4zx0BO

— Jokke Nevalainen (@JokkeNevalainen) February 26, 2019
https://platform.twitter.com/widgets.js
Great play from Ville Heinola. Opposing defender makes a last-second save on the play, otherwise it would have been an easy tap-in from Heinola's pass. #Liiga #2019NHLDraft pic.twitter.com/I6QayaoAnH

— Jokke Nevalainen (@JokkeNevalainen) November 28, 2018
https://platform.twitter.com/widgets.js
In my interview with Heinola, I also asked him about his summer training and what he has planned for next summer.
– We have a good training group in the summer. I need to improve everything but obviously, as a young man, more strength and power is needed.
It is good to remember that Heinola is still physically very underdeveloped. A good comparison for him is Kokkonen because they are both 18 years old and 5-foot-11 tall but Kokkonen weighs 14 pounds more than Heinola. That is why Heinola needs at least two summers before playing in the NHL but could also need three. So whoever drafts him shouldn't expect him to jump straight to the NHL from the draft.
But the team drafting him gets an excellent prospect with a bright future in the NHL as a number three defenseman or potentially even number two if his development goes perfectly. He's excellent at moving the puck up the ice from his own zone, even when pressured. He doesn't panic easily. He can make great breakout passes but is also very good at carrying the puck up the ice himself. He has a good amount of dangles to avoid forecheckers but he understands when he shouldn't try that.
In the offensive zone, Heinola can walk the blue line and move around in the zone very easily. He has a good wrist shot and great passing skills. After he adds some power to his slap shot, that's another tool he can utilize. He makes smart reads but doesn't forget his defensive responsibilities. These qualities also make him a great option for the power play.
Defensively, Heinola has shown great ability in rush defense and defensive zone coverage. He doesn't deliver crushing hits but he's very effective because of his positioning and active stick. He loses too many puck-battles at the moment but that's something that should be fixed when he adds more muscle. But even when he loses a puck-battle by the boards, he usually stays between the attacker and the net. That also speaks of his high level hockey smarts – he understands his shortcomings and adjusts accordingly.
Draft projection
The top 10 in the 2019 NHL Entry Draft seems to be spoken for already but a team in need of a reliable puck-moving defenseman should seriously consider Heinola in the middle of the first round. In my books, Heinola is the top Finnish defenseman in this draft class – ahead of other very good options like Kokkonen, Lassi Thomson, Antti Tuomisto and Anttoni Honka.
From other European options, I'm putting Victor Söderström from Sweden slightly ahead of Heinola. But after that, it comes down to personal preference between Heinola, Philip Broberg and Moritz Seider. Heinola is obviously the smallest of the three but in today's NHL, size is not so much of an issue as it used to be. And it's not like Heinola is small – 5-foot-11 is pretty much the average these days.
If Heinola is still available after the top 20, someone is going to get great value picking him. In points-only fantasy hockey leagues, he deserves consideration in that same range. In multi-cat leagues, it depends on your categories but Heinola isn't going to provide a lot of peripheral stats, so keep that in mind.
*
And that's all for now, thanks for reading. Feel free to add comments below. Remember to follow me on Twitter @JokkeNevalainen.
**
Previously on Prospect Deep Dive:
Main picture courtesy of Yle.fi
LATEST RADIO & DRAFTCASTS