OHL Update – October
Hayden Soboleski
2017-10-03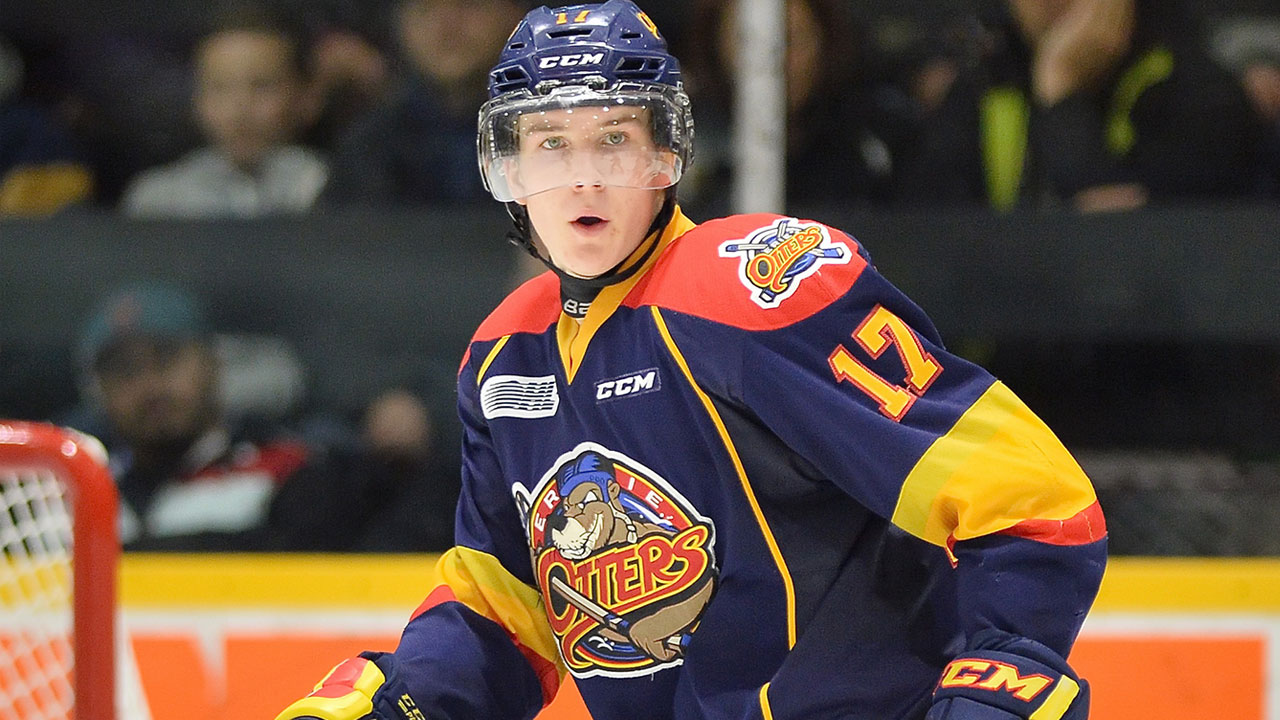 It's the beginning of October and the 2017-18 OHL season is already well underway. Some teams are playing with incomplete rosters as key players continue to complete for spots at their respective NHL training camps. The Windsor Spitfires and London Knights are feeling this the most with 4 and 5 players who could be on their roster but are still at camp.
Returned to the OHL or not, many of these players still have their own things to work on including defensive play, pace of game and consistency. Here's a couple NHL drafted players to watch in the upcoming OHL season:
Taylor Raddysh (Tampa Bay Lightning)
finished 2nd in OHL scoring last season leading the way from the start of the season without the likes of Dylan Strome who was still playing with the Arizona Coyotes until late-November. Strome reunited with Raddysh became one of the most feared lines in the OHL. Raddysh started off great last year but some critics still wonder how he will fare on a less talented team and with less talented linemates. A similar critique DeBrincat faced in his last 2 seasons. Raddysh is the type of player who would benefit from playing in the AHL but being sent back to juniors allows him to fine tune his puck skills & work on his skating.
Sasha Chmelevski (San Jose Sharks)
was once a highly touted prospect expected to go late in the first round but ran into many consistency issues during his draft year. Chmelevski has all the raw skills with a high offensive ceiling but has yet to prove it. After being drafted late in the 6th round, I expect a big season for Chmelevski and a fresh start with a new Head Coach for his Ottawa 67's.
Jason Robertson (Dallas Stars)
is another player to keep an eye on. Robertson flew under the radar for much of last season despite putting up consistent numbers and good play. His skating was his biggest knock this season and this is something he'll have worked on over the summer. I expect to see another strong season from Robertson on a better team and hopefully can finish in the top 10 of OHL scoring.
Logan Brown (Ottawa Senators)
has the frame of an NHL ready centre but his development has seen some hiccups including last season where he left much to be desired. Perhaps still not fully healed from injuries he continued to be inconsistent. Brown must have worked hard in the summer because he is off to a fantastic start. After a good showing at the World Juniors Showcase, Brown continuous to impress the Ottawa Senators brass at their training camp. Brown looked right in place while centring the top line with the Senators. He's survived many of the cuts and will likely get a 9-game look before being returned to the OHL. Should Brown return, scouts will be optimistic for his good play to continue. Brown needs a big season in the OHL and regained a lot of confidence to make it happen.
The Owen Sound Attack are expected to be one of the team's to beat this season. They got 7 of 8 players returning from NHL camps including
Nick Suzuki (Las Vegas Golden Knights),
Markus Phillips (Los Angeles Kings)
and
Jonah Gadjovich (Vancouver Canucks)
. There's very little to work on when it comes to Suzuki's game – expect to see him finish in the top 5 of OHL scorers. I'll also be keeping my eye on Gadjovich who was a bit of a late bloomer and really came into his own last season – in fact, he even earned the Most Improved Player in the OHL Coaches Poll. Gadjovich is a potential power forward with a fantastic shot. He'll look to improve his skating while continuing his offensive production on a strong team this season.
Jonathan Ang (Florida Panthers)
made good strides working on his all around game last season. Still one of the best skaters in the league, Ang can skate circles around most. His puck control and puck protection is a valuable asset for NHL teams, but he is no where ready to play in the NHL. He returns to Peterborough and will likely be good trade bait for a team looking to get further in the playoff hunt. It would be a great experience for Ang to work on consistency and overall strength. So far, Ang is off to a great start earning OHL Player of the Week honours after scoring in pair of three-point games earning his Peterborough Petes two of three wins this weekend (totalling seven points in three games).
Dmitri Sokolov (Minnesota Wild)
was a top pick in the CHL Import Draft but only started to really get into the groove last season where he was two goals shy of finishing with a 50-goal season. Sokolov has fantastic skills but is labelled as a high risk player due to his alleged attitude and maturity problems. He was passed over for Team Russia for both the WJC and CHL/Russia Challenges for apparent similar reasons in addition to his poor passing and defensive play. His shot and pick handling are undeniable and attitude can be changed. Sokolov has a big season to prove he can be coached, be a good teammate, work on his passing and use his hockey sense to make better decisions in all three zones.
***
Kathryn Jean
LATEST RADIO & DRAFTCASTS