Prospects Rambling: And now, we draft!
Kevin LeBlanc
2017-07-19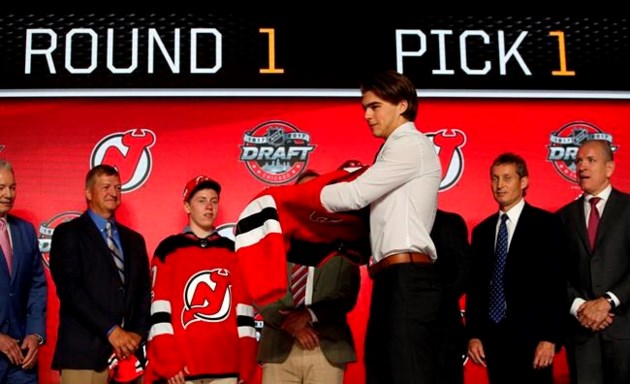 As the summer doldrums continue in July with nothing too much to talk about from a prospects perspective, I figured I'd let you guys in on what the Dobber Prospects Fantasy Hockey League has been up to (besides, this IS a fantasy hockey site about prospects). We just started our amateur draft, and had completed the first round as I'm writing this.
The league is made up of 24 DobberProspects writers, and is going into its second season. The league will draft five full prospect rounds, but here's now the first round played out….
1.1 LA – Steven Stamkos (More on this below)
1.2 MTL – Nico Hischier
1.3 WPG – Nolan Patrick
1.4 SJ – Elias Pettersson
1.5 NYI – Cale Makar
1.6 DET – Miro Heiskanen
1.7 BOS – Casey Mittelstadt
1.8 MIN – Cody Glass
1.9 WAS – Owen Tippett
1.10 STL – Nick Suzuki
1.11 CBJ – Martin Necas
1.12 TBL – Lias Andersson
1.13 PIT – Gabriel Vilardi
1.14 NJD – Vadim Shipachyov
1.15 CAR – Timothy Liljegren
1.16 CHI – Pierre-Olivier Joseph
1.17 ARI – Klim Kostin
1.18 CGY – Henrik Haapala
1.19 MIN via ANA – Jason Robertson
1.20 OTT – Isaac Ratcliffe
1.21 TOR – Zack Aston-Reese
1.22 COL – Spencer Foo
1.23 VGK – Erik Brannstrom
1.24 DAL – Michael Rasmussen
1.25 DAL* – Eeli Tolvanen
1.26 DAL** – Jake Oettinger
Obviously the first thing you will notice when you look at this is Steven Stamkos going off the board first. Don't ask, it was just a technicality where we had a extenuating circumstance where we needed to include him back into the player pool.
---
Interesting Takeaways:
– First and Second Locked In. As expected, Nico Hischier and Nolan Patrick go 1-2, which is likely what you will see in most of your amateur drafts. After two, things get interesting. A lot of who goes third through eighth in your drafts will depend on personal preference, and position need as Makar and Heiskanen are both available and are clearly the top tier of defense. You could put Elias Pettersson, Casey Mittelstadt and Cody Glass in a blender and the combination in many leagues may not come out with a consensus ranking.
– Where does Shipachyov fall? Likely the 30-year-old Russian will be available in your amateur drafts, especially if your leagues count NHL games to determine draft eligibility. Here, he goes 14th, which honestly is a little later than I would have expected, but Kevin Wickersham scooped him up in a shrewd move for the Devils in our league. Getting a potential 50-point player when those around you are drafting guys for three and four years down the road can be valuable to teams trying to win now.
– Who is the third defenseman? Obviously Makar and Heiskanen are going to be the top two drafted in almost all leagues, but there will likely be some variance when it comes to who is the third blueliner taken. In our case, it was Liljegren, drafted 15th overall by yours truly. I needed a defenseman, as my core is under whelming, and decided to go with high potential, even if there is some risk. I also considered Erik Brannstrom with the pick, and likely would have gone with Kailer Yamamoto (following the high potential model) if I didn't go defense.
:::SPOILER::: Yamamoto lasted until pick 29, as the second pick of the second round which I am shocked by. I tried to trade back up to get him, but Kings GM Mitch Brandner did the smart thing and kept the pick to select him.
– College free agents going in the first round? Certainly I like Zach Aston-Reese. I even included him in my Top 25 Calder favorites heading into the season, but I'm not expecting the next Jake Guentzel. Both him and Spencer Foo are in much closer proximity to the NHL which is likely why they were valued in those spots, but were definitely players still on the board who will be better NHLers in the long run.
---
There are still plenty of good players available for the next few rounds. Check back to see where in the draft some of your favorites were taken!
LATEST RADIO & DRAFTCASTS