July 31-in-31: Nashville Predators
niko
2017-07-17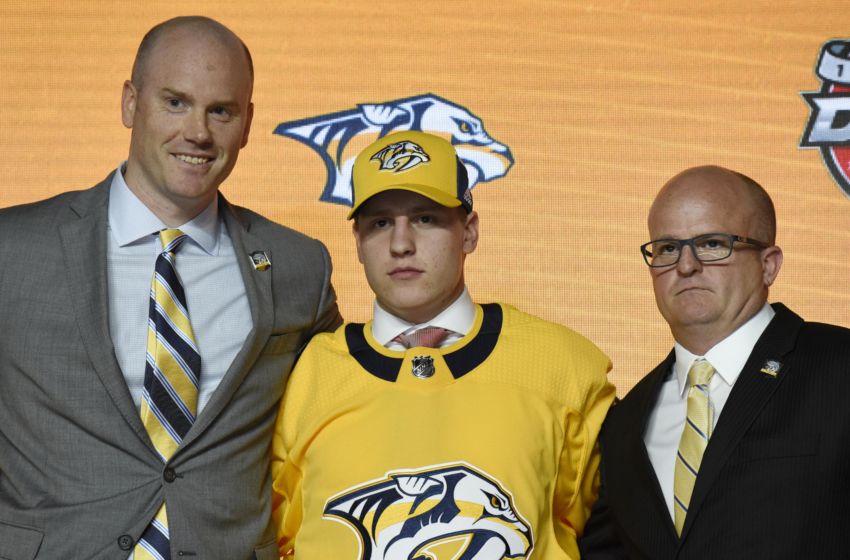 The Predators have been doing wonderful things in the NHL Entry Draft these past few years. After Barry Trotz left town, it seems that the Preds have drafted more skilled forwards than they did when Trotz was still the head coach in Nashville. On April 14, 2014 the Predators announced that Trotz would not return for his 16th season as a head coach. He was replaced by Peter Laviolette. The list of players drafted by the Predators at hockey-reference.com shows that 2016 was the only year when defenders were drafted in the first two rounds. The forwards picked include players like Viktor Arvidsson, Kevin Fiala, Eeli Tolvanen, Grant Mismash, Rem Pitlick, Yakov Trenin, Thomas Novak and Vladislav Kamenev just to name a few. All talented and promising offensive players. It is not to say that the Preds have given up on drafting defenders. They have amassed a drool worthy corps of d-men in three years (2014-2016). The next generation is coming up nicely in the form of Alexandre Carrier, Samuel Girard, Jack Dougherty and Dante Fabbro.
Round 1
As for this year's Draft, there were many picks that I liked. Especially the one that landed Eeli Tolvanen 30th overall to Nashville. He was considered as a sure top-15 pick, but the news about him not qualifying to the Boston University might have hurt his draft stock. Jokerit announced that Tolvanen will be playing in the KHL for the 2017-2018 season. He has signed a one-year deal that includes an option for the 2018-2019 season. Tolvanen is one of the best, if not the best sniper in his draft class. We could see him as early as 2018 with the Predators.
Round 2
In the second round, 61th overall, the Predators selected Grant Mismash. An interesting mix of skill and grit. I have read reports that question if this power forward should be playing as a winger rather than center, because he lacks that elite playmaking ability. Still, highly talented, top-6 potential with good offensive upside. Mismash is committed to the University of North Dakota for next season. It is likely that he will spend a couple of years with UND, after that a year in the AHL with the Milwaukee Admirals, and then in 2020, we propably see him joining the Preds if all goes well.
Round 3
Round three, 92th overall pick the Predators selected David Farrance from the USDP. His skating ability is one of his strongest assets. Being able to skate his way out of a forecheck and to quickly transition the puck to the forwards while making it look easy. The past few years he has been one of the best scoring defensemen in his team. A modern, mobile puck moving defender who can quarterback a powerplay. Farrance also took the NCAA route, with Boston University. I expect him to arrive to Nashville somewhere around 2021.
Round 5
In the fifth round, the Predators picked Tomas Vomacka with their 154th overall pick. He is a tall and athletic goalie from Czech Republic. The past season he played with the Corpus Christi Ice Rays in the NAHL. In 41 games he had 2.43 GAA and .923 SVS%. His team made it to the playoffs where he played eight games while averaging 1.43 GAA and .951 SVS%, which is not bad at all. The 6-3, 172 lbs goalie also played with the Czech Republic U18 team in six international-Jr games, posting 3.07 GAA and .906 SVS%. It seems like Nashville reached out a bit to get him this early, but maybe the Preds scouting staff knew something about Vomacka, that the rest of us don't. Vomacka is committed to the University of Connecticut where he will definitely continue to improve his game. In three years we could see him in Milwaukee.
Round 6
Pavel Koltygin heard his name called in the 6th round, 176th overall. He proved to have a strong offensive game, when scored 22 goals and 47 points in 65 games with the Drummondville Voltigeurs last season. Not the fastest skater but has soft hands and a sneaky release in his otherwise accurate shot. There have been some reports about his defensive game not being up to par. But he will have time to work on his deficiencies when he returns to the QMJHL for the next season. A nice value pick. There is top-6 scorer potential in him, but at this point he is a project.
Round 7
Another high value pick for the Preds with their 7th round, 216th overall pick, Jacob Paquette. He plays for the Kingston Frontenacs. who It was terrible start to a season, following a great rookie season. The promising defender suffered a broken hand and missed nine games. That probably affected his play for some time when he came back. A disappointing one goal and nine assists in 59 games was not what he had planned. He is a great defensive defenseman, but his value is not on the fantasy side of the game. Still, a great value pick for the Preds. Some had him going as early as the fourth round. Paquette is calm and has excellent positioning. His size and strenght are some of his main attributes. As of now he projects as a bottom-four shutdown defender. If he could score consistently, he would turn in to a top-four defender. Paquette could possibly be NHL ready in three years.
***
All in all this is one the best, if not the best draft in the Predators history. I think the Preds got a major steal with their first pick. The second and the third (Mismash and Farrance) were really strong picks as well. There was no pick in the the fourth. As of now, the fifth round pick is a mystery that we are left waiting to unfold. Most likely Vomacka could have been selected later, but like I said before, maybe the Preds scouting staff knew something that most of us don't, about the Czech goalie, or they heard that some other team was going to pick him. Koltygin in the 6th is again a very nice value pick. High offensive upside but a project. And the 7th round pick, Paquette should make it all the way up to the NHL. Drafts like this, power the Preds to continue contending for the Stanley Cup in the years to come.
***
Niko Salminen
LATEST RADIO & DRAFTCASTS