Prospect Ramblings – Offseason AHL Coaching Changes
Hayden Soboleski
2016-07-10
Looking at new bench bosses around the AHL in this Sunday's Ramblings…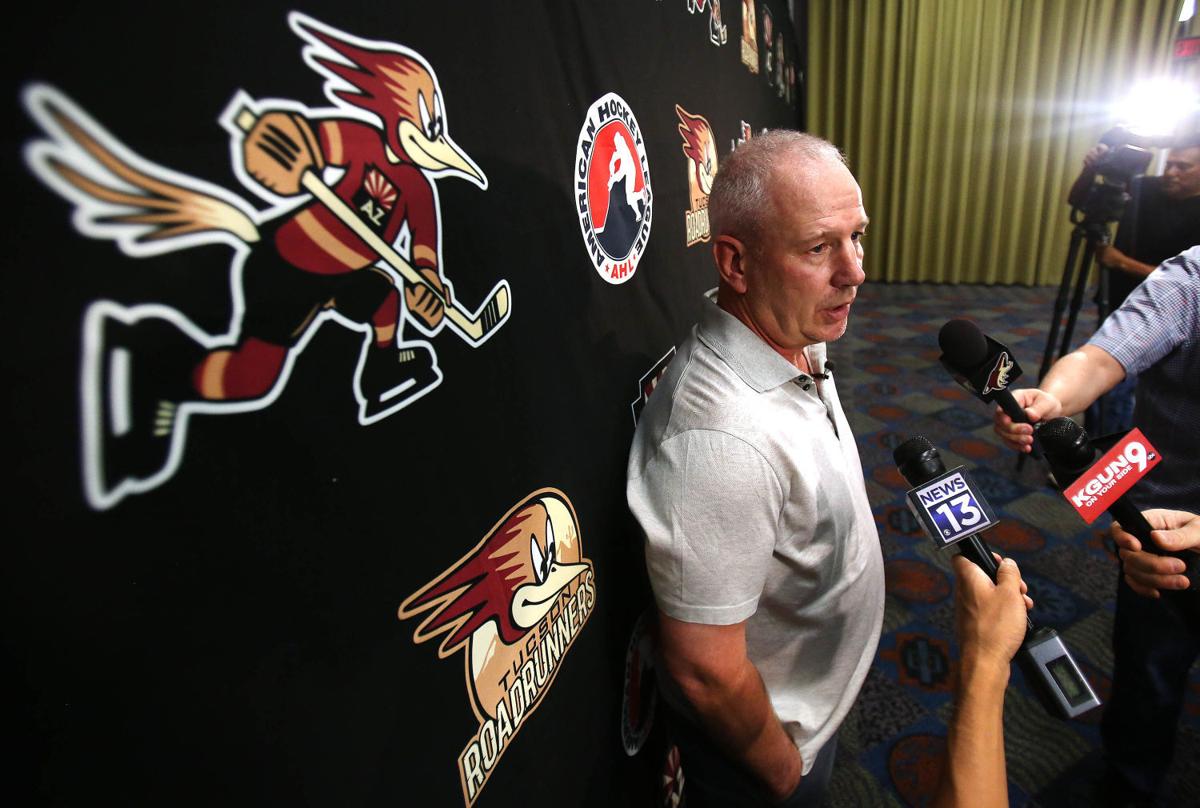 ***
If you check out our home page you'll see that DobberProspects has been very busy pounding out quality team content this month with the 30-in-30 series. Between those team-specific updates and your regular Ramblings rotation I think everyone should be as up-to-date as they need to be on the state of their team and prospects (especially after next month's 30-in-30 series which will look at the immediate and long-term fantasy outlook of each franchise). So so for my Sunday Ramblings I wanted to take a look at a topic that often slips through thte cracks – AHL coaching changes. AHL coaching staff have an enormous influence on the prospects developing on the roster, from aiding on-ice performance to establishing an appropriate culture around the rink. The following additions have been made around the league so far this off-season:
Tuscon Roadrunners (ARI):
The new franchise started from the ground up, and selected Mark Lamb as head coach. Lamb has coached in the WHL for the last seven seasons, making the playoffs four times but never cracking through the first round. Before that, he was an Assistant Coach in the NHL for seven years, one in Edmonton and six in Dallas under Dave Tippett (current coach of the Coyotes – this is starting to make alot of sense). You can bet Arizona GM Chayka did his homework on this hire, as the analytics guru would've been absolutely sure to pick someone who understands his vision for the club. In various interviews Chakya has emphasized his desire for Lamb to take the team to the next level of comeptitiveness, while establishing an integration between the NHL and AHL systems, aloowing players to learn in one league and be able to apply their skills in the other. Mark Hardy was named Assistant coach of the Roadrunners, and he also brings a wealth of experience to the bench. Hardy has a combined 10 years of NHL coaching experience between the Kings and the Blackhawks. he also has AHL coaching experience with the Chicago Wolves
Iowa Wild (MIN):
Derek Lalonde has been named as the new boss in Iowa, coming off two very successful season as head coach in the ECHL. In his first year taking over in Toledo, he set a record for the biggest improvement in one year – 58 poi He has experience as an assistant and head coach for the Team USA Junior U-19 squad, where he has two gold medals. There will be a fair amount of turnover on the Iowa team this off-season, so bringing in a coach with proven ability to turn players into a cohesive winning group is probably a good move. He has less experience at this level than many of his peers, but sometimes you have to gamble on young coaches to end up with gems.
San Antonio Rampage (COL):
As the Avs writer here on DobberProspects, I've had a fair amount to say about the Rampage. The team was not cometitive last season, which ended with a mass exodus of fringe talent who never took the big step and some unkind words spoken by former players about the (now) former coach. The lack of team focus was critisized, along with the lack of focus on development, and the result of many players losing their confidence on and off the ice. As a result – the old guard has changed and Eric Veilleux has been brought in to be head coach. He has an excellent record as head coach in the QMJHL (which Colorado keeps strong ties to), and has served as Assistant Coach in the AHL and Head Coach in th ECHL (both with the Norfolk Admirals pre- and post-reallignment). Given the circumstances of the coaching change, its safe to say more focus will be applied on developing the players the Avs assign to the AHL – which should be a much stronger group of young prospects than has served in recent years. This is therefore good news for owners of Avs prospects.
Charlotte Checkers (CAR):
Big changes here, as both head and assistant coaches left the organization entirely. GM Ron Francis's good friend Ulf Samuelsson will take over as head coach, and Peter Anderssen wil become assistant coach. Samuelsson has 8 years of NHL coaching experience, most recently as an assistant coach for the New York Rangers. In his opening press conference with the club he emphasized that being a competitive playoff team in the AHL requires hard work, and that team-building will be one of his priorities coming in fresh to the organization. He also made sure to note the importance of new video coach Myles Fee, who will have a big role in helping players work on their weaknesses and become smarter on the ice. Fun fact: new appointee Anderssen has served underneath Samuelsson before when the duo were with MODO of the Swedish League. One other new hiring my inner Leafs fan couldnt resist mentioning – Curtis Joseph was brought on to help coach the young netminders.
Chicago Wolves (STL):
Former Flyers head coach Craig Berube has reportedly been hired as the new head coach of the Wolves. Berube has spent most of his coaching career with the Philly organization, 2 years as head coach before being fired, 6 seasons as assistant coach, and 2 seasons as head coach of the AHL Phantoms. He reportedly interviewed for a number of assistant coach jobs in the NHL, but opted to be the top dog in the AHL instead. The NHL coaching experience (and playing experience) should be a good thing for the players on the Wolves that are close to pushing for an NHL spot, as berube is capable of providing the right knowledge for that transition. As such, I would expect guys like Barbashev and Rattie to get extra attention from the new boss.
Syracuse Crunch (TBL):
Former NHLer Jeff Halpern has accepted the position of assistant head coach in Syracuse. He worked part-time with the club last year in player development and clearly both sides were happy with the results. Having former players on staff to help the youngsters learn what it takes to be a pro is always a good move, but the Lightning have been going in the right direction for years now so this isn't expectly a turning point.
***
There is a good chance I've missed some action; the AHL is unfortunately a harded league to follow than it should be given its importance in producing NHL talent. Hopefully I've shared some news that is new for you and gets the mind thinking about what sort of shape your own AHL affiliate is in right now.
***
As always, thank you for reading, and best of luck in your summer drafts!
Hayden Soboleski
@soboleskih
LATEST RADIO & DRAFTCASTS