Prospects Ramblings – OHL playoff updates
Hayden Soboleski
2016-04-03
Taking a look at OHL playoffs in this Sunday's Ramblings…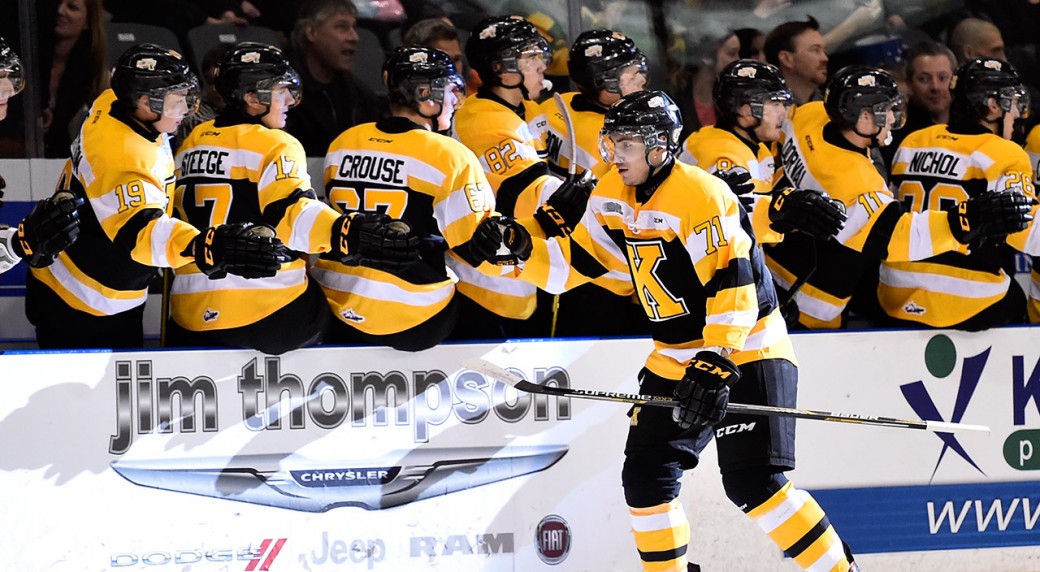 ***
These aren't the playoffs most people will be talking about these days, with the NHL season coming to a close a week from today, but crunch time has come for the best the OHL has to offer. Lets take a look at how the first round is going so far – and don't worry, more Ramblings will be coming soon to give you the same look at the QMJHL and WHL results!
Kingston Frontenacs v Oshawa Generals – Kingston wins 4 games to 1

Kingston exploded for 27 goals in the 5 games it took to eliminate the Generals. As a result, Spencer Watson (LAK) and Michael Dal Colle (NYI) lead the playoffs in scoring with 15 and 14 points, respectively, and their centerman Warren Foegele (CAR) sits sixth with nine points in that span. This line has been nothing short of dominant ever since adding Dal Colle to it at the trade deadline. Goalie Jeremy Helvig is also sitting second in the league with a 0.926 SV%, and first in the league with two shutouts after playing all five games. The Fronts steamrolled their way into the playoffs and haven't stopped yet. A few Oshawa players still managed to crack a point-per-game average: rookie Domenic Commisso (2016 Eligible), Anthony Cirelli (TBL), and defenceman Jalen Smereck all put up five points over the series.
Barrie Colts v Mississauga Steelheads – Barrie leads 3 games to 2

Despite being a high-scoring series, two games have required extra time to settle, including a double-OT thriller with the Steelheads on the winning side. Rookie Alex Nylander (2016 Eligible) leads the way for Mississauga with nine points (6G, 3A) so far, while regular season scoring race winner Kevin Labanc (SJ) has matched him with nine of his own (3G, 6A). Barrie posted a shutout last game, impressively containing the high-scoring opoonent, and could clinch a second-round spot today with a win.
North Bay Batallion v Peterborough Petes – North Bay leads 3 games to 2

Another series where OT has been needed twice, four out of five games have been decided by a single goal. Leading the way for North Bay is defenceman Kyle Wood (ARI) with nine assists in five games. A little further down the scoring list, Peterborough's Hunter Garlent (undrafted) has pitched in a team-high six points. The lack of extreme scoring does't have the Petes too worried, as goalie Matthew Mancina has been holding the fort with a 0.913 SV% through five games – good for third in the OHL playoffs.
Niagara IceDogs v Ottawa 67's – Niagara wins 4 games to 1

Niagara managed to score five goals in three of the five games, but only one player has been a true offensive standout: the ever-judged Josh Ho-Sang (NYI) with 11 points in five games. Other than teammate Pavel Jenys (MIN) (5G, 2A), no one on the IceDogs has more than three goals, so ths scoring has truly been a group effort (11 players have at least one goal).Ottawa was held in the series by their top line of Nathan Todd (signed an ATO with Binghamton minutes ago), Artur Tyanulin, and Travis Barron (2016 eligible) who combined for 22 of the team's 40 points.
Erie Otters v Saginaw Spirit – Erie sweeps series 4 to 0

Erie scored five goals or more in every game of this series! The elite Dylan Strome (ARI) and potential first round pick Alex Debrincat (2016 Eligible) led the effort with nine points apiece. Defenceman Travis Dermott (TOR) has been manning the top pairing and has eight points, five of which came on the powerplay. No Saginaw player managed to exceed a point-per-game, but captain Connor Brown led the squad with five points and 12 PIM.
Sarnia Sting v SSM Greyhounds – SSM leads 3 games to 2

This is the first potential upset of the OHL playoffs, as the lower seeded Greyhounds are making a push to disappoint the Sting. Soo goaltender Brandon Halverson (NYR) has faced the most shots and made the most saves of the tournament so far, and is doing a decent job of it with a fifth-best 0.910 SV%. Sarnia has more top scorers with Pavel Zacha (NJD) and Matt Mistele (LAK) on the team with nine and eight points, respectively, but Sault Ste. Marie has pitched in a team effort with 16 players tallying points so far, including every forward.
London Knights v Owen Sound Attack – London leads 3 games to 2

Any fans in attendance of Game 4 were treated to a 13-goal game, with London coming out on top 8-5. Matthew Tkachuk (2016 Eligible) and Mitch Marner (TOR) had five points each, with Tkachuk firing a huge nine SOG. With that in mind, I dont think anyone should be surprised that Marner sits in third in the league with 11 point (4G, 7A) and future fantasy hockey stud Tkachuk in the top-20 with eight points while adding 10 PIM along the way. London keeper Tyler Parsons (2016 Eligible) leads the playoffs with a 0.928 SV%. Owen Sound hasn't had exceptinoal offense so far in the series, but two players have cracked the point-per-game barrier: Ethan Szypula (7A) and Petrus Palmu (3G, 3A).
Kitchener Rangers v Windsor Spitfires – Kitchener wins 4 games to 1

23 goals in 5 games for the Rangers – so its no surprise that their top scorers have come to play. The top line of Jeremy Bracco (TOR) (10 points), captain Ryan MacInnis (ARI) (9 points), and Brandon Robinson (8 points) are on fire, controlling the games with a combined +/- of plus-17. The scoring doesnt end with just one line though – Adam Mascherin (2016 Eligible) has eight points of his own (including five on the powerplay), and defenceman Miles Liberati (VAN) has contributed five points as well. Throw in goalie Dawson Carty with a 0.911 SV% and I would not want to be facing Kitchener in Round Two. Windsor did their best, and got 17 players on the scoreboard over the series, but of their top ten scorers only one managed a positive plus-minus: Bradley Latour, the team's top player with six points.
***
As always, thank you for reading, and best of luck as playoffs start in your fantasy leagues!
Hayden Soboleski
@soboleskih
AE, DobberProspects
LATEST RADIO & DRAFTCASTS