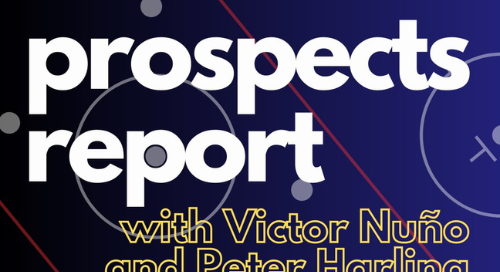 Summary
On report six, Victor and Peter continue to work throug …
Spotify
iTunes
Follow
DobberProspects Report is powered by @hockeypodnet
Also Available On
Contents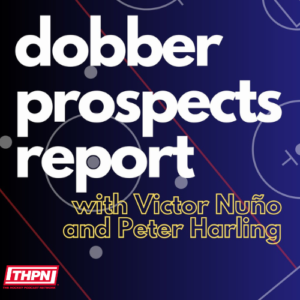 On report six, Victor and Peter continue to work through the DobberProspects Organizational Rankings, picking up from report six where they left off.
More show announcements, the show is now part of The Hockey Podcast Network. We are happy to be part of the All-Star line up of podcasts and you can find those great shows on the THPN Twitter page @hockeypodnet
On this episode we start at the 21st ranked team.
21  Calgary Flames and discus the following players.
Dustin Wolf: 4:22
Rory Kerins: 6:13
Arizona Coyotes a team that is seemingly in perpetual rebuild, never making the playoffs, never drafting too high, or very well. Players discussed.
Artyom Duda: 11:44
Jan Jenik: 38:29
Ottawa Senators a team turning the corner on their rebuild that has graduated several top prospects to the core roster of the NHL team, which has depleted their prospect pool. Players discussed;
Vitali Abramov: 33:09
Egor Sokolov: 32:25
San Jose Sharks a team that has finally embraced the rebuild and will be ranked higher on this list in the coming years. Players discussed.
Tristan Robins: 30:19
Toronto Maple Leafs, what will the new GM do with this team and the "core four"? How will he value the prospects in the Leafs system that he didn't draft? Players discussed.
Matthew Knies: 37:25
Rodion Amirov: 38:27
Artur Akhtyamov: 42:46
St. Louis Blues a team with a style and identity of targeting a rugged two-way type of player. Players discussed.
Marc-Andre Gaudet: 46:58
Nikita Alexandrov: 52:16
Thanks for listening to DobberProspects Report #7
Thanks to Kevin Longwill for our Logo, check him on out Instagram (@kevinlongwill)
For feedback on the show or to chat with us, follow us on Twitter: @dpr_show @pharling @victornuno12 @saborin91
Don't forget to follow @hockeypodnet and all the great podcasts on the network.