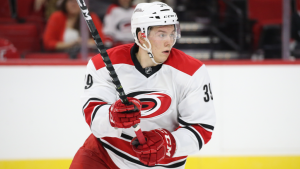 Courtesy of NHL.com
Fantasy Summary
Rugged multi-category middle-six winger with scoring upside.
Observations
Click to Expand

May 2019 – After being signed off waivers, Zykov spent the remainder of the season with Vegas but spent the vast majority of time in the press box as a healthy scratch. He played a total of 10 games and scored two goals with the Golden Knights, but was unable to earn any ice-time in the seven games Vegas played before getting knocked out of the playoffs by the San Jose Sharks. He still has one year remaining on his current contract before becoming a restricted free agent, but must pass through waivers if Vegas wants him in the AHL. He'll need to have a strong off-season and display enough developmental progress to warrant a roster spot with a very deep line-up in the fall. Fortunately, the salary cap game may play in his favour as he comes in at the league minimum and Vegas is already over the ceiling before off-season free agency begins. Mason Black

February 2019 – Zykov has been living out of a suitcase for the better part of the 2018-19 season. After starting the year with the Carolina Hurricanes and their AHL affiliate, the Charlotte Checkers, Zykov was claimed by the Oilers in late November. He played five games with Edmonton before they tried to sneak him to the Bakersfield Condors (AHL) and he was subsequently snagged by Vegas. After six games with Vegas and posting a single goal he's become a healthy scratch and it's plausible that he'll go back on waivers if the Golden Knights decide to send him to their AHL affiliate in Chicago. Last year he finally broke out in the AHL after scoring 33 goals and showed the potential that he displayed during his time with Baie-Comeau, but it's beginning to look a lot like he'll become an NHL tweener. Mason Black

December 2018 – The Oilers have claimed Zykov off the waivers from Carolina. Zykov has had a slow start to the season offensively but he hasn't been given much of an opportunity either. Perhaps he gets to play with McDavid in Edmonton which could make him a sleeper for the second half.  Jokke Nevalainen

July 2018 – Zykov has signed a two-year, one-way deal with Carolina. This should be an indication of the teams plans for him coming off a terrific AHL season. Kevin LeBlanc

May 2018 – Huge year of growth for Zykov, who led all AHL players in goals with 33. Overall, the rugged winger posted 54 points in 63 games at the AHL level, and seven points in 10 games at the NHL level. He should challenge for a spot in the NHL in 2018-19. Kevin LeBlanc

June 2017 – Zykov's first season with the Carolina Hurricanes was a success, posting 34 points in 66 games and finishing fourth among Checkers forwards in scoring and first in penalty minutes. He was called up to the NHL late in the season and scored goal in his debut, but suffered an injury in his second game causing him to miss the remainder of the NHL and AHL season. Zykov is a guy who will likely split time between the two levels this season with a chance to make the team out of camp based on his performance.  Kevin LeBlanc

June 2016 – After arriving from the Los Angeles Kings in a deadline deal for Kris Versteeg, Zykov played just two games for the Charlotte Checkers due to injury. The creative winger has the ability to take a step forward in his development in 2016-17 if he is able to stay healthy. He will likely slot into a scoring role at the AHL level this season, and will be given every opportunity to showcase his talent. He is a bit of a wildcard in the Canes season at this point, and is still very much a high risk, high reward prospect.  Kevin LeBlanc

October 2015 – Zykov's adjustment to the AHL's pace has been smoother than anticipated, so he's had ample opportunity to show off his quick hands and hard shot. He's also displayed an early penchant for offensive zone penalties, which will displease the Kings but please fantasy owners. Sheng Peng

September 2015 – Zykov has a lot to prove this fall in the AHL. While he's rounded his overall game, the fact that the Russian winger's production plateaued after his rookie "Q" season is of some concern. While there were extenuating circumstances (such as a sports hernia last year), the jury is out on his upside. The booming shot is still there, but so are the concerns over his skating. Sheng Peng

February 2015 – On November 1 (2014), it was announced that Zykov would have sports hernia surgery which would take him out of action for a minimum of four weeks. He missed a little more than that and has been a step slower since returning. But that's understandable given the nature of the injury. The Kings expected better numbers from Zykov this year, but he has stepped up his play in his own end to make up for it. Zykov managed to play four games for team Russia at the World Juniors where he put up three points in only four games as he was a late addition due to the injury. He was then traded January 2 from Baie-Comeau Drakkar to the Gatineau Olympiques where he has since put up seven points in nine games. It has not been a great season for him but he still has plenty of potential. Pat Quinn

January 2014- Zykov may earn the nickname the "Mr Irrelevent of Russian International Hockey" after another pointless appearance for his country. Heralded by scouts for his offensive abilities, Zykov was held off the score sheet, except for two penalty minutes in seven games for the Bronze Medal winning Russians. Managing just six shots on goal in this tournament, Zykov's streak of IIHF scoreless games now sits at 12. Time for him to shake this off and get back to the player the Los Angeles Kings organization believes he will be. Pete Richmire

December 2013 – Last season's QMJHL Michel Bergeron Trophy winner which recognizes the Offensive Rookie of the Year, Zykov showed he will be a force to deal with in the slot and corners. Suiting up for Russia in the upcoming World Junior Tournament, this will be Zykov's first international appearance since he was held pointless in the 2011-12 U17 tournament in five games. He has shown above average puck skills and if he improves his skating ability may become a top prospect for Los Angeles quickly. Pete Richmere

May 2013 – Baie-Comeau Drakkar's first year scoring star, Valentin Zykov led all CHL rookie players in scoring with 40 goals and 35 assists for 75 points in 67 games.  Zykov was named the CHL Top Rookie of the Year. Zykov projects as a dominating puck possession power forward and is among the many players discussed as a potential first round selection. Zykov plays a style of game that should contribute to multiple categories in your keeper leagues so be sure to draft him accordingly. Brendan Ross

April 2013 – 2013 NHL Draft eligible forward Valentin Zykov recently took home QMJHL Rookie of the Year honours winning the RDS Trophy. Zykov finished his freshman season in the QMJHL with 40 goals and 75 points in 67 games for Baie-Comeau Drakker. Brendan Ross

December 2012 – Zykov has been one of Baie-Comeau's best players this season. The big, powerful winger has made the transition to North America look pretty easy. He is producing over a point-per-game and sits second among rookie scoring leaders. He's tough to knock off the puck and has a great shot that he gets off quickly. He's one of the top draft eligible skaters out of the QMJHL and it's unknown how the "Russian" factor will impact his selection. His stock has been steadily rising since the start of the season.
Highlights