Prospect Ramblings: Selling High on Levi; Clarke's Historic Season; Hutson Snubbed
Ben Gehrels
2023-04-20
Welcome back to my weekly ramblings, where I provide news and updates, highlight intriguing prospects, and generally track the development of junior players across the hockey world.
—
Congratulations to Adam Fantilli for winning the Hobey Baker Award as the NCAA's top player in 2022-23! The other two finalists were Logan Cooley (ARI) and Mathew Knies (TOR), both top-flight players who had incredible seasons. Still, it was baffling that Lane Hutson (MON) from Boston University did not make it as a finalist this year after putting up an insane 48 points in 39 games as a freshman defender.
He is headed back to BU in 2023-24, and his stocks will only improve next year when he feasts on the college circuit even more than he did this year.
—
It was awesome to see Devon Levi (BUF) step up directly out of college to play six critical games for the Sabres down the stretch. Buffalo fell short of the playoffs in the end, but buzz has already begun to build in fantasy: is Levi better than Ukko-Pekka Luukkonen? Could Levi be their starter as early as 2023-24?
After all, he looked very impressive.
As a Levi owner in one of my keeper leagues, I was thrilled to see his value skyrocket heading into the summer. However, while the allure of owning the Sabres goalie of the future is intoxicating, I'll definitely be looking to capitalize on the hype by selling high on the former seventh-rounder over the off-season.
You heard me: now is an excellent time to trade Devon Levi.
I am a strong proponent of using prospect goalies exclusively as trade bait. That seems like a natural progression from Zero G, which is a reaction to the volatility of goalie value and performance in general. Levi is claiming all the headlines right now, but there are a ton of young goalies posting similarly out-of-this-world numbers in college. If you flip him for a high-end skater prospect, you can then replace him for free off the wire with a promising, lesser-known goalie like Magnus Chrona (TBL) or Leevi Merilainen (OTT) and still be in good shape at the position.
Maybe he will pull off what very few goalies in NHL history have ever managed to do and put up fantasy-worthy numbers as a 21-year-old straight out of college. Maybe.
More likely, it will be a few years still before Levi is a reliable option, and who knows what the fantasy goalie landscape will look like by then. Better to sell high if you can on any goalie prospect who spikes in value and then either trade for a proven option (if such a thing exists) or wait for the next no-name goalie to make a splash and grab them for free off the wire. I would not be at all surprised to see Levi net some big-name returns in fantasy this summer. Get ahead of the curve and sell high on him now.
—
That said, one prospect goalie who I would struggle to follow my own advice on is Dustin Wolf (CGY).
I just can't remember a goalie prospect this shiny since Igor Shesterkin and Ilya Sorokin. He even makes top netminders like Jesper Wallstedt (MIN) and Yaroslav Askarov (NAS) fade into the background a bit in terms of consistent high-level performance. Elite starter potential, even if he has a few hiccups along the way and is facing a cloudy opportunity in the crowded Calgary crease.
If you find comparables helpful, consider Wolf a Juuse Saros type: a bit shorter, very athletic, technically excellent. His price is likely sky-high already in fantasy. If you do make a bid for him, be sure to mention his height (which is overblown but commonly referenced) and lack of opportunity with the Flames, who already have $8.2 million per year invested in their tandem of Jakob Markstrom and Vladar for the next two years (Markstrom has three remaining).
After Wolf snagged his first NHL start at the end of the season, a win against San Jose, his career NHL stats now read as follows: 1.00 G.A.A, 0.958 SV%, QUAL% 100, GSAA 1.3. Will those numbers come down at all as his volume increases? Probably. Definitely.
But what if they don't?
—
This news is a bit old now but someone finally signed Logan Morrison! Congrats to Seattle, who add a talented player with an incredible track record to their system for free.
After getting dumped on by literally everyone for missed opportunities at the expansion draft in 2021, Seattle has quietly made the playoffs in their second year, won their first playoff game against the defending champs, and built up an increasingly solid prospect pipeline in the process. In my Organizational Rankings for Dobber Prospects, I have Seattle tied for seventh overall with San Jose in the relative strength of their top 15 prospects. With only two drafts under their belt so far, the Kraken have picked well, not only at the top of the draft (Shane Wright, Matty Beniers, Jagger Firkus) but further down as well (David Goyette, Ty Nelson, Jacob Melanson).
I see Morrison slotting in just outside the Kraken's top 5 prospects. He had ten points in five games in Round One and has added three in his next three so far against Brennan Othmann and the Peterborough Petes in Round Two. He was the MVP of last year's OHL playoffs as part of the champion Bulldogs with an astounding 39 points in only 19 games.
Morrison may be an average-skating late-bloomer but he is clearly dynamic at lower levels. Seattle now gets a risk-free look at whether he can translate those skills to the AHL in 2023-24.
—
Speaking of the OHL playoffs, Brandt Clarke is on another level right now. He scored 17 points in a five-game first round victory against Morrison's former team, the Hamilton Bulldogs. Defencemen, even in their Draft+2 seasons, are not supposed to put up numbers like that. For reference, superstar NHL blue liners Chris Pronger and John Carlson each had an OHL postseason where they averaged 1.5 points per game—Clarke sat at 3.4 after round one and is currently at 2.5 after scoring three more points over the first three games of Round Two against North Bay.
Even if that pace continues to slow, we are potentially witnessing the most dominant OHL playoff performance from an OHL defenceman ever (at least in terms of raw production). Clarke is ranked fourth overall on Dobber's Top 50 Prospect Defensemen list behind only David Jiricek, Luke Hughes, and Simon Nemec. Personally, I would take him ahead of Nemec in fantasy for both points upside and the better opportunity he faces with Los Angeles.
Given that he played a handful of AHL and NHL games this year on top of scoring almost two points per game in his OHL victory lap (61 in 31), which is absolutely absurd, Clarke sure looks ready for the show as early as 2023-24. I will be surprised at this point if he does not crack the Kings out of camp in the Fall. To put his Draft+2 performance in context, that is the second-highest regular season point pace of all time amongst OHL defensemen—better even than Ryan Ellis' ridiculous 2010-11 season and Hall of Famer Al MacInnis at the same age.
This guy is legit.
—
Daniel Sprong, 26, is firmly not a prospect anymore, but I just have to touch on him one more time. What a bonkers season for him: he averaged the lowest ice time since his rookie year back in 2015-16 and was healthy scratched 16 times but still put up easily his best statistical season with a 57-point pace.
The dissonance between his one-ice performance and heavily sheltered, inconsistent usage has me wondering what the coaches are seeing in him that us fantasy nerds are missing. If you check out the Usage Chart on his Frozen Tools profile, he was very sparingly used only against other team's weakest players; the "Competition" metric below paints the same picture. He drove play well in that role, of course, so maybe the Seattle coaching staff has figured out how to get the absolute best out of him.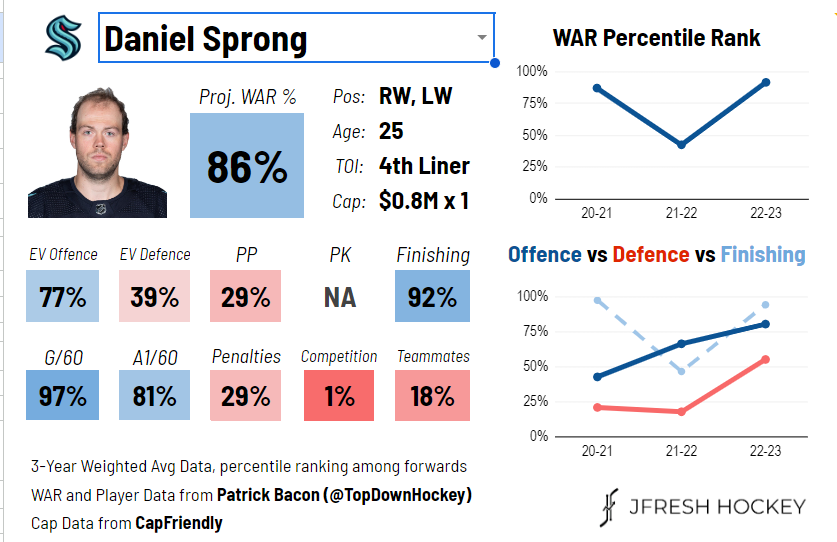 I just can't help but wonder what he would be able to do with 18 minutes a night with consistent power play time and stronger linemates. His defensive impacts are not great (though not terrible either) but otherwise he is a strong dual-threat producer who seems overdue for more playing time and a greater role. It will be interesting to see if he re-ups with Seattle again as an RFA this summer or chooses to seek better opportunity elsewhere.
Thanks for reading! Follow me on Twitter @beegare for more prospect content and fantasy hockey analysis.
LATEST RADIO & DRAFTCASTS