Prospect Ramblings: WJC Pool
Pat Quinn
2022-12-29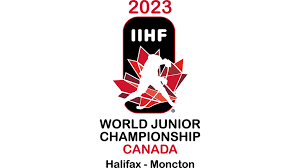 Welcome to my return to prospect ramblings. This one will be a quick one as I only have a quick annual topic to cover. That being my annual World Junior Championship pool.
What is it? A quick pool of five friends picking four Canadians and two international skaters, the idea being to mainly cheer for Canada of course. The stats are easy: one point for goals, assists, GWG's and the shootout game winner. We just use the Score app to accumulate the points, you would be surprised how different The Score, IIHF page, and TSN are all slightly different in points.
One person in the group is not quite on the fantasy prospect level as others, but surprisingly got a lot of his pick from a member of an NHL organization, in saying that I do not know if he communicates "awesome player" to "player who will put up a lot of points", you will see what I mean with the picks.
Also, quick note, I vanished from the DraftCast, and hockey writing in general, for a bit as life was too busy. 2023 should see a full return and I am excited about it. Expect many Dobberprospects writers/scouts to be on the DraftCast.
Impressed by the 27 listens yesterday despite my inactivity. Now that everything is complete on my end I shall return! No more of those fake returns. Just need to get a set up ready for Jan 2023!

— Dobber's DraftCast (@DobberDraftCast) December 28, 2022
Reminder: Adding prospects from the WJC tournament in your keeper league, having them break out, and then flipping them for future assets is a must if you want to stay strong long term.
Round 1
Pick 1 – Connor Bedard
Simple pick. Also, interesting note, this person has had Bedard all three times he was available (cancelled WJC and Summer WJC)
Pick 2 – Shane Wright
Another easy selection. He has played NHL games, played well in the AHL games, and there is no reason for him to go to the CHL as he is too good for it.
Pick 3 – Olen Zellweger (my pick, as I am right in the middle, AKA the worst spot to be in fantasy drafts)
Why did I pick him?
Funny enough, I have had him every time he has been available too. I picked him now simply because I knew he would not come back to me and that I could still likely snag one top six forward on the way back. It was risky but Canada will also use Zellweger in all offensive situations, so he should also put up a ton of points. I also try to grab any player on the 1PP for Canada as it is usually deadly.
Pick 4 – Ethan Del Mastro
This is what I was referring to before. He will play a ton of minutes but will not be leaned on at all for scoring.
Pick 5 – Logan Stankoven
Should be one of Canada's top players. It is crazy that he is not on the 1PP but at the same time, who would even get taken off?
Round 2
Pick 6 (back-to-back pick) – Adam Fantilli
When we did the draft, he was lined up on L2, now he is on L3 and has no points in two games. Pretty surprising actually since he should be performing much better, but that can be said about almost all members of the team even after the German drubbing.
Pick 7 – Joshua Roy
Was noted as the best most consistent player before we drafted and he was talked up a lot. Unfortunately, he may be too good in a depth scoring / checking role for Canada, but the good news is that he is the one who replaced Fantilli on L2.
Pick 8 – Dylan Guenther (me again)
He is on the 1PP and has an NHL caliber shot, plus has 11 points in 21 games for Arizona. It was not the easiest selection with Othmann still available, but right now I look super smart! Perhaps not as smart as me having him ranked lower than all other DobberProspects Fantasy Report writers in our top 50 prospects (with no NHL games) section though.
Pick 9 – Brennan Othmann
Getting two out of three top line players is always good. It is also impressive how Othmann has no points so far.
Pick 10 – Brant Clarke
Cut last season to second pair this season. Clarke is a great pick and will play a bunch. He also run 2PP and any injury to Zellweger and he is running the show.
Round 3
Pick 11 – Logan Cooley
First international player taken and it is the #1C for the USA. I prefer to save my international picks for my last two selections because there are so many good players playing. Cooley should be a lot better than he has been so far, but the USA team is so oddly constructed that they may be eliminated early.
Pick 12 – Jimmy Snuggerud
The second international player selected. In recent years a lot of players from the USA get selected, it is interesting.
Pick 13 – Kevin Korchinski (me again)
Loading up on defense probably is not the best but Korchinski is a skilled defenseman that could move up the line up if anyone struggles or gets hurt. Plus, he was pretty much traded for Alex DeBrincat because Chicago makes no sense.
Pick 14 – Cutter Gauthier
The entire top line for the USA is selected now and Gauthier could easily be the best of the picks.
Pick 15 – Nathan Gaucher
He is listed as the #3C and was on the 2PP, great depth pick at forward. With 4/6 defensemen gone it is an easy pick to start grabbing forwards in the top nine.
Round 4
Pick 16 – Zach Dean
Another third line player that is a solid pick. Getting four of Canada's top nine forwards is usually quite good for this pool. Right now, being in last though, it does not look that great!
Pick 17 – Zack Ostapchuk
Solid pick grabbing the last third line forward. I really wish he fell one more spot.
Pick 18 – Colton Dach (me again)
I just picked one of the remaining fourth line forwards. Dach could get promoted if injuries occur as there is more skill than checking there.
Pick 19 – Luke Hughes
Offensively it is a great pick, thankfully turnovers do not give you any minuses. Hughes should be a lot better than he has been, but it could be a case of trying too hard versus natural ability. He is still a great prospect, it just may take him a little longer to reach the NHL, especially with the defense now on the roster and in the Devils' system.
Pick 20 – Tyson Hinds
Highest listed defenseman remaining on Canada, so it was an easy pick as I believe he was listed on the second pair.
Round 5
Pick 21 – Leo Carlsson
He could easily be the top scorer for Sweden by the end of the tournament, but at the same time he could be restricted in ice time and be fourth on the list too.
Pick 22 – Caedan Bankier
The #4C for Canada and this person's third Canadian pick is why I always try and grab all the Canadians I can to start.
Pick 23 – Joakim Kemell
It was a risk when I saw him as the 13th forward but I figured that was just a final warm up game type thing. Thankfully he has been promoted to L1 for Finland. He also has not been as explosive as he was in the last tournament, but the same can be said for the entire Finnish squad. I was not very well prepared for this tournament as I had not seen a lot of many international players.
Pick 24 – Lane Hutson
Could be a great pick but so far it has resulted in just one point. Again though, the USA has not really looked amazing either.
Pick 25 – Brad Lambert
This person keeps picking Lambert. In the December tournament, before it was cancelled it was a great pick, since then, not so much. Lambert needs to do much more as he just does the same moves time and time again, which becomes easier and easier to stop for defensemen when you know what is coming.
Round 6
Pick 26 – Fabian Lysell
How does Lysell get zero points in Sweden's big 11-0 game? Makes no sense. I am not complaining as it is not my team though!
Pick 27 – Reid Schaefer
Grabbing one of the last forwards for Canada. At least he was in the top 12 and not the 13th forward.
Pick 28 – David Jiricek
I really should have selected Jiri Kulich here, or a player from Sweden (Hello Bystedt), but I decided to roll the dice on Jiricek who is a point per game in the AHL. He is a solid pick but perhaps not solid for offense in the tournament. He should also have many more points but that is the life of a short tournament. I also blame Victor Nuno and Calen Kerney for hyping him up too much.
Side note: I am that annoying person in drafts that takes forever with my last pick when there are many players available still.
Pick 29 – Nolan Allan
Taking the last defenseman listed in the top six
Pick 30 – Jack Matier
Last player available so it is an auto pick essentially, unless my math is wrong which is 100% could be!
***********************************
I want to add one thing on this tournament. I am loving that Czech beat Canada, that Slovakia beat the USA, and that Switzerland beat Finland. How great would this tournament be with even more parity. I hope the other nations keep improving so much. If they keep improving it will hopefully change the philosophy of Canada and USA, where they need to bring a checking line of forwards for this tournament when it should just be the best players around. Not to mention that these European players get to play against men a lot more than the North American players do, which only helps them and weakens Canada and the USA. That relates to the CHL agreement though, and hopefully it can be updated to let younger players play in the AHL, which I 100% doubt because money.
Thanks for reading and I am glad to be back more on this site. My twitter account is still hit and miss though as I really need to get better at social media! Follow here: @FHPQuinn
Here is the google doc if you want to follow: https://docs.google.com/spreadsheets/d/1DBS_nU1vY_AhxruKODjUh_rvNAC04uC6g7bXwbAmA4M/edit?usp=sharing
LATEST RADIO & DRAFTCASTS