The Century Mark: Dylan Cozens, Ty Smith, Erik Brännström
Alex Wyatt
2022-03-10
Every month, Alex Wyatt digs into some players who have reached the 100 NHL games played threshold, as this is the mark, or near it, that many leagues use as their threshold for players casting off their minors eligibility.
***
One of the most exciting parts of Keeper and Dynasty Leagues is the feeling you get when you hit on a solid prospect who joins your team and produces from the get-go.
Part of the reason that is such a great feeling is due to the rarity of its occurrence. What is most likely to occur in your leagues, is you have a fist full of once-prized lotto tickets inching their way towards your league's minors threshold, and you're left with the gutwrench of having to dedicate a pro roster spot to a young fella who just hasn't hit his stride yet, or release him into the wild, potentially watching him punish your impatience by being a perennial contributor to your opponents for seasons to come.
The Century Mark will aim to give some deeper looks at players who may be on the bubble in your leagues, and try to help you cash  out on your farm hands who might not be worth the long term roster spot, or cash in on the impatience of other managers in your league. As we start things off, we might have a few players who have just crossed the mark as of this release, but future articles will endeavour to give you time to assess your situation before having to decide.
Dylan Cozens, 21 — C/LW (Buffalo Sabres)
Cozens has fit in quite well with the recently improving Buffalo Sabres. The Sabres went from scoring 3 or more goals in 40% of their December and January games to 60% in their February matches. Interestingly, during that February month, Cozens has been seeing less ice time. He played more than 17 minutes a game in five of eight December games, and has seen his ice time per game dip under 17 minutes for most of January and all of February. Now, in fairness to Cozens, Alex Tuch came back from injury with pent up offense at the end of January, and has fit right in at well over 17 minutes a night, which would eat into the sophomore's deployment.
So where does this leave Cozens once he breaks the Century Mark, and do you continue to devote a pro roster spot to the youngster, now that you won't be able to stash him on the farm?
The fact that he is putting up a better than 40 pt/82 game season as a 21 year old on a team that until recently has not been very good is a great sign. The fact that the coach is starting Cozens in the offensive zone nearly 60 percent of the time, and that he has positive play driving metrics relative to his teammates, against stronger competition, is another great sign.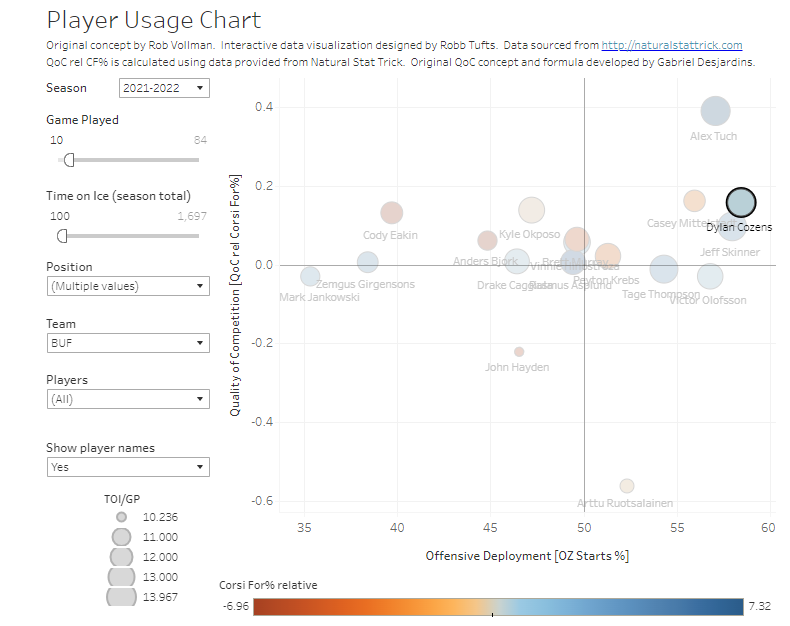 He is currently only producing two shots on goal per game, with less than half a hit or block. The peripherals aren't quite covering any lack of scoring, but a strategic play is Cozens is C/W eligible, and has provided nearly 250 FOW from your W slot. Depending on your league settings, this could provide some benefit.
Early scouting reports about Cozens prior to his draft year lauded his two-way play, which is often something that fantasy managers shudder at, as not every two way player will produce offensively as a Patrice Bergeron, and may end up being a defensive stalwart that the 'real life' team relies on to contribute, but your fantasy team just doesn't have room for.
His draft year comparables from Hockey Prospecting had him projecting as a Stephen Weiss, Gilbert Brule type player, which may not have generated much excitement, but his progression thus far has grown to include a player any one of us would be happy to have anchored our fantasy squads for years- one Daniel Sedin.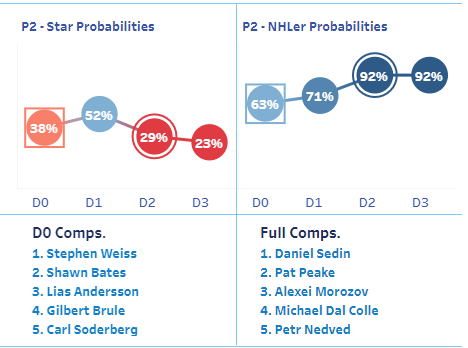 Hockey Prospecting had Dylan Cozens rated with a 38% likelihood to be a Star Producer- which is a 0.7+ points per game pace (57+ point season pace) for their career- and a 63% chance of playing more than 200 games in his career. Both of these metrics seem within Cozen's grasp, given his current production at 21, and the fact he has already played nearly 100 games in the NHL already.
His star potential has fallen each year, as above, suggesting perhaps his high end expectations might start to need tempering, and he might level out as a supplemental scorer. I believe this is his likely outcome, especially if Buffalo leans on that two-way prowess as mentioned above, but he's performing at a great rate with that mid tier ice time. He's getting plenty of offensive time as a percentage, what if the raw minutes increase?
Were Cozens to perform at the same rate for points, shots, hits and blocks that he is this season, but get a 25% boost in ice time (nearing 20 min a night), he'd be at the threshold for a star rating on HP, and provide a useful 2.5 shots, half a hit, and nearly half a block per game.
If my league settings, or my team strength allowed me to carry Cozens on my squad, I'd be happy to give him another season or so to watch his production and deployment, and monitor how Buffalo grows. He will factor in as a key piece of their forward group going forward, and should be given every opportunity to produce for the Sabres. If my forward group was strong enough, perhaps I'd attempt to capitalize on his FOW at wing, and great performance on an up and coming Sabres team, looking for a playoff tilting rental, or an equivalent prospect further below the Century Mark at another position.
Ty Smith, 21 — LD (New Jersey Devils)
As a guy who has Ty Smith on nearly every fantasy team I run, this season has been a bit of disappointment, not just to fantasy owners, but perhaps the Devils and Smith himself. A little bit of regression from last year's fantastic campaign could be expected for a blueliner who jumped onto a roster rife with talent and experiencing all the growing pains of a young team. The average age of the Devils' 2021 roster was under 25. Smith slotted right in, playing 20 minutes a night, and firing at a wonderful near 40 point pace, while also filling the stat lines with a shot and a half, and 0.75 hits and blocks a game. Anyone who grabbed Smith in their draft was loving life that year.
Then along came Dougie.
It was expected that Dougie Hamilton would snap up the ripest deployment on the Devils and at 44 games played this season (Smith played 48 last year), Smith's TOI has fallen about two and a half minutes per game. His PPTOI has fallen from about 2:30 a game down to 1:45 a game. One would expect his production to fall given the fewer minutes he's on the ice, though one thing I found surprising was that his offensive zone starts have actually increased (55% to 63%) and he's lining up against similar quality of competition as last year- the negative numbers on the Y Axis shows the relative corsi of the players he has been playing against, the higher, the stronger the competition he is facing. The former is surprising as Hamilton is starting his shift in the O-zone about half the time, while Smith gets far and away the most offensive starts, the latter aspect is less surprising given Hamilton will line up against the toughest competition.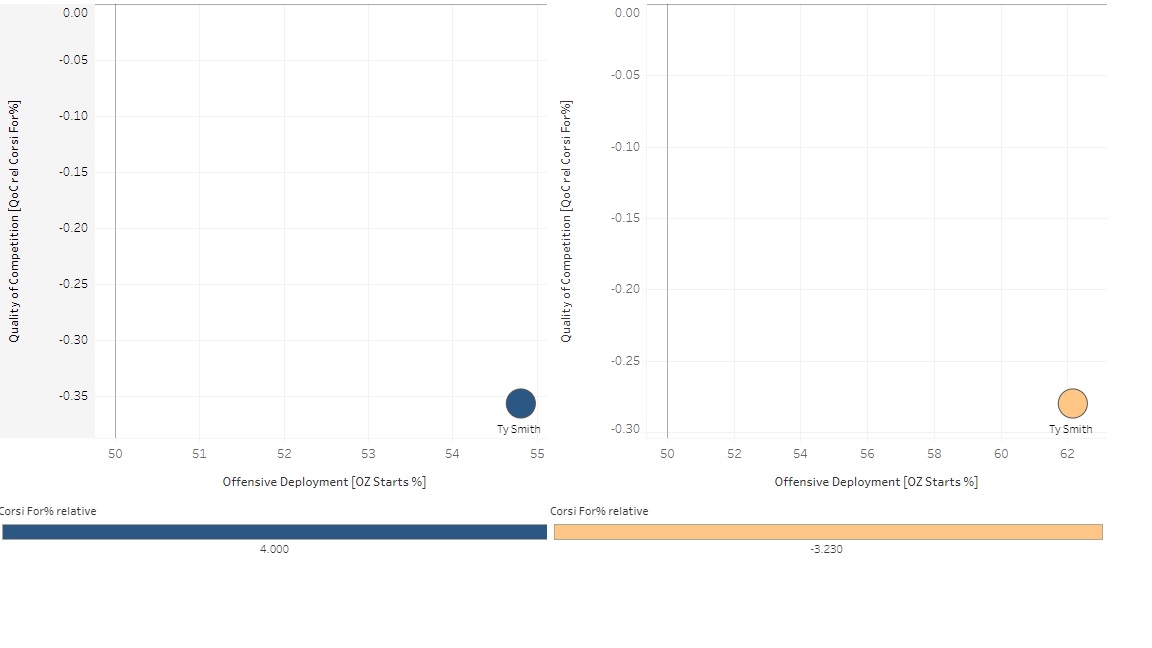 Unfortunately for Smith and the Devils, the Sophomore Jinx is impacting him this year, and his play driving numbers relative to his teammates have slumped (dark blue turning light orange). Despite the prime offensive starts, the similar level of competition, and the slight reduction in ice time, Smith's play driving has fallen off this year. Last year, his Corsi for was 54, and is now 48, this means that the Devils are allowing more shots against with Smith on the ice than last year.
I partly wish to blame the Sophomore Jinx and partly want to blame his defensive partners. He played very well with Damon Severson last year, whom he shared the blueline with more than half his ice time at even strength. This year he is saddled up with PK Subban, whose numbers have declined offensively since his last year in Nashville and subsequent arrival in New Jersey.
You'll notice this season that when Smith is the only defenseman on the powerplay (26:15 minutes of ice time), results are notably better than when he plays with either Severson or Subban (~35 and ~8 minutes, respectively). So at least on the PP, he's pulling his weight- right?

Throughout Smith's four-season Junior Career, he was the top scoring defenseman for the Spokane Chiefs each year (minus a two-game stint in 2015-16), in fact was the fifth, third, second and fourth ranked scorer, respectively, on the whole team during those years. He has always been a good set-up man, more than doubling his goals with assists each year, and playing at more than a point per game for the final three years of his WHL career. The kid has a pedigree.
In Smith's draft year, Hockey Prospecting's model gave him a 40% star potential and an 80% NHLer probability. He aged out of the model this year, but from D-1 to D3 (last year) he grew those percentages every year, and was a 78/98 as a 21 year old in the NHL last season.
With comparables such as Ryan Ellis and Victor Hedman in his draft year, and Al MacInnis and Sam Girard as of last season, and especially Smith's initial pedigree and his trajectory up to this campaign, one should feel zero worry assigning a pro roster and pro keeper spot to Smith.
For my money. I'm holding my Ty Smith shares in all my leagues. I wouldn't trade Smith for a lateral move, and most certainly would not drop him. In fact, he has been healthy scratched the last few games, which might put some doubt in the mind of the Smith owners in your leagues. If you point out the recent scratches while New Jersey seems to be firing on all cylinders, and the looming Century Mark when he does get back to playing, you might be able to pry him for a discount. That would be the move I would be aiming for if I had room in my keeper roster for him. If you're antsy, and a piece away from a serious run at a championship, perhaps you could package him with another player for an upgrade, but I feel your patience with Smith will be rewarded.
Erik Brännström, 22 — LD (Ottawa Senators)
The key piece of Ottawa's return for Mark Stone, Brännström has had fantasy owners excited and anxious for several seasons now. Dripping with offensive potential, Brännström is a pass-first defenseman, having never put up more than 10 goals at any level. On the pro circuit, he's clicking above a 55 point pace across a full 82 season in the AHL, but remains at a 20 point pace in the NHL, with 87 games played at time of writing.
So, what do we fantasy GMs and the Ottawa Senators have in Brännström?
This season, and each of the previous two that Brännström had small espresso cups with the Senators, he has faced a lower quality of competition, and started around 55% of his shifts in the offensive zone. The Senators are sheltering him, and putting him in position to flex his offensive muscle, with a career average of nearly 17 minutes a night (19:30 this season through 25 games). He has driven play well relative to his peers, having a positive relative Corsi in each season, (though only net positive once at 50.2, letting you know how Ottawa has fared these last three years). At even strength this season, he's lined up nearly half his ice time with Josh Brown, and nearly a quarter of the time with Thomas Chabot. Guess which pairing has yielded better play driving results (while ironically scoring less and being scored on more, shhh)?

Another thing that may be making Brännström look less fruitful than he is, although we've established he is not a shoot first, goal scoring defenseman: his AHL shooting percentage across four seasons was 6.3% in 90 games. In the NHL, it's 1.7% in 85 games. That's due to regress. If he was able to shoot 6.3% at the NHL level, he'd only have five more career goals (seven instead of two), but you can see how some of his underperformance might be due to bad luck, and inconsistent utilization.
This season, Brännström is providing very little offense, just under a PIM per game, a shot and a half per game, and a hit per game, as well as just over one block. Not great peripheral rates for an offensive defenseman who hasn't been producing offense, albeit still playing close to twenty minutes a night.
In his draft season, Hockey Prospecting gave Brännström a 17% chance of being a star, and 65% chance of being an NHLer. His star potential has increased every year, at 17/17/56 and now 73%. If you trust Hockey Prospecting, which I do, and which you should too, this progression is a good sign. His draft year comparables included players like Tyson Barrie, and Samuel Girard, fine complementary defensmen in their own right, and currently includes Adam Boqvist- another "Willy Wonty" young defenseman who himself just crossed the Century Mark, oozing potential but yet to cement himself as a top performer- and Shea Theodore.
His NHLer likelihood is now 73%, and given that he is about to cross the halfway mark of Hockey Prospecting's 200-game threshold and is only 22, one would be right to believe that he'll reach it soon.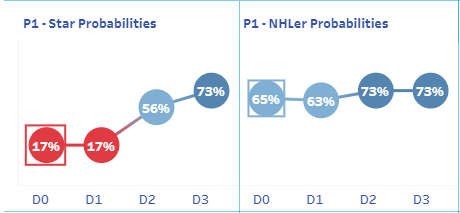 In one of my keeper leagues, I moved on from Brännström. There were enough high upside defensemen with more minors leash remaining that I couldn't justify keeping him on the pro side, and cashed in before he lost minors eligibility. If you have the space to keep him and aren't within striking distance of championship competition, perhaps you could wait and see what Brännström does with some more time in the NHL on the up-and-coming Senators. Perhaps he gets released back into the draft in my league, where I'd happily draft him again and hold on to him to see where he goes. Perhaps he gets placed alongside Chabot and uses his penchant for passing to set up rockets from the blue line for years to come. He's still worth watching, but usurping a pro keeper?
At present time, I'd say there are enough young, high upside defensemen who are already breaking into the NHL, or on their way, that Brännström would be, and was, right on the tail end of my projected keeper cuts. I still like the kid, and have hopes for him, but there are only so many keeper spots, and the low peripherals along with the one-dimensional offensive production made me take the risk of moving him along.
LATEST RADIO & DRAFTCASTS