2021 NHL Draft Prospect Examination: Defenseman Aleksi Heimosalmi
Eetu Siltanen
2021-04-28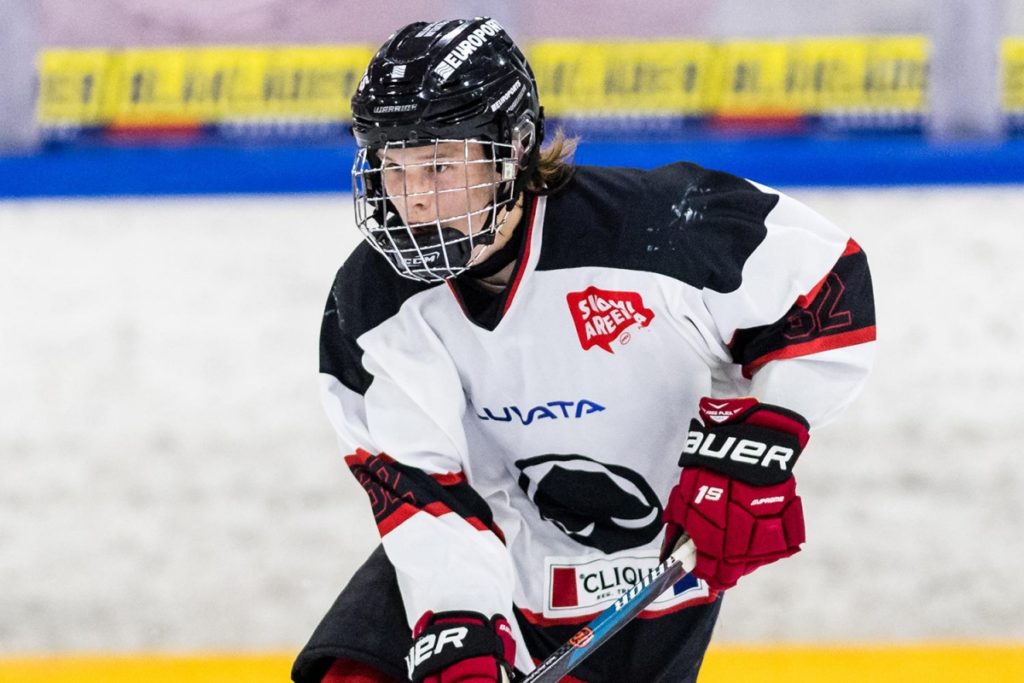 | | |
| --- | --- |
| Team | Ässät Pori (U20) |
| Birth | 2003-05-08, Pori, FIN |
| Position | D |
| Shoots | R |
| Height | 181 cm / 5'11'' |
| Weight | 78 kg / 172 lbs |
Brief scouting report
Heimosalmi is a versatile, offensive-minded two-way defender. He moves the puck well, possesses a good vision, and has really good puck skills. While he doesn't have the most powerful stride, he's extremely mobile and agile on his blades and can get to solid top speed. It's also notable how well he's able to utilize his mobility as an advantage. While he's not the biggest player, he still is able to show some physicality and usually does well in battles. He lacks in terms of scoring talent and some aspects of his defensive game but looks very potential and is a player to keep an eye on considering next summer's draft.
Breakout game
When opening the game from the defensive zone, Heimosalmi cheats the forecheckers time after time with his deception on the puck and is usually able to pivot out from under their pressure. His skills, pivots, and stutter steps help him to do ankle-breaking moves to create time and space to open the play, which he does well with his puck-moving skills and vision. If he doesn't find anyone to pass to, he also has the puck skills to carry the puck out of the defensive zone, even all the way to the offensive zone. His breakout skills might not be seen in the stat sheets, but he helps his team to create a lot of rushes.
I also really like his game off the puck in the defensive zone while his team has the puck possession in slow breakouts. He doesn't just stand and wait for the puck but instead keeps his legs moving all the time so he's more ready to generate when receiving a pass. In that way, he's able to bring pace to his team's rushes and avoids getting caught flat-footed by the forecheckers. He also is very good at recognizing his team's chances to get through opposition's defense. If there's no play to make, he just turns back and looks to build up a new play.
Defensive game
There are some good and some not-so-good things in Heimosalmi's defensive game. He will need to improve his gap control as sometimes he plays a bit passive in defending rushes and allows forwards to get time and space to create. But when he plays more aggressively, he closes the gap very well and is able to use his stick defending for takeaways. He's also good at forcing the puck carrier to the boards and closes up the middle of the ice well.
When the battle moves to the corners, Heimosalmi does pretty well despite his smaller figure. If it's not against a 6'5" player, he's able to fight well using his physicality and sometimes even throws pretty hard hits. His net-front defending is average as he might have problems moving bigger players, but he defends their sticks relatively well. Obviously, when getting to higher levels, there will be a lot more of those big strong players, so he'll need to get more physical. However, being still 17 years old, that's an attribute that comes with age and experience. 
Offensive game
Heimosalmi isn't really an offensive defender but can contribute some offense. He scored 21 points this season and as he improved throughout the season, 14 of them became in the last 12 games after the turn of the year. There were many reasons for it. Simply, he had an ascending season, and he became better week after week. He also had some more PP time and improved that a lot. While he doesn't have the best shot, he occasionally scored with it and what's most important in my opinion, he got shots to the net through the traffic. He also moves very well laterally on the blue line and is able to contribute from there. Instead of doing hasty decisions in there, he has multiple scenarios he's able to utilize. As I already mentioned, he gets shots to the net through the traffic. That's because of his ability to get opponents forwards moving to get open lanes. If he doesn't have a chance to shoot, he can put his legs moving and move deeper to the zone from the point, and keep the cycle going. As mentioned before, he also is capable of great puck-moving, so he can also find some good passing options. He very rarely loses the puck on the offensive zone blue line.
As mentioned, Heimosalmi has great puck skills. He's one of the most skilled Finnish defenders of this draft class as he's able to use his deceptive mobility and hands to get past opponents.
His shot is one thing he really needs to improve in the offensive game. He gets chances and has solid shot contribution statistics. To get involved in teams' PP units at a higher level, he needs to be a scoring threat along with his good puck and passing skills.
Special teams
Heimosalmi has become a really solid power-play quarterback this season. He improved his PP skills a lot but will still need to improve those a lot more to become a PP player at higher levels. As mentioned about his offensive game, his mobility and puck skills on the offensive zone blue line are really good. But then there's the downside; he doesn't have the best shot which obviously takes a scoring threat away from him. However, this is a skill that can be trained so it's not very concerning.
He's also a trusted penalty killer but with his size, I think getting bigger players to the net in the NHL would be advantageous. However, he's solid at playing the opposition's sticks away and blocking lanes as he's an active player, so I'm not amazed that he plays a lot of PK.
Potential and stylistic comparison
I think that Heimosalmi has the potential to be an NHL player. Henri Jokiharju from the Buffalo Sabres is a good stylistic comparable for Heimosalmi if you want to look for one. I could see Heimosalmi being a puck-moving defender in the team's 2nd or the 3rd pairing. Getting PP time would need him to improve his shot a lot but that's definitely not impossible, especially if he'll play for the team that has more defensive defenders and not that much puck skills. Heimosalmi is not a certain NHL player (like no one else) but I think he has a pretty good draft value.
Interview
Do you ever follow any public draft rankings?
I do, sometimes, but I don't think about them that much. Obviously, it would be nice to be drafted early but it's not that important. I just try to concentrate on playing well in every game.
How are you doing and how has your season gone?
I'm doing fine and I'm also pretty satisfied how the season went. I had a first unbroken season for a long time as I managed to be pretty consistent the whole season. Of course, you have better and worse games during the long season but there were no longer difficult periods. I also managed to stay quite healthy as I only missed a couple of games. I think the season was very ascending.
What would you say are your strengths as a hockey player?
I think that I'm versatile and pretty comprehensive defender. My biggest strengths are mobility and on-puck game, and I've also improved as a PP player. I'm solid in puck battles and I like to play pretty physical. I'd say my player type probably is an offensive 2-way defender.
What about things you need to develop the most?
Well, I obviously try and need to develop everything constantly but if there's one that needs more improvement than the others, it's probably my shot.
Do you have any specific role model in hockey?
I like to watch similar sized right-handed defenders like me. From the NHL, Cale Makar and Adam Fox are examples of the players I try to learn from.
What does NHL mean to you and how does it feel that you could be playing there some day?
It has always been a dream to me and now that I've grown older and realized it could be a possibility, it has become a goal instead of a dream.
What are your thoughts about AHL, would you be ready to spend a couple of years in there to get into the NHL?
Yes, of course. If it would be the best place for me to develop my game and get myself a better hockey player. I think I would learn a lot and it would help me to learn the North American style of play.
Where do you see yourself in about 5 to 7 years?
If everything goes well and as expected, in the NHL. I believe that I could be good enough to play there some day if I just work hard every day.
With U18's coming up, what feelings do you have going in there?
I'm waiting it a lot and I'd be very honored to play there. It would be great to challenge myself against the best U18 players in the world. It'd be also great to show the world what I've got.
****
Follow Eetu Siltanen on Twitter @siltaneneetu
LATEST RADIO & DRAFTCASTS