Scouting Point of View: NHL Draft Top-15 Roundtable
Tony Ferrari
2021-02-03
The 2021 NHL Draft is unlike any that we've seen recently. For a number of reasons, this year's class is unique. From the difficulty of dealing with a global pandemic to the stop-and-starts in their playing schedule, if they've started playing at all, it has been a year like none other when it comes to covering the draft. There is also the fact that unlike any year in the last decade, not only do we not have a clear cut number one but we don't even have the two-horse race that's become custom.
Whether it was Taylor vs. Tyler or Matthews vs. Laine, the two-horse race is always a fun debate. In 2021, we could have as many as six-to-eight players realistically being justifiable as first overall picks. It gets even muddier from there with very little consensus on anything outside of knowing that certain players are likely top-10 prospects in this class despite not having a leader in the clubhouse.
To help show just how divisive, debatable, and vast the opinions on this draft class are, the DobberProspects' Scouting Team has put together some individual top-15 rankings. Each of the scouts featured watched hours of video, engaged in seemingly endless discussion, and constructed a ranking of the top-15 players in their eyes. We had a number of different players land at number one, a wide variety of talent outside of the top-10 and various opinions on what this wild year has in store for this year's NHL Draft.
Check out the 2021 Draft profiles on DobberProspects here!
The scouts below have all submitted their top-15 ranking and a bit of commentary of what went into their thinking. Check out each scout below and follow them on Twitter.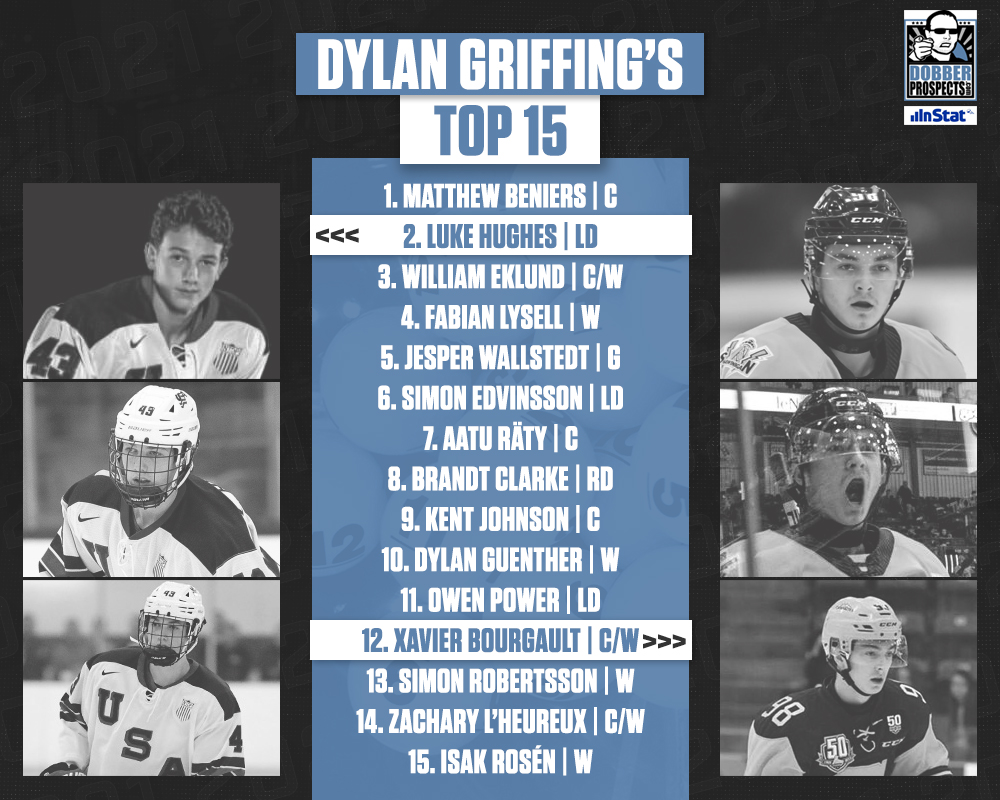 Matthew Beniers is one of the names on a very short list of players that have thoroughly impressed me with every viewing. He's a dynamic centerman that you just want to have controlling the puck on every zone entry. He is a player that you really have to nitpick to find any real downfalls to his game. His creativity, elusiveness, and all-around smarts make him a dangerous player every time he steps in the offensive zone, with or without the puck. The one aspect that Beniers gets critiqued for is that he isn't a very flashy player, but it clearly is not hindering his game in the slightest. He's having an incredible season in the NCAA for Michigan and was really impactful for Team USA at the World Juniors, I struggle to see him not being a very good second-line center at the NHL level.
On the opposite side of the spectrum, Owen Power is a player that I've really struggled to get behind. Going back to last season with the Steel, he had so much freedom to roam around the ice because of how, dare I say, powerful that team was. His faults were going unnoticed because there was not a lot of pushback coming against Chicago, this made me very nervous for his NCAA rookie season. And, well, I was rightly nervous. Positively, he has a very strong shot and he is really effective in the neutral zone because of how much ice he covers. However, he cannot handle pressure at all. He makes poor judgments when the opposition closes him down. You can't teach size, and Owen Power is huge, but he plays so soft that it's not even an advantage for him. Am I completely against him in the top 10? No, there are clearly tools there that can be advantageous if he takes that next leap forward and gets smarter on the ice. 
Luke Hughes is my top defenseman right now, but by no means is he perfect. He is super creative, an excellent skater, and, must be noted, one of the youngest players in this entire draft class. He's a fun player, to say the least. I like players who are always attempting to make good things happen, and that's just what Hughes does. However, he's a player that is going to have to learn to cool down with the puck on his stick. He goes for flashy plays a bit too often and it really hinders his puck-moving ability. The reason he sits so much higher than someone like Power on my list is that Hughes has all of this skill at his young age, but is just struggling as to when to use it to its full capacity. Defensively, Hughes isn't great, but his positioning in the defensive zone is good, he just needs to work on anticipating plays, especially on the rush, and there will be a major boost. Dylan Griffing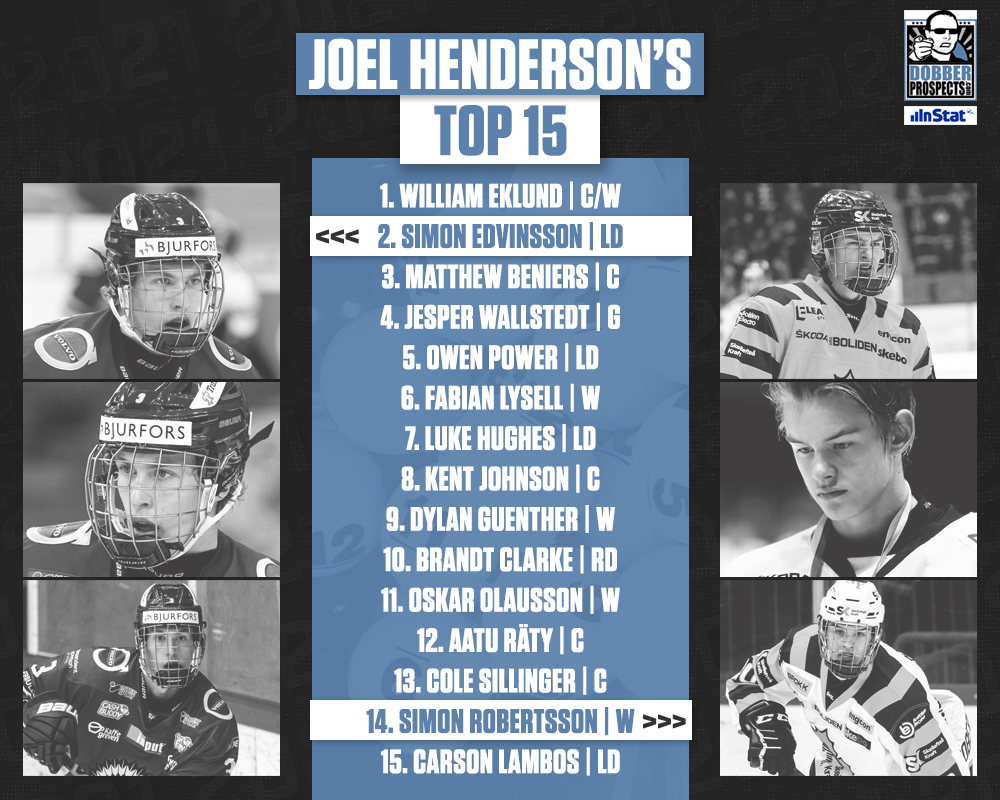 If I had the first overall pick, I'm picking the only forward at this point that I have projected to be a top-line player. I was firstly impressed with William Eklund's ability to hound the puck on the forecheck in the SHL but as time went on, the quickness of his decision-making and his puck movement became apparent. The puck can come on and off his stick with speed and precision like no other forward in this class. This is a hard skill to quantify and it certainly doesn't show itself in a single highlight but the more you watch Eklund, the more you realize he has top-tier vision, awareness, precision passing, and ability to adapt. That would be good enough for me at this point. 
If you wanted to go another direction, you could argue upside to me, as long as you can argue the development path forward. Enter Simon Edvinsson. He is so fleet of foot and that can be his biggest asset or detriment at times. He is so mobile that he often chooses aggressive defensive approaches because he knows he can recover if it goes sour. He angles off forwards and forces them to make decisions or try and beat him wide on zone entries. This approach will have to be altered at the NHL level and most of his decision making will have to be quieted a bit, but no other defender has close to his gear in that regard. He is pure upside. I think he certainly does have the upside to be a top-pair defender but might frustrate you a lot getting there. At worst, he settles as a top-4 who can facilitate the PP with ease. 
As far as the WHL players are concerned, I've had the privilege of watching these players for quite some time. Dylan Guenther is the ultimate small ice player. The same encouragement I have of Eklund can almost be said about Guenther. His strength and ability to pull the puck laterally allows him to maneuver in tight and keep possession. He is one of the safer bets in this class to be a middle-six quality player. I've described Cole Sillinger as a lightswitch because when you turn that sucker on, he can make you pay quickly. If you believe Sillinger can be a weapon on an NHL powerplay and his speed won't hinder his line at 5on5, then you rate him top-10. If not, then it is Kaliyev territory. The curious case of Carson Lambos is indeed curious. For five months now, I've been the voice in the room saying whoa whoa whoa about everyone's Lambos rankings. His vision and elusiveness on the ice is a wonderful asset but as you peel the layers of the defensive onion there are worries. I've looked around and as of yet I haven't found anyone to put at 15 ahead of Lambos, but I'm sure I will after all is said and done. 
No offense to the rest of this class but my motto for the top-15 has been "Gimme the Swedes and you can have the rest." Each of the Swedish players on this list I would be thrilled to add to my personal prospect pool. Joel Henderson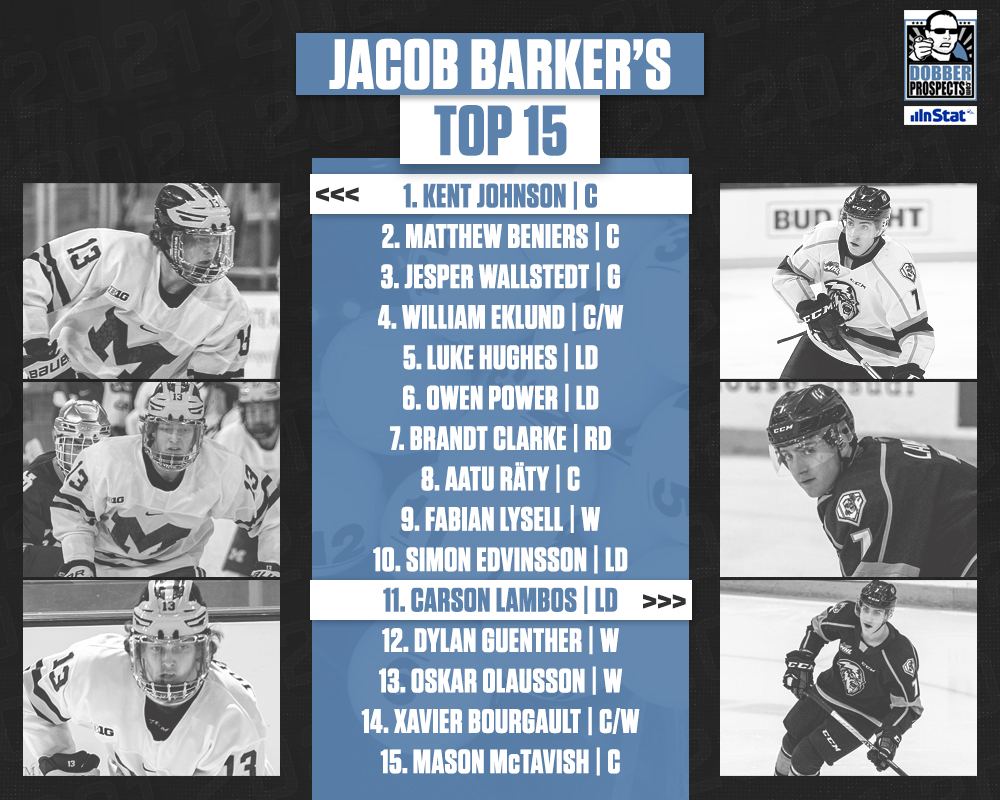 In a year with so much uncertainty and inconsistency with draft-eligible prospects, it is tough to imagine what the lottery winning team is going to do on draft day. At this point, there is no consensus number one player in this class, so I tasked myself to rank my top selection based on what qualities I would want in a top draft pick. For me, that means a player that brings a combination of strong puck skills and skating ability, with an emphasis on high-end projectability. Based on the players that I have watched so far, Kent Johnson fits that exact criteria. 
While watching Kent Johnson and Matt Beniers tear it up together at the University of Michigan, I have come to realize that these two may be the best players to come out of this draft class. Johnson brings a level of puck skills and agility while skating that is not matched by many, giving him the ability to create scoring chances for himself and teammates in tight situations. Johnson's game has more of a playmaking style to it for the time being, but he is more than capable of putting the puck in the back of the net when asked. Not to mention, his creative mindset makes him so much fun to watch on the puck. Like everyone in the top end of this draft, however, there are reasons to be highly critical of his game. His top-end speed needs to be worked on and there are times where he tries to make a flashy play instead of a smart/safe play. With that being said, it is important to keep in mind that Johnson took a significant step up in terms of league strength, coming directly from the BCHL into a top 6 role for an NCAA team. A natural adjustment period is required for him to figure out how to play at a quicker pace with less room to cut corners. Although he has progressed well so far in his freshmen season, finishing this year plus another year in the NCAA will give him plenty of time to clean up the sloppy parts of his play and continue to develop his game processing ability. Considering that Johnson still has plenty of room to grow in his game and yet still manages to create plays and produce offensively for the Wolverines, he stands out as someone upside to be the best player in this draft. And until his development seems to stagnate, I simply cannot ignore that upside if I am first on the clock come draft day. 
The one characteristic of this draft class that seems to be significantly stronger than the previous class is the number of high-end defencemen that are available. There is a legitimate argument for any of them being the best of the group, so for me, I resorted to my criteria before: puck skills, skating ability, high-end projectability. With that in mind, the three defencemen that fit the criteria are Luke Hughes, Owen Power, and Brandt Clarke. Each player presents a strong skating ability, with Hughes having the strongest stride and agility out of the three of them. Clarke needs to round his game out but possesses an offensive upside that slightly edges out the other two defensemen. Power brings strong puck skills and a surprisingly quick top speed and agility to his game, which combined with his frame makes him a unique talent in this draft class. Despite each of these talented defencemen having high-end qualities, Luke Hughes' game processing ability projects him just a little bit higher than the other two for me. 
One player that I feel is being forgotten simply based on lack of playtime is Mason McTavish. In the past OHL season, McTavish showcased a level of versatility in his game that NHL teams dream of. With a strong Petes team, he was able to play on the wing or up the middle on any of the top three lines. He also possesses an offensive toolbox highlighted by his rocket of a shot that allows him to not just create plays for others, but produce himself in a variety of situations. While his top speed is not fantastic and he needs to clean up his decision making in transition, McTavish possesses a mature game that is sure to impress scouts at the next level.  Jacob Barker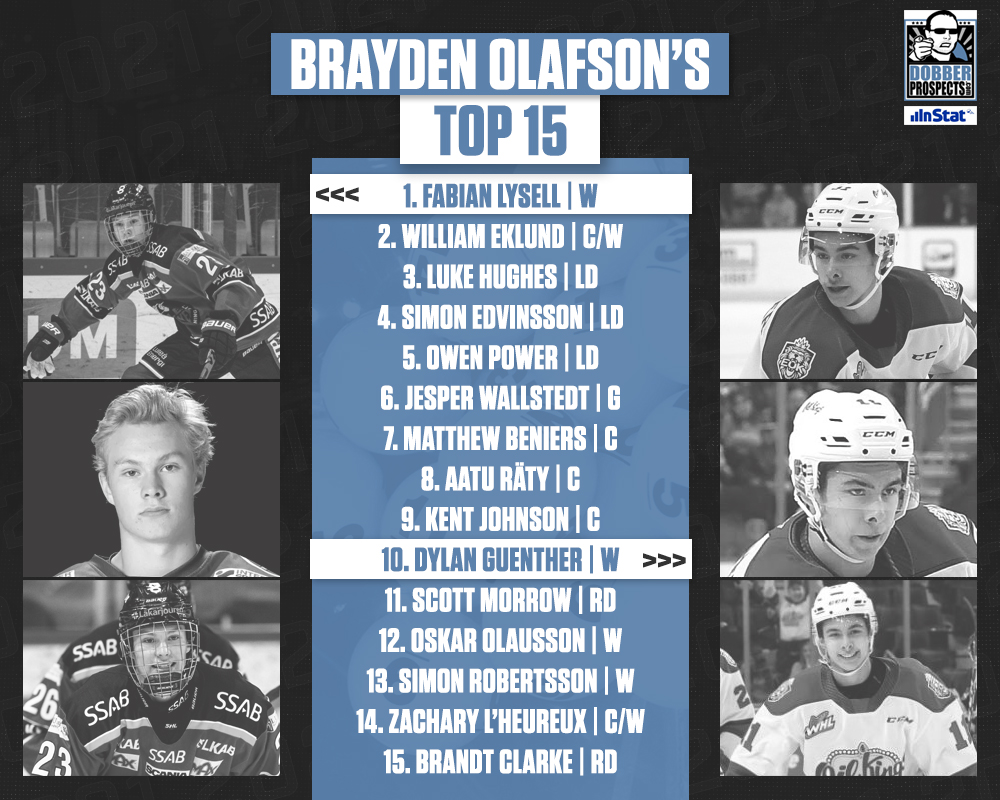 Over the course of the last couple of years, I've subscribed heavily to the concept of risk assessment and risk management as it relates to the NHL draft. As a strategy that's applied to decision making in many of the worlds' top-performing businesses, it seems only logical that owners and managers of the most prominent hockey organizations would subscribe to a similar theory of decision making. In its simplest form, risk assessment is done by combining factors for impact and likelihood of an event, while risk management is accomplished by balancing those factors with a proportionally valued action. In the case of the draft, the basic goal is to balance the value of a pick with the impact and likelihood of a player – it's not complicated. What is, is accurately determining the potential impact and the likelihood of that impact for each and every player available.
This year one thing is very clear, the comparative value of players has been relatively difficult to assess. As a general consensus, there is no one player eligible for this years' draft who scores an 'A' in each of the categories of skill, shooting, skating, maturity, physicality, and effort. The question then becomes, as it does in any draft, which combination of those characteristics is the most valuable? In a way, this years' draft almost feels like removing the top-three or top-five players from a previous draft and then saying, well, here you go, now who goes first?
For my top-ranked player, I chose an individual who ranks exceptionally well in the categories of puck skill, puck control, agility, deceptiveness, and for my comprehension, maturity. Fabian Lysell is a winger who injects a high level of energy to his line and consistently positions himself one step ahead of the play. By my assessment, he is a trustworthy and adaptable linemate who commits himself to every sort of task that could lead to reduced defensive zone time and increased offensive opportunity. Lysell regularly makes himself available as a safe outlet to his teammates and wastes little to no time striking against his opposition. He leverages a powerful first stride, good puck control, as well as balance and core strength to maneuver his way through contended ice. Finally, his commitment to puck battles and backchecking help to mitigate what risk is presented by his high-skill attack of the congested scoring areas. For these reasons, I think that Lysell offers the requirements for developing into, at worst, an impactful middle-six forward. In my assessment though, the more likely projection (and impact) for Lysell is that his awareness and skill manifest into a consistent top-30 scorer in the league who is capable of playing effectively in all situations.
There are other players in this draft who check categories similar to Lysell, including countryman William Eklund, Michigan's Kent Johnson, and Kärpät's Samu Tuomaala, who I've ranked respectively throughout the top-32. While I value Lysell only a hair more than Eklund, for Johnson and Tuomaala, I believe there are more prominent warts that may impede their development. Eklund is the type of player who brings many of the same positive characteristics to a game as Lysell, as well as additional strength in the category of execution. Eklund possesses the constant intuition and ability to distribute the puck from anywhere in the offensive zone to some of the most lethal scoring areas without so much as a slight hesitation. His ability to generate offense seems to be the best in the class. In my assessment, what Eklund lacks is a comparable level of energy and compete that is consistently supplied by Lysell. For this reason, I have more faith in the value that Lysell could supply at his floor, as well as in a 200-foot fashion once he reaches his ceiling. The same adage is what motivated me to include players such as Oskar Olausson and Zach L'Heureux in my top-15. Brayden Olafson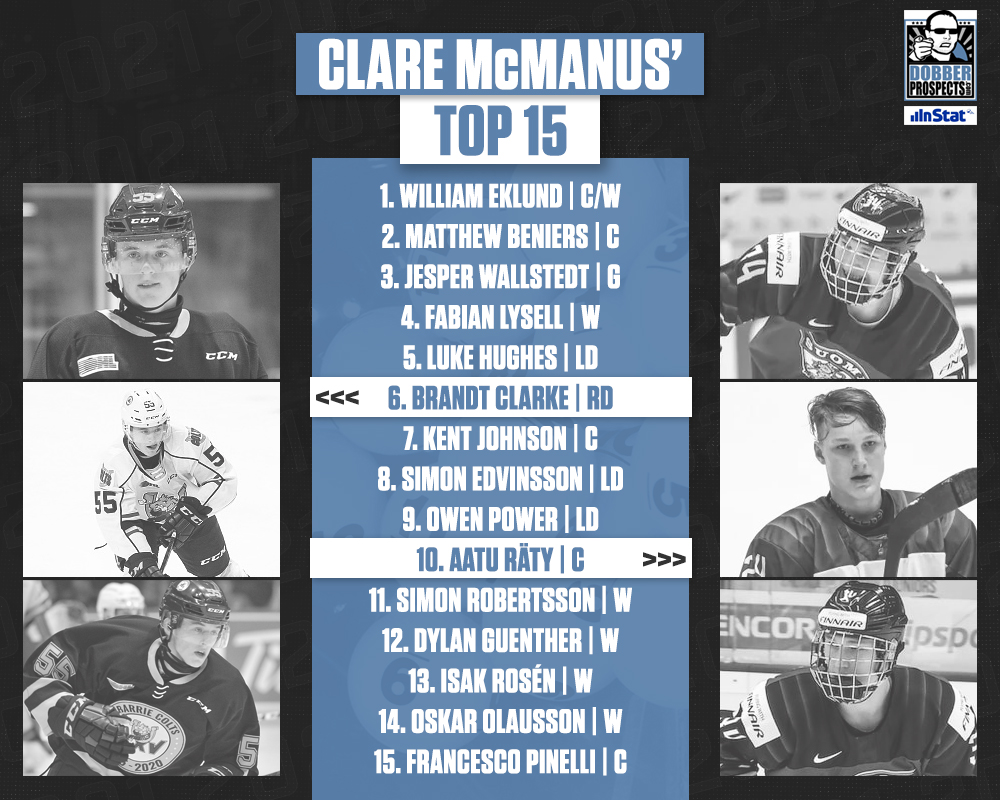 Willliam Eklund is a player I believe will gain more and more attention for the number one spot coming up to the 2021 draft. He has already put on a strong show of points and skill playing against the older competition this year in the SHL. Eklund has the true skill to be an elite NHL player with natural goal-scoring instincts and the ability to make plays to teammates. Next, I would have Matty Beniers at the number two spot. His play impressed me at the 2021 World Juniors championship and made me realize that he could end up being one of the first few forwards to go off the draft board. Beniers plays a very steady 200-foot game, producing well on both sides of the puck. He also skates with a lot of power, going hard to the opposition to force a turnover. He has also done well for the University of Michigan this season as a Freshman. For the number three selection, I wouldn't be surprised to see Jesper Wallstadt be selected. This draft is very wide open and any selection, including a goalie early on, wouldn't be a real big surprise considering this year's draft. Wallstadt has been impressive in the SHL this year, showing all-around strong numbers. He is big and confident in net, playing a very technically sound game. 
At the beginning of the year, many scouts had defenseman Carson Lambos, Brandt Clarke, and Owen Power all within the top five of the class. As of now, all of them haven't impressed me enough to be one of the first defensemen gone off the draft board. Luke Hughes is a defenseman I believe could be the first to go. He looks like he gets better and more confident almost every game. Especially as of late, he currently led all USNTDP defenseman in points with 26 points, six goals, and 20 assists, in 25 games. He possesses elite skating and puck-moving abilities offensively, although defense seems to be a concern for Luke. He maintains good positioning but sometimes struggles to win puck battles with stronger opponents. 
Some forwards in my top 15 that project as potential top-six players are Kent Johnson, Simon Robertsson, and Dylan Guenther. Johnson is the current point leader at the University of Michigan, as a Freshman, and has been very impressive this season. Coming from the BCHL, it was a worry to see how he would adjust to a much more skilled league like the NCAA. But it doesn't seem to be a problem for him, as he has made some crazy skilled plays and continues to gain more confidence. Clare McManus
The top of the 2021 NHL Draft class is so extremely tight, there simply isn't a consensus pick. I had trouble picking who I would have as the top-ranked player, but the decision fell towards two-way center Matthew Beniers. Beniers' one of my favorite prospects to watch, because I love players who are smart and efficient on both ends of the ice. Last year it was Anton Lundell who I showed a tremendous amount of love towards and this year it is Beniers. Matthew Beniers strongly reminds me of Nazem Kadri, who is an excellent two-way second-line with great play-driving abilities and I think that would be a good comparison going forward. There is not a lot of high-end talent this year, but there is a quality depth to have. Owen Power is my second ranked player. The combination of puck skills, offensive dynamic, transitional qualities and size would likely make him prime candidate for first overall selection in July, but he has his own flaws which need to be worked on such as play under pressure, defensive positioning, defensive zone coverage and decision-making. However, I still believe he is the best defenseman from this class, not by much however. I had Eklund a little lower in November before SHL, but he come out flying in SHL and has been a dynamite ever since. Sadly he missed WJCs where he would've had key role for Sweden.
Eklund and yet another University of Michigan player, Kent Johnson, are two guys who I believe have the highest ceiling from an offensive standpoint, but the floor is not quite as good as I would like to place any of the two at first overall just yet. Maybe that will change towards the end of the season. I see both more as wingers than centers in the NHL, which might have some significance on draft day. At five I have, technically, the first player from my region and that is currently in-Slovakia-loaned offensive right-shot defenseman, Brandt Clarke. His offensive skills are showing even in the pro league against bigger and more physical opponents. He recognizes extremely well when to jump into the rush and when to stay put and is great transitionally. Clarke also scored his first professional goal, so that's neat! He has to work on his defensive zone work a lot, which is pretty much the case with every mentioned defenseman in my top-15.
Right outside top-five I have Jesper Wallstedt. It is not usual for me to have a goalie in the top-10, I hate doing it, but this year is different and Wallstedt looks like a beast every single game. Excellent positioning, vision, and movement with calmness is a scary combination for a goalie (in a good way) and he has it all. Many people are higher on Luke Hughes than me, but he is an excellent young offense-first defenseman who has one of the best if not the best skating in this class. Just flawless skating, which can help him round out his defensive game more when it comes to in-zone defensive positioning after some development time. He is on a tear right now for the US under-18 development team and could rise up the rankings real quick. Edvinsson right there with him. He is not as good offensively as Luke, but he is better defensively since his gap control and efficiency without the puck are both very solid. Great smooth skater for his size and can create dangerous offensive opportunities from the rush.
All-in-all, this year would be so interesting to watch and debate, especially on both draft days since I really expect a lot of surprises, and literally any player I mentioned in my top-10 can leap into the first spot by summer. And I think that's awesome for everyone involved. Samuel Tirpák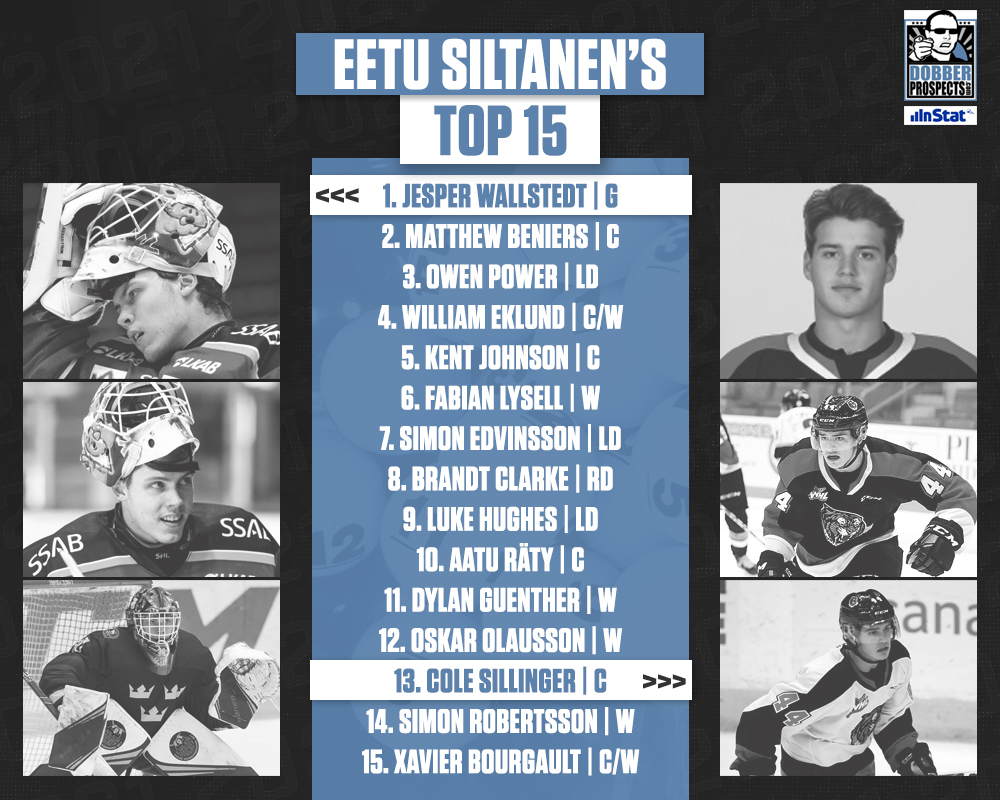 As this year is very uncertain and there's no distinct first overall candidate like Connor McDavid or Alexis Lafrenière, who were impossible to bypass, I think Jesper Wallstedt would be a great pick. There is always a risk in a draft pick, even if it's the 1st overall (Nail Yakupov), but in these uncertain times, Wallstedt is a pretty certain pick with great upside. This exceptional goalie talent, who has a great frame (6'3" & 214 lbs), has already been amazing in SHL. He's notched .927 % & 1.78 GAA in 16 games, winning 10 of them and shutting down an opponent in 2. Despite not having a win, he also looked pretty good in WJC and should have had a chance to play when Alnefelt didn't look completely fit. Nevertheless, I think Wallstedt would be a good pick for 1st overall, especially if a team with weak goalies pick first.
Who comes in next on my list is Matthew Beniers. This comprehensive two-way centerman looked fantastic in WJC's and has notched 13 points in 14 games in NCAA, with a +9-rating. Beniers is one of the most complete players in the draft by far and if I had to pick one to start in my NHL team next season, it would definitely be Beniers, Eklund, or Wallstedt. Speaking of Eklund, if you want the most NHL-ready player of the draft, take him. Even as I said that Beniers is one of the three of the most complete players, I really think he still needs to play one more year in the NCAA. But, Eklund doesn't really need to play in SHL next season, he'll definitely be ready. Obviously, he's not going to be an 80-point scorer straight away, but I could see him bringing good things to the table while he'd be getting good experience in the bright lights. Both Beniers and Eklund also definitely have a chance to go 1st overall.
I already jumped to Eklund, but I still have one guy before him in rankings and that guy is Owen Power. He surely divides opinions. This mobile (and huge; 6'5" & 214 lbs) two-way defender might (also) easily be the one who's going to go 1st overall. There are definitely still flaws in his game which concerns some, but I see these things fixable and after some time in NCAA, he'll develop into a great NHL player. He also has 12 points in 16 games for the University of Michigan in the NCAA, so his offensive upside seems really good.
This year's going to be great for the University of Michigan as Kent Johnson comes next in my list. This shifty and skilled winger (officially center) loves to deke, plays very flashy, and has scored 18 points in 16 games in NCAA. He's followed by two great Swedes, a speedy playmaking winger Fabian Lysell and a huge, smooth-skating two-way defenseman Simon Edvinsson.
As a Finnish scout, I also wanted to share my thoughts on Aatu Räty, who stands 10th in my rankings at the moment. Räty had a really disappointing start for the season but after the turn of the year, he's looked a lot better. He was a winger in a few games in autumn, but now he's back in a center position (fortunately). He's been centering Kärpät's second line in Liiga. The point generating hasn't been that good, but he's been a reliable two-way center for them. He's also had more and more scoring chances, which will eventually translate into points. His offensive toolset is solid, and he's shown some really good smarts and game reading. If he improves a bit more, I'm definitely going to rank him higher in my next rankings. Eetu Siltanen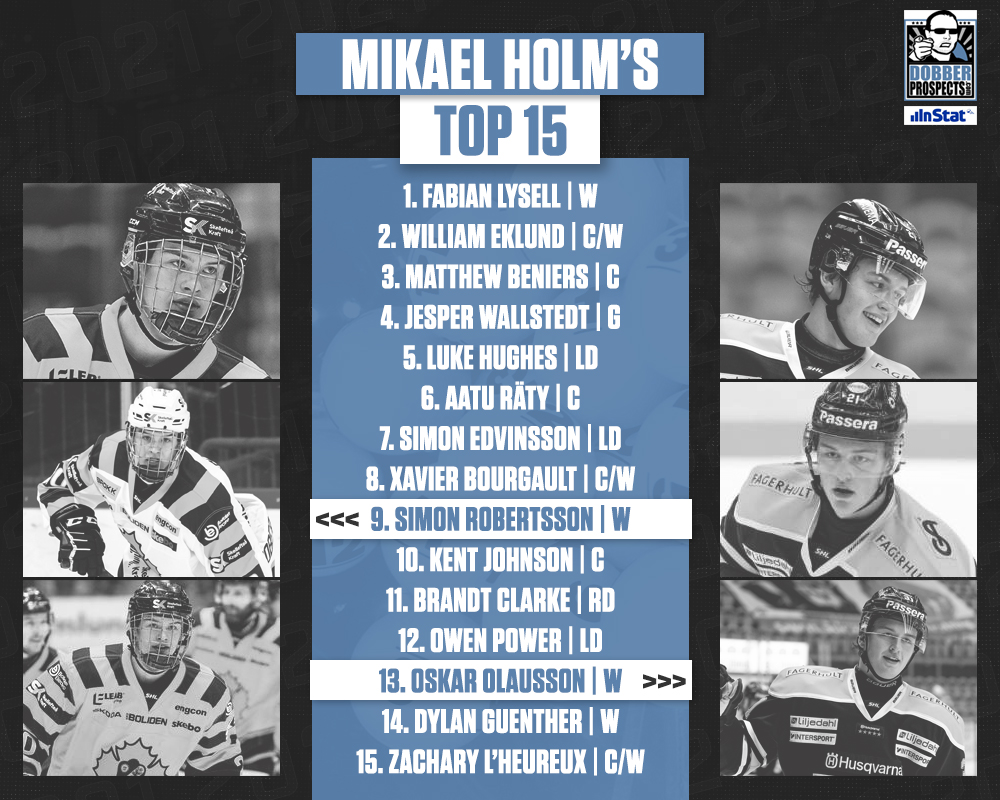 As many of my colleagues have pointed out, this is a hard year to determine not just a number one overall but to determine who should be on the top-15. I have gone back and forth, trying to figure out how this list should look and I ended up with Fabian Lysell as my number one prospect. Lysell plays the game almost exactly the way you want from a highly touted forward prospect. He's a great skater with wonderful hands, he sees the ice beautifully with the puck, he can shoot although that is something he should work a little more on to get some consistency and he's a zone entry machine. But Lysell isn't just an offensive winger, he's a hard-working player who can forecheck for days and has a good understanding defensively. He has a great motor and every shift he just keeps those legs going and with his tenacity and skill, he wins his team a lot of pucks by skating hard and stressing the defense or he lifts the stick of his opponent and snatches the puck away. In a year that's hard to figure out, Fabian Lysell has almost everything I'd want from a modern winger in the NHL. 
As you can see the top-5 is similar in a lot of our rankings. I have William Eklund as second because I can't look past the way he plays in the SHL. Matty Beniers had a great World Juniors and he's a few steps ahead of everyone he plays against in the NCAA, it feels like. Jesper Wallstedt could be the player I'm most comfortable picking at number one if I'm honest. He's already such a good goaltender and it wouldn't surprise me if we see him in the NHL next season already. Luke Hughes is the highest-ranked defenseman on my list and that's because of his, sometimes raw, toolset. He's a great skater with a great feel for the offensive parts of the game. He's not necessarily bad defensively but there's more to work on there. Adding to his skill is also the fact that he almost isn't eligible for this draft because of his September birthday. 
The rumors of Aatu Räty's demise have been exaggerated. No, he's not a number one prospect anymore but seeing him play you could still see the reason why it isn't too crazy to suggest that he still might be the best player coming out of this draft. In quite the turn of events, I put Xavier Bourgault in at 8 in my rankings. I watched Bourgault and I enjoyed every single part of his game but what stood out to me was how smart he is. He anticipates the game well and is almost always at the right place winning loose pucks, finding himself some space to be open for his teammates, or just coming up with a play that no one expects. 
At 10, 11, and 12 I have three players most people maybe have higher in their rankings or they expect them to be higher. I find that Kent Johnson has fantastic skills but he's a slow skater and isn't that much of a player off the puck. He reminds me a little bit of Alexander Nylander. At 11 I have Brandt Clarke and I can just say that I haven't enjoyed his time in Slovakia so far and I had higher expectations and I like players above him more. Owen Power is a very divisive defenseman that I'm sure my colleagues have already talked about. He's great when he's got time to gather some speed and use his skating to get out of tough situations. When he's forced to pass the puck out of tough spots, he doesn't deliver enough for me to put him higher. Mikael Holm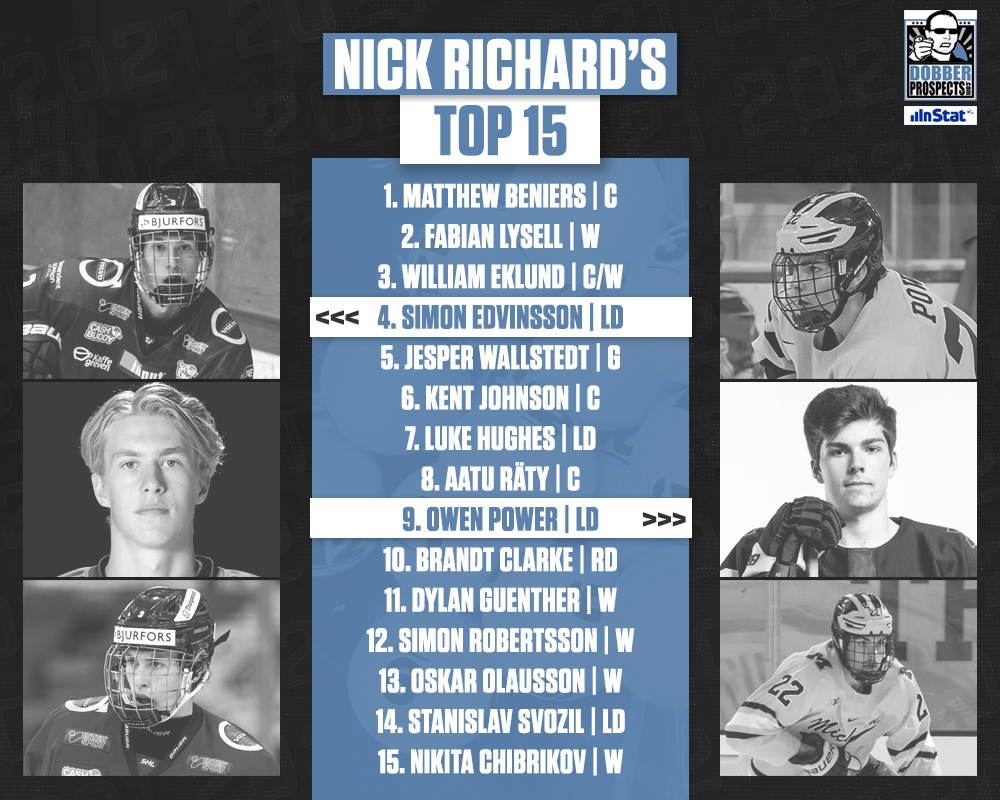 Evaluating prospects isn't an exact science and there are plenty of intricacies involved in the process but in the end, what it really comes down to for me is weighing a player's upside against his floor. No player in the 2021 class strikes that balance as well as University of Michigan center Matty Beniers and that is why he is currently my top prospect for the upcoming draft. Beniers might not have quite the same offensive upside we've seen in recent first overall picks but he is a capable distributor and can execute plays under pressure. He plays a very mature game and possesses high-end awareness in all three zones, seemingly always in the right place at the right time. Those skills combined with an exceptionally high motor make him a fairly safe projection as an impactful two-way center at the NHL level.
My top five is rounded out by a contingent of Swedish prospects who all bring something different to the table. Fabian Lysell is perhaps my favorite prospect in this draft due to his combination of elite speed and agility, offensive creativity, and play off the puck. He is a menace on the forecheck, consistently lifting pucks from unsuspecting defenders and he tracks very well in defensive transition.
William Eklund is probably the most well-rounded offensive threat in the 2021 draft, able to create chances for himself or his teammates using his high-end vision and puck handling. He thinks the game at a high level and creates offense without cheating on the defensive side of the puck.
In what was dubbed the year of the defenceman at the beginning of the season, Simon Edvinsson is the only blueliner to crack my top five. None of the defencemen in this class are perfect but Edvinsson's upside is the most intriguing in my opinion. His combination of size, skating ability, and puck skills is extremely rare and while there is plenty of room for improvement in his decision making and defensive zone coverage, his toolkit is too good to pass up.
This will be the third consecutive draft that features an elite goaltending prospect and Jesper Wallstedt might just be the best of the bunch. He has been excellent playing against men in the SHL this season, playing a strong positional style and displaying a calmness in the crease. There aren't many sure things in this draft but I'm quite confident that Wallstedt has the ability to be a reliable starter in the NHL, and I don't think it will be long before he's knocking on the door.
Luke Hughes, Owen Power, and Brandt Clarke all landed in my top ten and they could all end up as top-four NHL defencemen one day but they each have their warts to work out before getting there. Kent Johnson brings a unique offensive flair to this draft class but his skating is just average and he can sometimes play with more flash than substance. Aatu Raty, once considered a sure-fire first overall pick, has had a rough year but has looked more like that can't miss prospect as of late.
Dylan Guenther and Simon Robertsson both project as top-six goal-scoring wingers if they can round out the rest of their skillsets, and Oskar Olausson is an outstanding skater with some offensive upside as well. Stanislav Svozil impressed at the 2021 World Juniors with his skating ability and efficiency as a puck mover from the back end and could develop into a defensively capable puck mover at the NHL level. It's never a bad idea to bet on skill and that's what I've done by having Nikita Chibrikov as the final player inside my top-15. He's a strong skater who excels in transition but will have to add strength and pace to his game in the offensive zone while improving his commitment in the defensive end. Nick Richard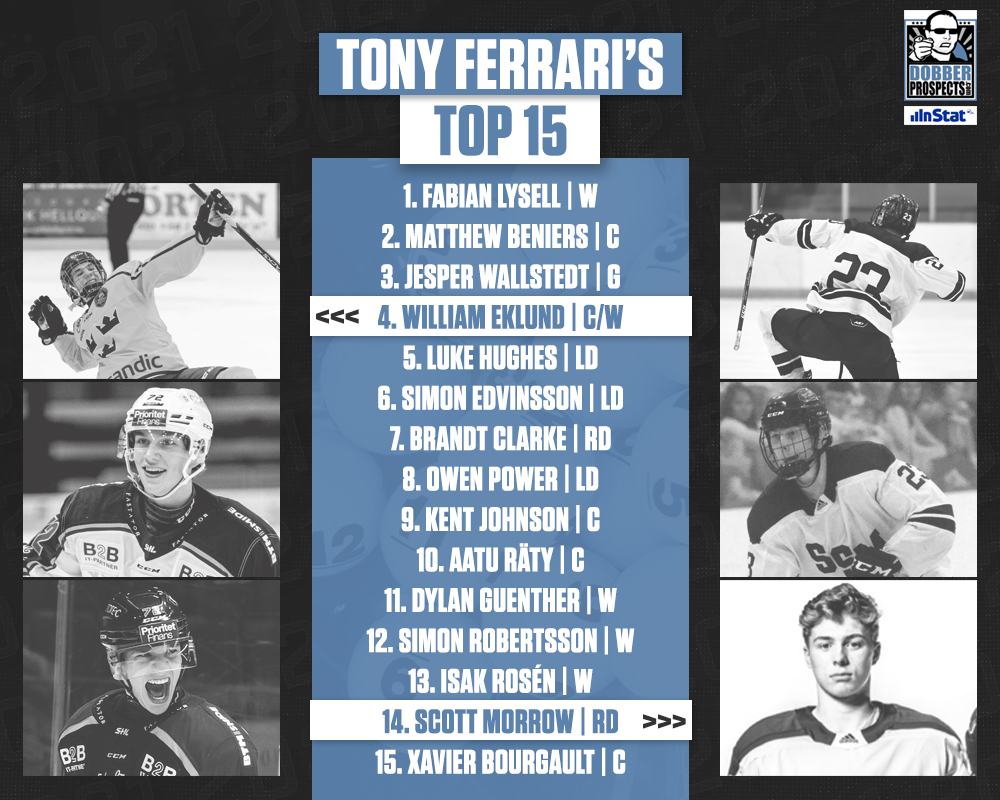 It's not a secret. The top of the 2021 NHL Draft class is wide open. There are a number of names that could be considered for the top pick but for me personally, it came down to the top-four names on my list. Any given day – or hour – you could ask me who I have at number one and my answer would be one of Lysell, Beniers, Wallstedt, or Eklund. The defenders that we all expected to dominate the top of this draft class just haven't really taken the steps expected and the defender who has progressed the most in my eyes was Hughes, who I had behind the top group coming into the year. With that said, let's go in reverse order and quickly take a look at why I settled on Luleå winger Fabian Lysell.
Bourgault and L'Heureux are my top QMJHL players with the Shawinigan forward winning that internal debate in my head. His ability to put himself in position has been quite impressive and his production continues to show that. He may not be a play driver but he is the ultimate complementary player who could slide in on the wing at the next level with a playmaking center, similar to the role he plays this year with Mavrik Bourque. His short stint away from Bourque was fine but the need for a playmaker was evident. Bourgault edged out names like L'Heureux, Sillinger, Olausson, and Lambos for the final spot in the top-15. A player who was a swing I knew I'd be taking where he's at is Scott Morrow, the Shattuck St. Mary's defender who thrives on pushing the pace and has all of the tools needed to become a top-flight defenseman. The concern with his is the fact that he plays prep hockey and due to the pandemic, likely wont play any USHL games this season.
The next couple of players are my fifth and sixth ranked Swedes, a testament to the strength of the Swedish draft class. Neither Isak Rosén nor Simon Robertsson are perfect players and both come with their warts. Robertsson is a player who can capture your attenion with the puck on his stick, especially as a shooter. He finds his spots and fires the puck with pin point accuracy and some solid power. Rosén on the otherhand is a bit more of a dual threat. His biggest detriment is his size and strength but he should be able to fill out his frame and take advatage of his skillset. With high level vision and the ability to diagnose a defense allow him to pick his spots and use either his feet or passing ability to get the puck to dangerous areas. Dylan Guenther rounds out the bottom-five. His game is built on his processing speed. He isn't necessarily the most impressive skater and his tools don't always pop but he has one of the more projectable games in the 2021 class. The top WHL player on my list will go as far as his mind takes him.
The more I look at the ranking of Aatu Räty at 10, the more I regret having him so low. As Mikael said, the rumors of his demise are blown out of proportion. There was no doubt that he looked off at the U20 level but the more you watch, the more you realize that there was a lot of failure to execute on his teammates. Now at the Liiga level again, he has been playing higher in the lineup and his passes are connecting and he's not being ignored when he get's himself into space. Watch for Räty to rise on my next board if he continues his stellar play. While I feel like Räty may be too low on my own board, Johnson is likely the player the public will think is too low. While I see the puck skills and electrifying playmaking, I worry about some of the finer details of his game. He needs to work on his pace and find a way to get himself to the middle of the ice consistently. Johnson can take you out of your seat at times, the only problem is that it's not always for a good reason.
The next quad of players features the defensive group that was largely expected to occupy the top spots of the draft. Power has the raw package that everyone covets in a blueliner but the decision-making and understanding how to deal with pressure worries me. I see more Tyler Myers in his game than Chris Pronger, who some have compared him to. Next up is Slovakia's newest son, Brandt Clarke. His transition hasn't always been smooth and he will need to clean some things up defensively but the fact of the matter remains that he possesses so much potential, especially offensively. His skating and puck skills are tantalizing to say the least but his defensive game and some of his decision making in his own zone against men's level comeptition gives me hesitation. Edvinsson has many of the same qualities as Power in terms of havig the size, skill and skating combination. His skating is as smooth as a baby's bum and his passing can be surgical at times. He needs to clean some things up but there is a lot to like here. He will get to work on his game at the Allsvenskan level which should help. Luke Hughes winds up being my top defender and it has a lot to do with his insane skating ability, offensive attack mindset and the progression he's shown throughout the year. In my opinion, he's been the most improved defender from this group since the fall and the fact that his birthday is just days away from making him eligible for the 2022 NHL Draft makes him the most intriguing blueliner. While the ceiling isn't quite as high as his brother Quinn, he certainly has many of the tools to become a quality defender.
Jesper Wallstedt is number three on the board for me but he could easily have been number one. His structure and skill in net is mature beyond his years and he shouldn't be a long wait for whatever team drafts him. His play at the SHL level has scouts and goalie analyst's mouths watering. In a three-year run of elite goaltending prospects, with Spencer Knight (2019) and Yaroslav Askarov (2020) preceding him, Wallstedt may be the best of the bunch. Technically sound, athletically gifted and already playing against men, Wallstedt should be in every first overall converstaion.
That leaves us with our three forwards. Beniers is the ultimate layup pick in the 2021 class. His ceiling may be that of a 1B center rather than a true number one, but the American pivot boasts a complete game with very few holes. He drives play and consistently winds up on the right side of the possession game. If a team takes him at number one overall, he certainly isn't a poor choice. William Eklund has been playing in the SHL for the entire season and has looked quite goo doing it. He is also one of the more NHL ready players from this class. He does a good job of manipulating defenses and take advatage of his dual threat ability as a plamaker and scorer. The number one player on my board, Fabian Lysell, gets the nod purely because he presents the best odds of being a top-line scorer in my opinion. He has a decent shot but his silky smooth playmaking is what makes him fascinating. He can be cerebral with his ability to draw defenders with his puck handling and skating before threading a needle to a teammate. He plays with an aggressive pace, attacking each play, which can lead to a bit of Lysell has the ability to affect the game in all three zones. His defensive effort has been impressive since his arrival in the SHL after his trade to Luleå. The reality is that this years draft may only produce a couple of top-line players and the likelihood is that some will come as a surprise from deeper in the draft. Lysell's potential, in my opinion, presents as a top-line scoring winger who can put together some 70+ point seasons and in the 2021 NHL Draft class, that might just be good enough for number one. Tony Ferrari 
******
The 2021 NHL Draft is up in the air. We had four different players represented at number one here and there very well could have been a couple of more players named. This is is a great way to get a view of the different stylistic prefenences of our scouts and get a read on just how divisive this draft class truly is. The DobberProspects team will be back with a full ranking in early March which will be back to the typical collaborative effort and a much longer list. Cam Robinson has moved on from his position as Managing Editor of DobberProspects but his parting gift was a final ranking for the website so check that out. With that said, Tony Ferrari has taken the reigns as Managing Editor and will have continue the tradition of posting a his rankings, utilizing the same format as his predecesor. Watch for that at the in a couple of weeks. Until then, stay safe, stay healthy and we'll talk soon.
Special shoutout to Andrew Armstong for putting together all of the graphics for this!
Check out the 2021 Draft profiles on DobberProspects here!
Check out each scout below and follow them on Twitter.
LATEST RADIO & DRAFTCASTS