Interview: Anton Lundell
Jokke Nevalainen
2020-04-22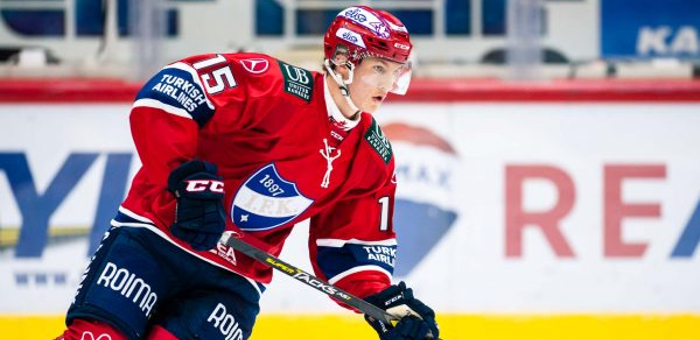 Anton Lundell is an 18-year-old Finnish center who is eligible for the 2020 NHL Entry Draft. Lundell is one of the oldest players in his draft class but he has already played two seasons at the men's level in the Liiga, and his all-around game is much more mature than his age would suggest. He is one of the few prospects with a realistic chance to jump straight to the NHL after he's drafted which is part of the reason he's usually ranked inside the top ten.
I interviewed Lundell over the phone in Finnish, transcribed that discussion, and then translated it to English. I hope you enjoy getting to know him a little bit through this Q & A type interview.
Q: Now that corona is on everyone's mind, I have to ask: have you managed to stay healthy?
A: Yes, I've stayed healthy so far at least. I've been just spending time with the family and avoided public places.
Q: How have you managed to train during these unusual times?
A: I've been able to train well. Individual summer training has been started. It's gone well, I've been able to train a lot and hard. It's nice to get that going, I can continue from there. I think it's going to be a long training period and everything is a bit uncertain but I've been able to start training well.
Q: Have you focused on strength or endurance?
A: A little bit of both. Maybe a bit more endurance. It's a good time to build that ground work for endurance. I've also worked on strength, so a little bit of everything to stay in shape and getting better.
Q: Do you have a home gym or where have you been training?
A: These past couple of summers, I've been on a training group led by Janne Hännien and Raimo Summanen. Now we've mostly trained individually. There's a private gym nearby, I've been there on my own or with a friend while keeping safe distance between us. I've been able to train well there. Additionally, I've been spending time outside, jogging and all that. I've been able to arrange that pretty well.
Q: What else have you been doing with the additional free time?
A: I've been at the cottage during the weekends. Just getting a break from the daily routines. Going to the cottage and relax, go to a sauna, go fishing, and all that. Pretty much whatever I can think of. Other than that, I've been killing time by going outside and playing some hockey on rollerblades with my brother or on my own. A little something hockey-related.
Q: Let's shift our attention to this past season. It was your second season in the Liiga. 10 goals and 28 points in 44 games. How would you summarize the season and how well it met your expectations?
A: It met my expectations pretty well. My expectations were to play at a very good level all the time and from there earn a big role on the team and to be a leading player who can help the team win in every game. Personally, the season went very well. I was able to get better all season long and play at a good level. I was able to be the player I wanted to be; created a lot of offensive chances and had some success and helped the team by doing that.
Q: If we look at your points, you had a bit of a slow start to the season with four points in 11 games. But after that, your pace clearly improved and you had eight points in nine games before the injury. After that you continued to play at a good level with 16 points in 24 games. How would you comment these different phases of the season?
A: At the beginning, we played really well as a team. We had a lot of shots and scoring chances in every game. But everyone had trouble scoring, and it showed up in the points total. But after we started converting our chances, we started playing better and it helped me as well. Then I had that injury in November when I had just started having that good phase there. Of course it was a big blow. After that, I basically had to start from zero, re-start the season. I was out for six weeks. But I trained really hard during that time. I wanted to come back stronger than ever and show once again what I'm capable of. When I got back, I found my game really quickly and I had good linemates as well. We got to play together for a longer period of time, and that allowed me to have a good rest of the season and put up some points as well. I had a lot of chances and could have put up even more points. I'm satisfied with the level I played at after the injury for the rest of the season.
Q: Did the injury affect your rest of the season in some way?
A: Well, maybe in that sense that a month and a half is a long period of time, so I was able to have a really good training period there. I felt much stronger coming back from it. When I got injured, that was my goal and I'm glad it happened. I was able to return as a better player and help the team even more.
Q: At some point of the season, you started getting responsibility on the penalty kill as well. How well did that go?
A: Yeah, I'm capable of killing penalties as well. It's understandable that we have a lot of competition on the team and a lot of experienced players, so it's not always easy to get to the penalty kill. I think I was able to show that I can play on the penalty kill and be a versatile player in that sense. I can do any job. It would be nice to play even more.
Q: Your father Jan has been with your team as the goalie coach this entire time you've been there. But what kind of an experience was it for you when he came onto the ice for the final minute in that game against SaiPa?
A: It was an unforgettable game, and in fact the entire day was pretty different. In the morning, they said that maybe dad will be our backup, and I thought that it's unlikely to happen, they'll figure out something else. But then shortly before the game they said he's going to be the backup and with the team for that game. There also happened to be a free goalie spot next to me in our locker room, so we sat and got dressed for the game next to each other. Growing up, I've been watching dad's games and spent time at the hockey rinks with him. Then suddenly he's sitting next to me at the locker room and getting dressed for the same game with me. And then to be able to share the ice with him, it was something I'll never forget. It was really nice. If only there was more time, then it would have been even nicer.
Q: It must have felt nice when the audience was chanting Jan's name and asked for him to be put in goal?
A: That just shows the fan culture and the great fans that we have. It was a really great experience.
Q: Last summer, when I interviewed you at Vierumäki, you said that your goal was to get better and better throughout the season. How much does it frustrate you that the peak of the season, the playoffs, never happened?
A: Looking back, it's a real shame. It's something we prepare for the entire season and want to be as ready as possible when the playoffs start. I was really looking forward to it, and I had big expectations for the playoffs. So it is frustrating that we didn't get to play them.
Q: Do you think you could have improved your play going into the playoffs?
A: Of course it's all just speculation but we had a good phase there, me and my line. I think we would have been ready to play at a good level there.
Q: Another point of frustration must have been when you had to skip the U20 World Juniors because of an injury. It would have been a great place to show your skills in front of a big audience. Which one frustrates you more; not being able to play at the playoffs with HIFK or not being able to play at the U20 World Juniors?
A: That's tough to say. I would have wanted to play at both of them. The World Juniors would have been a nice experience. But I'm glad I got to play there last year and experience that. It was a good tournament and I was able to show in front of a big audience that I can play at the top level internationally. And then to win that tournament, it was unforgettable. So maybe for that reason, I was really looking forward to that tournament this year.
Q: You've won a World Championship both at the U18 and U20 level. Which one was more significant to you personally?
A: Of course the U20 gold has been more memorable. It was a tougher tournament. There were players who had already played NHL games. It was an unbelievable tournament, that whole journey there. The final was played in Vancouver, sold-out arena and tough games. The team that we had, everything went pretty much perfectly. It was a nice experience and something I'll never forget.
Q: You've represented Finland successfully in different age groups in many international tournaments. How does it feel to wear that Lions jersey?
A: It's an honor to wear it and play on the national team. It's something I've always wanted, I don't want to say no to the national team. It's always been a dream of mine to represent my country.
Q: Let's move on to the NHL Draft. It's a dream for many young kids to hear their name in the first round of the NHL Draft and walk up to the stage to get photographed. How much does it frustrate you if you can't experience that now because of this unusual situation?
A: Of course it would be cool to be able to go to that event but either way, it's a big deal to be drafted and that's going to be an unforgettable day. It's understandable in this situation to not have a live event. But of course I'm looking forward to the draft day.
Q: Most draft rankings have you in the top 10 but lately it's been suggested that maybe you could even slide outside the first round. What do you think about those speculations?
A: I haven't really read any lists or anything like that. My goal this season was to play as well as possible and show how good I am. I believe I've shown I can play at the top level internationally, and I've played against men for two years and been able to put up points as well. I'm confident in that but we'll see when the draft happens.
Q: If we look 5-7 years into the future when you're in the prime of your career, what kind of a role do you see yourself playing in the NHL at that point?
A: My goal is to be a leading player and to play in a big role in the NHL.
Q: Does that mean number one center on an NHL team?
A: Well, of course that's tough to say at this point, it's so far into the future. But I'll take one day at a time and continue to develop myself all the time. My goal is to get to the NHL as quickly as possible and earn a full-time spot there. And then of course my goal is to someday play on one of the top lines and in a big role.
Q: Some people have criticized your offensive abilities and wondered if they're good enough to play on the first or second line. How would you comment that?
A: I don't want to comment that at all. What matters is what happens in the games, and I believe I've been able to show that I can play against men and produce points at that level.
Q: Another area of criticism seems to be your skating. Do you think it's been emphasized too much, and how much do you believe it can still be improved over the next few years?
A: Of course it can be developed with more strength and more repetition. It's been getting better all the time. I don't think my skating is an issue. It may not look all that great but it's really effective. I've shown that it's not a hindrance for me.
Q: Obviously we don't know when the next NHL season will start but if we assume it starts in November, do you believe you're ready to play in the NHL at that point and in what kind of a role?
A: I can't really answer that yet. There's a full summer ahead of us and I'm sure things will become clearer after the draft when we see which team chooses me. But I have a good place here in Finland and a year left on my contract, so I only have good options available. We'll see after the summer.
*
And that's all for now, thanks for reading. Remember to follow me on Twitter @JokkeNevalainen.
Main picture courtesy of HIFK.fi