Tournament Preview: 2019 World U17 Hockey Challenge
Jokke Nevalainen
2019-10-18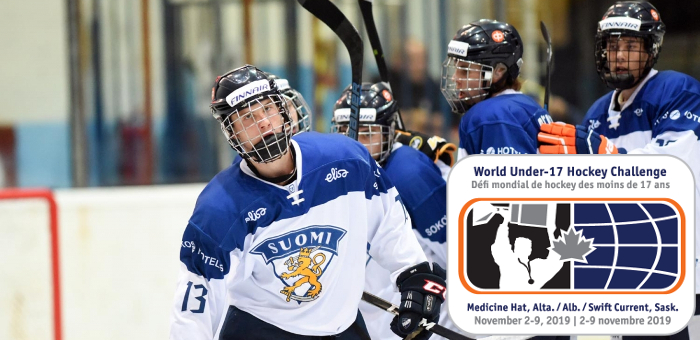 The World Under-17 Hockey Challenge is the premier event for those who want to look beyond the upcoming draft class and get an early look at most of the top prospects eligible for the 2021 NHL Draft and some of the top prospects for the 2022 NHL Draft as well.
The tournament runs from November 2nd to 9th and is played in Medicine Hat and Swift Current. It includes a total of eight teams: USA, Russia, Sweden, Finland, Czech Republic, and three teams from Canada. Tournament schedule can be checked from the official website where they will also eventually have the official rosters and game logs: https://www.hockeycanada.ca/en-ca/national-championships/men/world-u17/2019
A couple of the top names from the 2021 NHL Draft class will be missing from this tournament because they are no longer eligible for the U17 level because of their late 2002 birthday – only players born in 2003 and later are eligible. Those include Finnish center Aatu Räty, the currently projected first overall pick, and Swedish goalie Jesper Wallstedt, a projected top 10 pick. Both will play a big role for their country at the U18 level this season – and perhaps at the U20 level as well.
However, perhaps the most interesting thing about this tournament will be seeing the three top guys for the 2022 NHL Draft playing in the same event. Shane Wright, Matthew Savoie and Brad Lambert are all good enough to be first overall picks in most drafts but only one of them can achieve that goal because they happen to be part of the same draft class in 2022.
Wright is already a point-per-game player in the OHL at age 15, and Lambert is doing the same in the Finnish U20 league. Savoie has only played a few games in the WHL so far because his exceptional status was denied but there's absolutely no reason to count him out from that race. Some might point to age difference because Lambert is born in 2003 whereas the other two are born in 2004. But it's good to notice that all three are born within 18 days of each other. Lambert is born on December 19th, Savoie