Tournament Preview: 2019 World U17 Hockey Challenge
Jokke Nevalainen
2019-10-18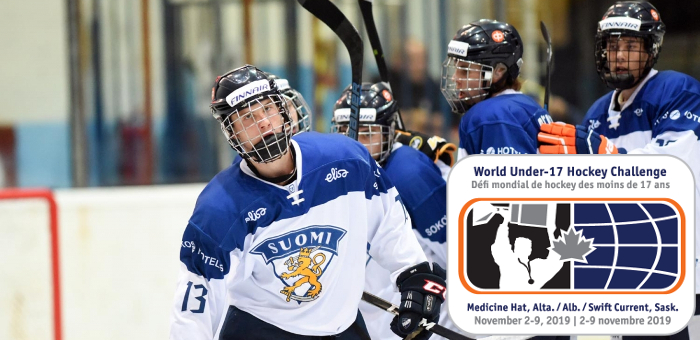 The World Under-17 Hockey Challenge is the premier event for those who want to look beyond the upcoming draft class and get an early look at most of the top prospects eligible for the 2021 NHL Draft and some of the top prospects for the 2022 NHL Draft as well.
The tournament runs from November 2nd to 9th and is played in Medicine Hat and Swift Current. It includes a total of eight teams: USA, Russia, Sweden, Finland, Czech Republic, and three teams from Canada. Tournament schedule can be checked from the official website where they will also eventually have the official rosters and game logs: https://www.hockeycanada.ca/en-ca/national-championships/men/world-u17/2019
A couple of the top names from the 2021 NHL Draft class will be missing from this tournament because they are no longer eligible for the U17 level because of their late 2002 birthday – only players born in 2003 and later are eligible. Those include Finnish center Aatu Räty, the currently projected first overall pick, and Swedish goalie Jesper Wallstedt, a projected top 10 pick. Both will play a big role for their country at the U18 level this season – and perhaps at the U20 level as well.
However, perhaps the most interesting thing about this tournament will be seeing the three top guys for the 2022 NHL Draft playing in the same event. Shane Wright, Matthew Savoie and Brad Lambert are all good enough to be first overall picks in most drafts but only one of them can achieve that goal because they happen to be part of the same draft class in 2022.
Wright is already a point-per-game player in the OHL at age 15, and Lambert is doing the same in the Finnish U20 league. Savoie has only played a few games in the WHL so far because his exceptional status was denied but there's absolutely no reason to count him out from that race. Some might point to age difference because Lambert is born in 2003 whereas the other two are born in 2004. But it's good to notice that all three are born within 18 days of each other. Lambert is born on December 19th, Savoie on January 1st, and Wright on January 5th.
In addition to those three who highlight the entire tournament, here are some other top prospects to keep an eye on.
Finland
Besides Lambert who is expected to be Finland's number one center and the top player on the team, the two most interesting forwards on the team are Samu Tuomaala and Samu Salminen who could easily play on Lambert's wings to create a deadly top line. The two Samus have definite first round potential in 2021, and they could even push for a top 10 selection. Salminen is also capable of playing down the middle but has been used at wing more frequently.
Other interesting forwards on the team are center Verner Miettinen, the younger brother of 2020 NHL Draft prospect Veeti, and wingers Rasmus Ruusunen and Niko Huuhtanen. Miettinen and Ruusunen could potentially crack the first round but right now, I'm projecting them to the second round. On different drafts, though, because Ruusunen is a late birthday and therefore eligible for the 2022 NHL Draft. Huuhtanen is currently on my third round but could move higher if he continues to improve his skating.
On defense, my two favorites are Jimi Suomi and Atte Lehikoinen. They are both offensive defensemen but the difference is that Suomi is 5-foot-10 and Lehikoinen is 6-foot-2. Suomi is the better skater but Lehikoinen is also a very good skater for his size. I have both of them currently projected to the second round in the 2021 NHL Draft. Those two would be on my top pair playing big minutes.
On my second pair, I would have Topias Vilén and Viljami Juusola. Juusola is a 5-foot-9 offensive defenseman whereas Vilén is more of a two-way guy who can also defend very well. He's officially 6-foot-0 but looked a bit bigger the last time I saw him. I have them as projected third/fourth round prospects for the 2021 NHL Draft.
Finland has never won the World U17 Hockey Challenge but they definitely have a chance to change that this year because they have a great team with high-end skill and depth.
Russia
Defensemen Artyom Grushnikov and Vladislav Lukashevich have looked very good in my viewings. Grushnikov has definite first round potential and Lukashevich could get there as well but may be more of a second/third round pick. Both are already playing big roles on their teams at the MHL level which is not common for 16-year-old defensemen in that league.
When Russia U17 played against Finland U17 in August, I was very impressed by the line of Matvei Nadvorny–Vsevolod Gaidamak–Danila Yurov. They played so well together that I would imagine them staying together in this tournament as well. I've also heard great things about winger Prokhor Poltapov but haven't had a chance to watch him in game action yet.
Sweden
Simon Robertsson, Isak Rosén and Fabian Lysell are all highly talented offensive wingers with definite first round potential in the 2021 NHL Draft. I've liked Robertsson the most out of that group and I think he could push for top 10 selection. I've heard good things about winger Oliver Moberg but haven't had a chance to watch him play yet.
I've also heard good things about defensemen Simon Forsmark and Simon Edvinsson but unfortunately haven't had time to watch either Simon yet. Forsmark's draft eligibility is pushed back to 2022 because of his late birthday.
Canada
Besides Wright and Savoie, defenseman Brandt Clarke is definitely a player who should be on everyone's watch list in this tournament. He's had a great start to his OHL career and reports are indicating he could challenge Räty's spot at the top of the 2021 NHL Draft.
Besides those names, however, I haven't had a chance to focus on any other prospects from Canada (or USA for that matter) because all of my focus has been on Europeans. But because this tournament is hosted by Hockey Canada, there will be a ton of media coverage focusing on the Canadian players in this tournament, so you'll get familiar with them very quickly.
*
And that's all for now, thanks for reading. Feel free to add comments below. Remember to follow me on Twitter @JokkeNevalainen.
Main picture courtesy of Leijonat.fi
LATEST RADIO & DRAFTCASTS