Prospect Ramblings: Consensus Rankings, U18 Worlds & Finland's Draft Streak
Jokke Nevalainen
2019-01-21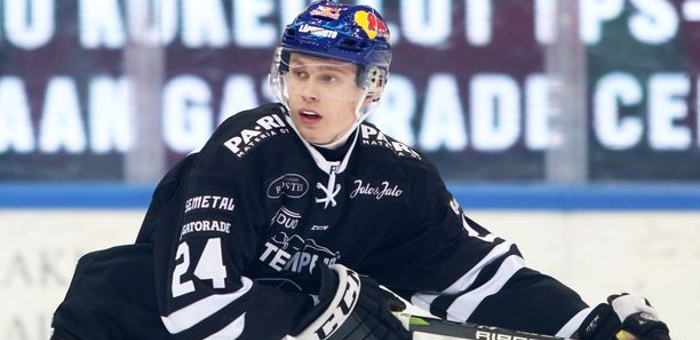 Over the next few weeks, we'll be releasing a lot of consensus rankings. First off, Peter Harling is putting together a fantasy hockey ranking of the 2019 NHL Draft. If you're not familiar with the concept, here's one from a year ago: Fantasy Hockey Ranking The 2018 NHL Entry Draft. This is a great preview of the upcoming draft from fantasy hockey perspective, especially for those who are dropping out of contention in their fantasy hockey leagues.
After that, I will be putting together an updated version of our prospect goalie ranking. The previous one from November was well-liked, so it's time to have a post-WJC update for it. And then I will be doing the same for other prospects because the previous one was from December. Fantasy hockey playoffs are coming up soon, so I hope these rankings are helpful at the trade deadline.
***
But the thing that excites me the most right now is the upcoming U18 World Championship tournament which starts on April 18th. I'm thrilled that the tournament is played in Sweden this year, and I'm planning on travelling there to watch at least a few of the games live. It's a great scouting opportunity because there will be a ton of interesting prospects for the upcoming draft playing against high-end competition. And the 2020 draft class will be well-represented as well.
Because from European teams, Sweden 🇸🇪 will likely have Raymond, Gunler and Holtz. Finland 🇫🇮 will likely have Lundell and Simontaival. The Czechs 🇨🇿 will likely have Mysak. And Russia 🇷🇺 could have Gushchin as well. That would be my entire top 10 in the tournament.

— Jokke Nevalainen (@JokkeNevalainen) January 14, 2019
https://platform.twitter.com/widgets.js
Cam Robinson and I did previews of all the interesting teams a year ago, and we will likely do that again this year. I'm actually so excited about the tournament that I already wrote a preview of Team Finland a week ago but I'll likely provide an update for that closer to the tournament start date.
***
Speaking of Finland, we currently have a three-year streak of having top-three picks in the NHL Entry Draft. It started in 2016 when Patrik Laine was selected second overall. Then, we had Miro Heiskanen going third overall in 2017 and Jesperi Kotkaniemi doing the same in 2018. And wouldn't you know it, Kaapo Kakko is battling Jack Hughes for the first overall spot in 2019, so the streak will very likely continue.
Kaapo Kakko's two power play goals from today's #Liiga game. It's always a pleasure to see him shoot the puck. His shot doesn't get enough credit because he doesn't use it often enough. #2019NHLDraft https://t.co/NBZA8hppXB

— Jokke Nevalainen (@JokkeNevalainen) January 16, 2019
https://platform.twitter.com/widgets.js
But the streak may not end there either. Anton Lundell, who has been well-known in Finland for a while now, opened some eyes at the World Juniors. He's draft-eligible in 2020. I ranked him fourth overall in my November ranking but a top-three selection isn't out of the question. He's a very mature player who will definitely jump straight to the NHL after the draft. I actually like him more than Kotkaniemi but the 2020 draft class is filled with high-end talent.
Niklas Nordgren's (#40) second primary assist today. Goal by Anton Lundell. #ASM #Blackhawks #2020NHLDraft pic.twitter.com/Xzxa2zYKls

— Jokke Nevalainen (@JokkeNevalainen) January 19, 2019
https://platform.twitter.com/widgets.js
But wait, there's more. In 2021, Finland has Aatu Räty coming up, and early rankings have him in the top three as well. He's a well-rounded center with good size and high-end offensive tools. The 2021 draft class is looking a bit weak which helps Räty's stock. There doesn't seem to be a front-runner for first overall in that draft class right now.
Aatu Räty (#29) with a nice goal today. #ASM #Kärpät #2021NHLDraft pic.twitter.com/wWhnWxCTDV

— Jokke Nevalainen (@JokkeNevalainen) January 19, 2019
https://platform.twitter.com/widgets.js
And in 2022, there's Brad Lambert who is also a potential top-three pick according to some early rankings. I had my first look at Lambert over the weekend, and it's safe to say I was impressed. He's barely 15 years old but he's already playing in the top junior league in Finland. Most of the players are three or four years older than him but he has ten points in ten games so far. A lot can still go wrong but he looks like a future superstar right now.
*
And that's all for now, thanks for reading. Feel free to add comments below. Remember to follow me on Twitter @JokkeNevalainen.
Main picture courtesy of Iltalehti.fi
LATEST RADIO & DRAFTCASTS