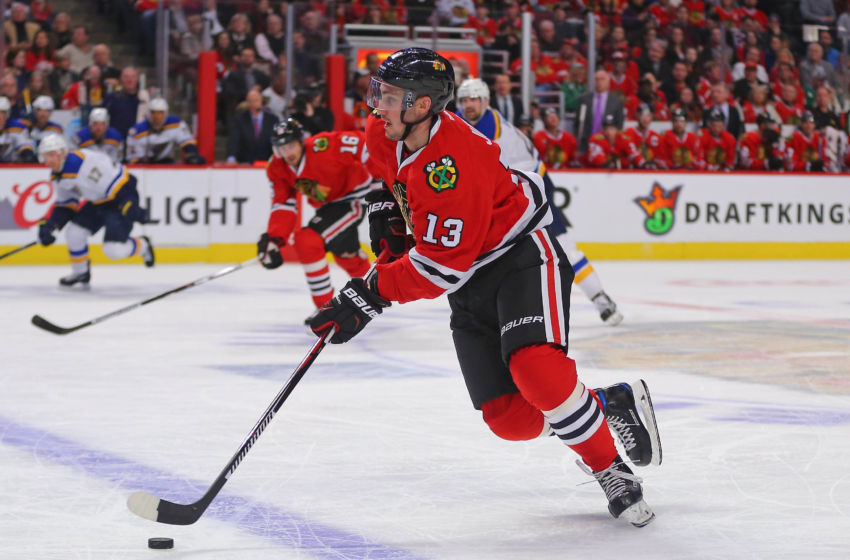 Tomas Jurco, RW

Shoots: L

Height: 6-1

Weight: 203

Born: 1992-12-28

Hometown: Kosice, Slovakia

Drafted: 2011 by Detroit Red Wings, 35th Overall
Observations:
November 2017- Jurco was sent to Rockford to start the season in a mildly surprising move considering the Blackhawks gave up a draft pick to acquire him last season. Jurco brings offense to the table and is very good at it when he is engaged. With 10 points through 14 games, it looks like he's engaged and doing what it takes to work his way back to the NHL. Tony Carr
June 2017- Jurco signed a one year, $800,000 deal with the Blackhawks that takes the forward through the 2017-2018 season. Jurco was acquired last year from the Detroit Red Wings and spent time in and out of the lineup during his time in Chicago. With some spots up for grabs amongst the forward ranks, Jurco's fate is in his own hands. It should be noted that Jurco has won a championship at every level ( Memorial Cup as a Saint John Seadog, Calder Cup as a Grand Rapids Griffin) and management loves guys with a winning pedigree. Tony Carr
September 2016 – The development continues to stall for the 23-year-old Slovakian with the latest news that he will most likely not be ready for training camp and could be sidelined for the next three months. Last week GM Ken Holland revealed to media that Jurco suffered a back injury while training at home and has already undergone surgery. This is just another setback for the skilled wing who has struggled to find consistency since his debut in 2013-14. While this is bad news for Jurco, it provides a chance for many of the Griffen's hopefuls aiming to grab one of the coveted bottom six spots with Detroit to start the season. Joseph Highgate
March 2016 – Jurco appears to have been overtaken by many of the Wings other prospects such as Athanasiou, Larkin (for obvious reasons) and even the recently promoted Anthony Mantha. Even with the little opportunity Jurco has been given this year he hasn't been able to produce or out play many of the Red Wings other young forward which has subsequently stalled his development. When he was sent down to Grand Rapids for a conditioning stint the young Slovak dominate with nine points (5G-4A) in just five games played, but the same success has translated at the NHL level with a paltry six points (4G-2A) in 42 games to date. A change of scenery could be the best thing for Jurco in helping him develop and it could happen as early as this offseason with Detroit in need of improving things on the backend or even adding your more prototypical bottom six type player. Time will tell! Travis Watson
November 2015 – Tomas Jurco the soon to be 23 year old forward has been assigned to Grand Rapids for a conditioning assignment. Unable to provide a consistent scoring punch the young playmaker has been sent down in hopes he can get his offensive mojo going again. Grand Rapids, like Detroit have had problems scoring goals to date and hopefully this move can help ignite a spark for the player and the team. There's still plenty of promise for the sublimely skilled Jurco, but with many like minded players already in Detroit making an impact it has put Jurco in a reserve role which won't help his development. Conditioning assignments can last up to two weeks so here's hoping he can build that confidence and bring it back with him to Detroit and show it on the ice. Travis Watson
November 2014 – Jurco is starting to turn a corner in Detroit with five points in his last five games including points in consecutive games for the first time this season. The youtube sensation is making good on his offensive potential and it's nice to see him rewarding the Red Wing faithful with a string of positive performances. If Detroit's going to have championship aspirations they are going to need all lines firing on all cylinders. Keep an eye on the talented young Slovak as his skill is off the charts. Travis Watson
October 2014 – Tomas Jurco was one of many youngsters who stepped in admirably during the 2014 season while the Wings were decimated by injuries. It was during this trial that Jurco and the kids opened the eyes to Coach Babcock and management that they may have something good here, real good. It has led them to opening the 2015 season with one of the youngest opening rosters they have fielded in years with one of those players being the former second rounder, Jurco.
Babcock routinely sings his praise and has elevated the young Slovak to top PP duty with the likes of Datsyuk, Zetterberg, Kronwall and Helm. For a typical vet heavy team that's a big deal and a clear indication that there is a changing of the guard in Detroit. They are going to let the kids play if they are the best option to help the team win. This bodes well for Detroit's future as well as the short-term as the Wings are off to a 4-1-2 start good enough for second place in the division. The scary thing is the team hasn't even been scoring so just wait until Jurco and company get things going and Detroit can possibly reach the top of the table once again. Travis Watson
February 2014 – Jurco at 21 years young made his Olympic debut at the 2014 Sochi games and suited up for all four of Slovakia's games. He played the majority of the tournament on the second line and second powerplay unit where he managed to pot home his first Olympic goal while on the man advantage. Despite a disappointing result in Sochi for Slovakia they have to be excited about the future with the impressive level of play from their skillful youngsters. Jurco will look to translate his success here at the Olympic games when NHL play resumes on Wednesday February 26th for Detroit on the road against Montreal. Travis Watson
February 2014 – The 21-year-old Jurco was selected to Slovakia's 2014 Olympic final roster and will be doing everything in his power to help get Slovakia onto the podium . Jurco is the youngest member of the team and this will be a fantastic learning experience for the young Slovak and the hope is that this will help him gain more confidence for when he returns back to resume play in North America, whether it be in Grand Rapids or Detroit. Travis Watson
December 2013 – Jurco scored his first career NHL goal and point in his second game with the parent club when he opened the scoring against the visiting Anaheim Ducks. It came on a partial breakaway where Jurco was able to make a nifty move before putting it away on the backhand. Jurco's goal was about the only thing that went well as the Wings were run over five to two. Travis Watson
December 2013 – Jurco got an early birthday present when the Red Wings called him up to make his NHL debut December 15th versus the Tampa Bay Lightning. The injuries have continued to mount for the Wings and so do the losses so they called up their leading scoring from the AHL hoping to inject some life. Babcock didn't baby him either as Jurco was slotted on the wing next to Datsyuk and Alfie and if you click here you will see what the coach had to say about him. With the rash of injuries look for him to continue to get a look as Ken Holland and company want to see what they have in their 2011 second round pick. As previously mentioned before, the recall he was leading Grand Rapids in scoring with 27 points in 26 games, one off of matching his rookie points totals from all of last season. Travis Watson
June 2013 – Tomas was part of a very strong contingent of rookies playing for Grand Rapids this season and he really stepped it up when the Griffins needed it most. After only scoring 14 goals in 74 games in the regular season Jurco managed to snipe home eight goals in 24 playoff games to go along with six assists. His 0.58 points-per-game clip in the playoffs was close to double his regular season output of 0.38. Red Wings brass have to be excited about the improvements in Jurco's game especially in the playoffs when games became more physical and more meaningful. Jurco was able to skate in all 24 games in the playoffs and was kept in the lineup over the highly regarded and thought of Teemu Pulkkinen when Gustav Nyquist and Joakim Andersson were returned on loan from the parent club. Now let's hope he can carry the momentum of his strong postseason into the 2013/14 season for Grand Rapids and set himself up for call-up duty in Detroit. Travis Watson
April 2013 – Tomas Jurco concluded his first professional season amassing 14G-14A-28P and a plus-6 rating while skating in 74 games for the Grand Rapid Griffins. Most are well aware of his skill level but what matters most is taking that skill and talent and applying it to your game. For Jurco this was his first full season in Grand Rapids so there is still plenty of time for him to figure it out and become the top six two-way forward expected of him. After losing out 3-0 in Game One of the Calder Cup Quater-finals Jurco stepped up his game showing his offensive instincts by tipping home a goal and pulling off a wrap-around goal helping the Griffins even the series with Houston at one game a piece. Grand Rapids will be looking for more contributions like this one if they have any hope in challenging for the Calder Cup trophy. Travis Watson
December 2012 – December was not a good month for Jurco as he has only recorded a single point in 11 games. He has only failed to record a shot on goal once in the month. Jason Banks
November 2012 – After signing his entry level deal with the Wings, Jurco turned pro with Grand Rapids. Despite being a regular with solid talent around him, he is yet to show good production and has been a defensive liability. As previously stated, he is likely taking the long path to Detroit until he is dependable at both ends and showing solid production. Jason Banks
March 2012 – Jurco has put up another 30-plus goal season and continues to show off his dynamic skillset. Jurco has good size and all the tools to become a great power forward in the NHL. Consistency has been an issue in the past but has only been held off the score sheet eight times this season. He will look to follow up his 18 points in 19 games in last year's playoffs with another strong performance this year. Jason Banks
Fantasy Outlook: B-
Struggling to stand out above the other key Wings prospects and may have to move elsewhere to make any fantasy impact. Been limited with opportunities and has stagnated in Detroit.
Footage:
Tomas Jurco highlights:
Buy the latest Fantasy Prospects Report here.