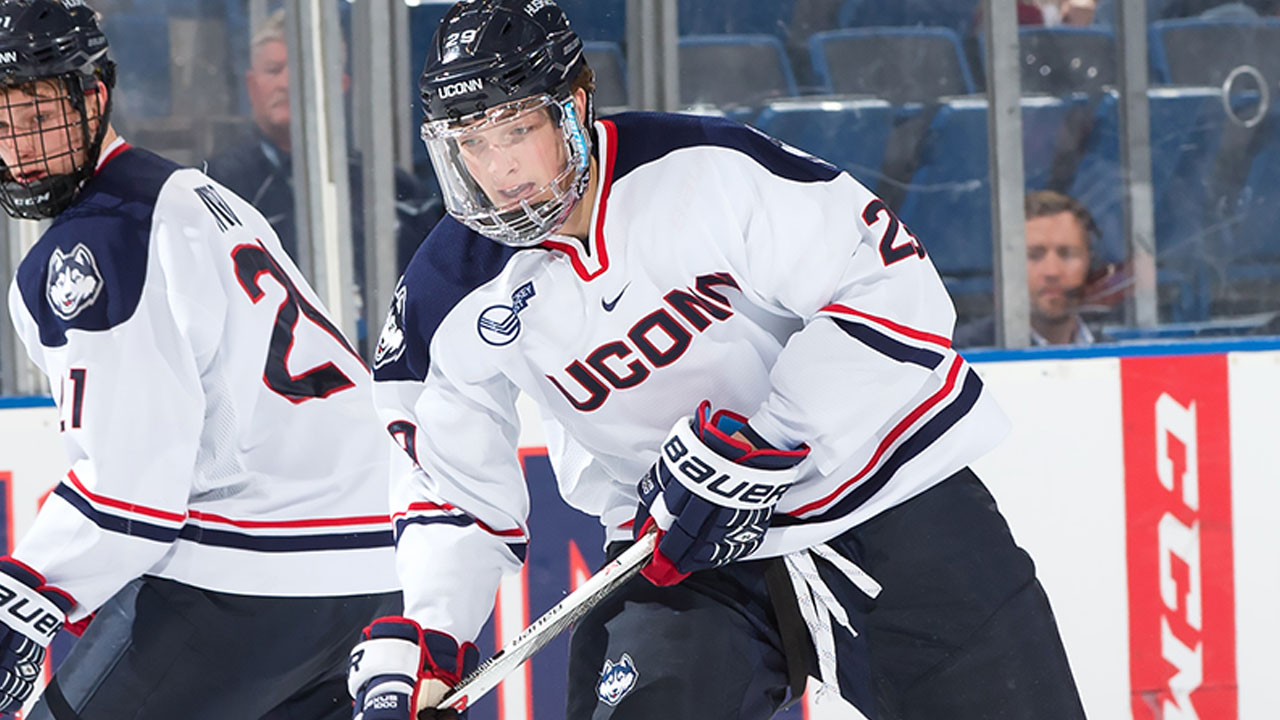 Tage Thompson, C/RW

Shoots: R

Height: 6-05

Weight: 194

Born: 1993-10-30

Hometown: Oyster Bay, NY, USA

Drafted: 1st round, 26th overall 2016 by St Louis
Observations:
March 2018- Tage Thompson sits in an interesting position in his first season as a pro. That being incredibly effective in the AHL(18 points in 30 games) while not so much at the NHL level just yet. Having put up eight points in 34 games for the Blues, Thompson is just now starting to use his bigger frame to bring results. Being 6'5" and over 200 pounds the 2016 first round pick will be a force once he realizes how simplify his game a bit. Thompson can control the puck with ease, his only struggle is finishing on opportunities in those prime scoring areas. Thompson is up with the Blues a tad too soon which could result in a few more stints in the AHL before being a full time Blue. One has to remember also that Thompson can play down the middle as well. Something the Blues have been looking to work on. Josh Epstein
December 2017 - Thompson was recently recalled to the St. Louis Blues. He has spent four games with the big club and has yet to score a goal or an assist for the Blues this season. Doug Abrams
September 2017 - Thompson had a superb performance at the Traverse City tournament and has been visible in the preseason games he'd played. Skating and speed of mental processing remains and issue with Thompson, but his skating is noticeably improved. He still needs work on his first step. Thompson may well get his first NHL call up in 2017-2018. Doug Abrams
May 2017 – In 2016-2017, Thompson played 16 games with the Chicago Wolves with one goal and one assist. Thompson was a fascinating player to have researched and watched during his draft season. The views of Thompson ranged from a guy who could not skate well enough to ever become an impact NHL center or wing to those scouts who believed he was going to become a dominant power forward. In 2016-2017, Thompson had a fine season with the University of Connecticut. In 34 games, Thompson scored 19 goals and had 13 assists. He seems likely to spend 2017-2018 with the AHL Wolves. Doug Abrams
March 2017 – Thompson put a bow on his college career at UCONN by signing an entry-level deal with St. Louis. He will end this season in Chicago (AHL) on a pro tryout before beginning his entry-level in 2017-18. The big centre put together back-to-back 32 point efforts in his two NCAA campaigns, leading the Huskies in scoring in 2016-17, and scored 33 goals in 70 games. The best pure goal scorer in the Blues system, he'll more than likely see the bulk of next year in the AHL but some NHL time wouldn't be out of the question. Brad Phillips
January 2017
–
Thompson wasn't his usual goal-scoring self at the 2017 WJHC with four helpers and just a single tally in seven games, but it was a beauty and a GWG at that. Nevertheless, Thompson isn't complaining since he secured a gold medal. He's scoring at just over a point per game for UConn with 20 points and 12 goals, both team highs, in 19 games.
Brad Phillips
December 2016
–
The Blues first rounder will look to crack team USA after being named on of the 27 players to the preliminary roster for the 2017 tournament. Thompson has kept up his sniping ways in 2016 firing 10 goals and 18 points, both team highs for the UCONN Huskies. Also an encouraging sign is that five of Tage's goals have come at even strength after registering only one all of last season.
Brad Phillips
November 2016 – Thompson is off to a great start in his sophomore season leading the UCONN Huskies in every major offensive category; goals, assists, points, powerplay goals, powerplay assists, powerplay points and shots. He's already tripled his even strength goal production from last year, sitting at three. He's still a power play beast with nine of his 14 points coming with the man advantage, placing him third in the NCAA in PP points and highest among drafted players. He still needs to add some mass to that lanky frame of his, but if he is able to keep up this high level of play, there's a good chance he'll turn pro after this season. Brad Phillips
June 2016 – With the 26th pick in the 2016 draft the Blues scooped up the hulking Tage Thompson out of UConn. He's got solid bloodlines with his dad Brent being a former NHLer. Skating in all 36 games for the Huskies, he scored 14 goals while assisting on 18 others placing him second on the team with 32 points. He's a stone cold killer on the PP with 13 of those goals coming with the man-advantage (which led the nation). An impressive feat for a freshman. However the one even strength goal, and minus-14 rating has raised concerns about his ability to be a productive 5-on-5 player. A power forward through and through, he is not afraid to play down low or get to the front of the net for greasy goals. Skating is usually a concern for big men but not here (although he could stand to get faster). He sports a quick release and deadly shot which he utilizes a la Alex Ovechkin on the PP. Possesses a high hockey IQ and is versatile having played centre, wing and occasionally as a defenseman on the PK. There are still some areas of his games he needs to work on. He still needs to add a bit of weight to that frame in order to maximize the size. Some scouts also wish he played with the same fire as his dad as well. Should spend as least two more years at UConn and another year or two in the minors. Brad Phillips
Top nine forward with centre potential.
Footage:
Buy the latest Fantasy Prospects Report here.
Trending Discussions
Connect with us