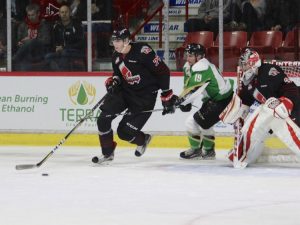 Marc Smith
Fantasy Summary
A massive shadow of a defender with raw potential that will require extensive development before he can be considered a future NHLer.
Observations
Click to Expand

May 2018 – After completing his first season in North America with the WHL's Moose Jaw Warriors, the enormous Russian signed a modest ELC with the Lightning, putting him in place to start next season with the Syracuse Crunch. While Sosunov could return to Moose Jaw next fall, because he was drafted while playing in Russia, he is also eligible to depart the CHL for a professional league. The AHL is probably a more appropriate place for Sosunov's development in any case, his size and strength differential in junior is an obvious advantage, so exposure to a more challenging physical presence may allow the Lightning to better evaluate the 19-year-old's potential. As a former sixth-round pick, nobody will be overly disappointed if he never amounts to a presence at the NHL level. With the direction of the modern NHL, his style of play seems to be extremely unsuited, however, he is still young, and crazier things have happened, after all, he does have an NHL contract signed by Steve Yzerman. Unless your league is in excess of 1000 skaters, you can feel confident in selecting most other prospects before Sosunov. Brayden Olafson

October 2017 – Other than his obvious looming shadow, Sosunov didn't make much of a serious impression at Tampa Bay Lightning training camp this fall. For being such a massive frame, Sosunov was surprisingly mobile, and while he's certainly not expected to ever become known for his offense, did display some offensive drive by pinching and entering the zone more often than expected. Sosunov joined the Moose Jaw Warrior's along with fellow Lightning prospect and Warrior captain, Brett Howden, for his rookie season in North America. Whether or not it was a flash in the pan, or a look at what we could expect in North America, but Sosunov did join in the offense with the Warriors against the Memorial Cup host, Regina Pats. As it stands, Sosunov is not a threat for much of any kind of fantasy production, and it will take his current WHL trajectory to continue in order to offer much optimism in that regard going forward. Brayden Olafson

July 2017 – The Tampa Bay Lightning signed Sosunov to his ELC. The combination of his signing and his coming to North America via the CHL Import Draft are two very encouraging signs for his future in the NHL and his fantasy value. His fantasy value will be limited to stricly leagues with peripheral stats such as PIMs, hits and vlocks as he has no offensive upside. Peter Harling

July 2017 – The Lightning development staff exhaled a sigh of relief during the CHL import draft as 2016 sixth-round-pick, Oleg Sosunov was selected 45th overall in the CHL Import draft by the Moose Jaw Warriors. Moose Jaw is familiar territory for the Lightning who has seen the likes of Brayden Point come through their program, as well as current Warriors captain, and 2016 first round pick, Brett Howden. The centralized location will be convenient for the staff while the Warriors hope to assist the Lightning in developing the raw skill that Sosunov possesses. The drafting of Sosunov is in no part a coincidence either, from a Lightning-Warriors relationship perspective, Warriors general manager Alan Millar who said, "We talked a lot with the agent and we talked a lot with Tampa Bay and there's still some work to be done in terms of paperwork and things, but I think we'll have another announcement about this player down the road." Sosunov is expected to join the Warriors after Lightning training camp and add to Moose Jaws physical presence in the WHL. Brayden Olafson

June 2017 – The massive Russian defender spent the duration of the 2016-17 split between Loko Yaroslavl of the MHL, and their child team in the NMHL. The 2016 sixth-round-pick tends to be keen on dropping the mitts, especially in cases where he feels he should be defending his teammates. Sosunov has a natural athletic ability that manipulates his enormous frame quite efficiently. His stature allows him to effectively frustrate opposing teams neutral zone strategies, but if he does get beat, will struggle to recover. He was unable to attend Lightning rookie camps in his draft year because of visa complications, but the Lightning will hope to get a better look at their defensive project this fall. Brayden Olafson

June 2016- Sosunov is a giant of a human being and fits the prototypical power defender mold. Ranked 25th among European skaters by Central Scouting, but is a widely unknown prospect. Sousunov is a raw talent and needs to improve his decision making in the offensive zone and defensive zone coverage. Skates well for a man his size, and has a massive wing span that covers a lot of ice, but has to take more time to accelerate and improve his overall mobility. Has a heavy shot but lacks offensive upside, his forte is his size, and reach allowing him to breakup offensive plays and is obviously has effective board work.
Highlights